Upset Alerts, Week 5: Trojans taking aim at Sun Devils
The Eye on CFB gang make their upset calls for Week 5.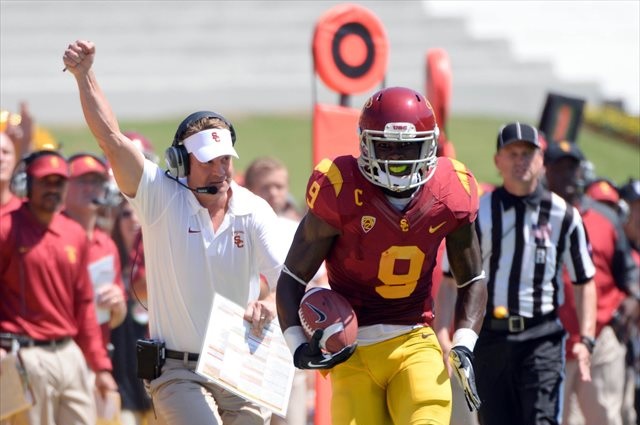 Welcome to Upset Alerts, where each week our three intrepid Eye on College Football writers and special guest BCS/bowl projections expert Jerry Palm each pick an upset they believe will shock (or at least mildly amuse) the college football world.
This week's lines are here. The picks:
TOM FORNELLI: USC (+4) over Arizona State: We all know that USC has struggled offensively at times this season. When it comes to the Trojans, that's about the only thing anybody talks about. The fact that the Trojans have one of the best defenses in the country right now gets glossed over a bit too easily, but I've noticed. At this point, while it may not be as deep, I think USC's defense is better than Stanford's, and the Cardinal shut down Arizona State until they took their foot off the gas pedal in the fourth quarter. I think the Trojans will have a similar amount of success.
And even though this game is in Tempe, that doesn't really concern me all that much. Even with the problems the Trojans have had since Lane Kiffin took over the program, the Trojans have gone 12-6 on the road under Kiffin, and they're 4-1 against the spread as road underdogs under Kiffin. I think those records will be 13-6 and 5-1 come Sunday.
Last week: Hit on Utah over BYU. Season-to-date: 1-for-3.
JERRY PALM: Colorado (+11) over Oregon State: Colorado is off to its first 2-0 start in five years and has been champing at the bit to get back on the field after flooding in Boulder canceled last week's game with Fresno State. The Buffs have played pretty good defense so far, ranking in the top 30 nationally in yardage, albeit not against the greatest competition.
The Beavers' defense, on the other hand, is pretty suspect. They're giving up over 430 yards and 35 points per game and have yet to play a likely bowl team. They are 3-1, with a loss to FCS Eastern Washington, but OSU could just as easily be 1-3. They needed OT to beat Utah and had to come back to win at San Diego State last week. This week, playing with fire gets them burned.
Last week: Missed on Kansas State over Texas. Season-to-date: 1-for-2.
JERRY HINNEN: Western Kentucky (+3) over Navy:  Yes, the last time we saw Bobby Petrino's Hilltoppers (well, against FBS competition), they were losing at South Alabama. Yes, the last time we saw Navy (again, vs. an FBS opponent), they were running over Indiana. But previous history doesn't seem to guarantee much in the way of future performance when it comes to the Midshipmen and the Sun Belt; last season Navy was 5-3 and rolling after a rout of East Carolina on the road, with three current Sun Belt teams -- none of which would play in a bowl game -- up next, back-to-back-to-back. The Midshipmen wheezed past FAU by seven, lost by 10 at Troy, and failed to cover a 13-point spread vs. Texas State. (Dating back to 2011, the Midshipmen now haven't covered a spread as a favorite vs. FBS competition in their last seven tries.)
And if Navy doesn't pay its best game, the Hilltoppers -- who finished with more total yards than either Tennessee or South Alabama -- are more than good enough to make the Midshipmen pay if they can quit turning it over. Playing at home and with a successful tune-up against Morgan State last week, the guess here is that they do.
Last week: Missed on Michigan State over Notre Dame. Season-to-date: 0-for-3.
CHIP PATTERSON: Wisconsin (+7) over Ohio State: I've got Ohio State winning this game in the CBSSports.com Expert Picks, but I feel good enough about Wisconsin keeping the game close to go out on a limb for Upset Alerts. (For the record, I'm also siding with Tom on the Trojans at Arizona State.) Ohio State's defense has not been tested by a team like Wisconsin. The closest the unit has come to getting pushed was against Sonny Dykes' wide-open Cal offense, which is on the other end of the spectrum from the one-two punch of Melvin Gordon and James White. If the Badgers get a chance to hit Ohio State in the mouth early with a quick score (or two), they could quiet down the crowd and bring a feeling of uncertainty to a Buckeyes team still undefeated under Urban Meyer.
Braxton Miller is expected to play, but Kenny Guiton could as well. How will both quarterbacks manage that situation? The Miller-Guiton combo could be lethal (not to mention a huge advantage in terms of forcing teams to prepare for both players), but will Meyer choose to make that part of the gameplan? I feel like we know what we are going to get with Wisconsin, so I'll go out on a limb and say the more tested team pulls the upset.
Last week: Missed on Arkansas over Rutgers. Season-to-date: 2-for-3
Rashaad Penny etched his name in San Diego State's history books

Kelly led Oregon to a national championship appearance and is an innovator in the game

This week's AP Top 25 college football rankings remained largely unchanged
Mora went 46-30 since joining UCLA in 2012, taking the Bruins to four bowl games

There should not be too many changes to this week's college football rankings

Elsewhere, the top 12 remains the same in this week's college football rankings