Upset Alerts, Week 7: Gamecocks going down to Hogs?
The Eye on CFB gang make their upset calls for Week 7, with South Carolina, BYU, Virginia Tech and UConn on alert.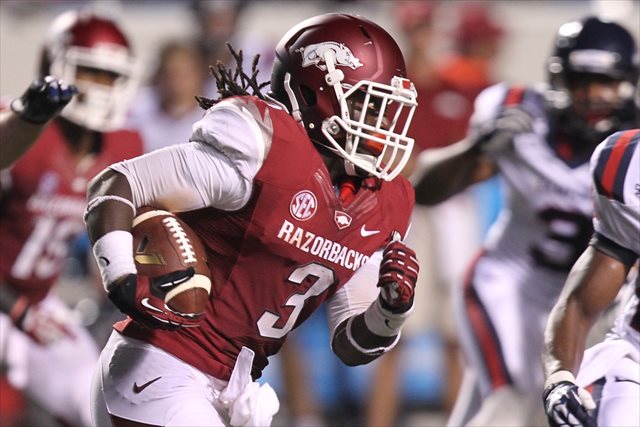 Welcome to Upset Alerts, where each week our three intrepid Eye on College Football writers and special guest BCS/bowl projections expert Jerry Palm each pick an upset they believe will shock (or at least mildly amuse) the college football world.
This week's lines are here. The picks:
CHIP PATTERSON: Arkansas (+6) over South Carolina : One of Arkansas' best performances of the season came in the 45-33 loss to Texas A&M. The Razorbacks exchanged touchdowns with the high-powered Aggies in yet another ridiculous day for Johnny Manziel and Mike Evans, but fell a little short in the fourth quarter. South Carolina's offense presents less of a threat, and a similar performance with the home crowd could give Arkansas a chance to pull off a signature SEC win for year one of the Bielema era.

There's also some history for South Carolina. The Gamecocks have only lost five of their last 31 games, but four of those occurred on the road. Arkansas has also won five out of the last seven meetings in the series, including three straight wins in Fayetteville. Combine all this with the media frenzy surrounding Jadeveon Clowney, and the Gamecocks seem ripe for an upset.
Last week: Missed (in double overtime) on SMU over Rutgers. Season-to-date: 2-for-5
JERRY PALM: Georgia Tech (+7) over BYU . You know what you're going to get from BYU every week? Me neither. The Cougars have managed to win at Utah State and beat Texas at home, but lost at Virginia and at home to Utah. These aren't your grandfather's Cougars, or LaVell Edwards' Cougars, for that matter. This BYU team gets about 60% of its yards on the ground.

Georgia Tech got off to a hot start, but lost the last two weeks to Virginia Tech and Miami. They were competitive in those games, though. The thing about Georgia Tech is that they are tough to prepare for because of their relatively unique offense. That is especially true for non-conference foes. The Yellow Jackets have done a good job stopping the run this year, and will make it hard on BYU to get its offense going. Tech won't win comfortably, but win they shall.
Last week: Hit on Notre Dame over Arizona State. Season-to-date: 2-for-4
JERRY HINNEN: Pitt (+8.5) over Virginia Tech . This is a little bit more gut hunch than logical forecast, but seriously: the ACC Coastal can't be this orderly, can it? This is the same division that in 2012 saw three teams tie for the division crown at 5-3, saw a fourth a game back at 4-4, and a fifth just another game back at 3-5. So far in 2013, though, Miami and Virginia Tech have handled all comers other than Alabama and sit at a combined 10-1.
But while those wins have come with relative ease for the Hurricanes, the Hokies have had to sweat out single-possession games against East Carolina, Marshall and Georgia Tech before slogging past a Bryn Renner-less North Carolina last Saturday. As stout as the Hokies' defense is, at some point its moribund offense -- currently 104th in the FBS in yards per-play -- will leave it in a tight game the Hokies can't escape. Here's a guess that the gods of Coastal chaos make Saturday's game against a Pitt team ranked 28th in that same yards per-play statistic that game. 
Last week: Missed on Georgia Tech over Miami. (Damn you, Vad Lee fumble with Tech up 17-7 in the first half.) Season-to-date: 1-for-5
TOM FORNELLI: South Florida (+4.5) over UConn . I know, I know: this is the game you've been waiting your entire life to watch. In the interest of full disclosure, I would have picked Arizona over USC ... but that game was on Thursday night and Upset Alerts runs on Friday, so I couldn't. And considering that Arizona didn't win, I'm grateful that's the case.

As for the pick I am making, these are two teams that have -- to put it politely -- not been very good this season. However, South Florida at least managed to win a game last week, and did so against a Cincinnati team that's better than this UConn outfit. Sure, the Bulls were helped by all of those Cincinnati turnovers, but a win is a win, damn it. So I'm going to go ahead and call it right now: South Florida SHOCKS THE WORLD on Saturday.
Last week: Hit on Auburn over Ole Miss. Season-to-date: 2-for-5 
LSU at Florida has been picked as the SEC on CBS Game of the Week

The Michigan coach had quite a few things to say on Monday after their visit to West Lafay...

Injuries are ravaging an LSU team that is searching for an identity
Jones started answering an injury question and then went off about 'fake news'

The full ranking of all 130 college football teams includes TCU up and a major drop for Florida...

The charges all stem from an investigation into improper debit card charges