Upset Alerts, Week 9: Longhorns look for revenge vs. Frogs
The Eye on CFB gang make their upset calls for Week 9, with TCU, USC, Iowa and Oklahoma on alert.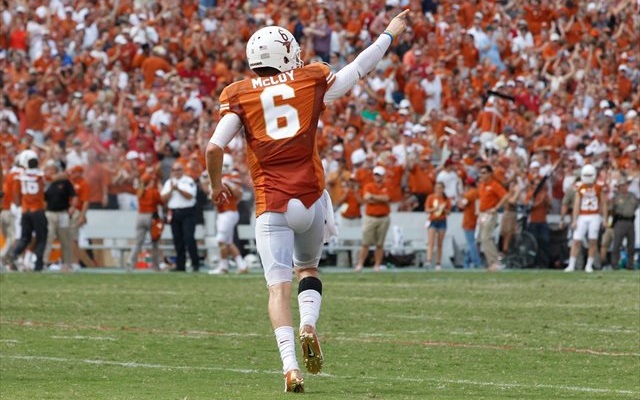 Welcome to Upset Alerts, where each week our three intrepid Eye on College Football writers and special guest BCS/bowl projections expert Jerry Palm each pick an upset they believe will shock (or at least mildly amuse) the college football world.
This week's lines are here. The picks:
TOM FORNELLI: Texas (+2) over TCU : I think Case McCoy is actually right -- the only reason TCU is favored over Texas is because Case McCoy is starting, and we all just want to refuse to believe that Case isn't as bad as previously thought. But it's the truth. McCoy hasn't been too shabby in place of David Ash.

Also, it's not exactly a secret that TCU -- even if htey beat Texas last year -- really isn't all that good this season, particularly on offense. I don't get why anybody should be afraid of Case McCoy starting at quarterback when he's facing a team whose quarterback has thrown more interceptions than he has touchdowns this season. So while Texas may be getting points, they aren't going to need them. They'll win outright.
Last week: Missed on UCLA over Stanford. Season-to-date: 3-for-7.
JERRY PALM: Northwestern (+4) over Iowa :  The Cats have suffered from the Gameday Curse, having gone 0-3 since the circus arrived on campus. Part of their problem is injuries. Northwestern can't keep Venric Mark on the field, with his latest problem an ankle injury that will keep him out of this game. However, Kain Colter will return from an ankle injury of his own, and that alone makes the Wildcats more dynamic on offense.

Iowa has lost two in a row after a four-game winning streak against significantly lesser teams, with the possible exception of Minnesota. The Hawkeyes need this one if they entertain bowl aspirations. After this weekend, the only game they'll be favored in is at Purdue. Colter should be able to keep the Hawkeye defense off-balance enough to bring an end to the Wildcats' three-game schneid. 
Last week: HIT on Vanderbilt over Georgia. Season-to-date: 3-for-6.
JERRY HINNEN: Utah (+6.5) over USC : Utah (+6.5) over USC: Comparing these two teams' respective games against Arizona, you'd conclude that the Trojans are decisively the better team; they beat Rich Rodriguez's Wildcats by a touchdown Oct. 10 in the first game after Lane Kiffin's dismissal, while the Utes lost by 11 in Tucson last Saturday. But the rest of both team's schedules suggest that making the Utes nearly a full touchdown underdog doesn't make a lot of sense. Utah has upset Stanford, beaten BYU on the road, and taken both Oregon State and UCLA to the wire; the Trojans, meanwhile, have lost to Washington State at home, gotten blitzed by Arizona State and scored just 10 points at Notre Dame.

And not only is Utah just probably the better team (and done with their post-Stanford hangover), the Trojans are more banged-up than ever, don't look entirely capable of exploiting the Utes' vulnerable secondary, and have lost straight-up as favorites eight times since Lane Kiffin's 2010 hire. Obviously I haven't had much success in this feature (see below), and last week's pick was unquestionably the season's nadir. But I've got a good feeling about this one! This is where things turn around for me! I'm sure of it! Really!
Last week: Missed (badly) on New Mexico over Utah State. Season-to-date: 1-for-7.
CHIP PATTERSON: Texas Tech (+6.5) over Oklahoma : While many have Texas Tech pegged as the undefeated team most likely to fall this weekend, I think the Red Raiders are going to take advantage of a confident Oklahoma defense and escape Norman as a legit Big 12 title contender. The Sooners didn't exactly get a resounding bounce-back from their Red River embarrassment, looking lifeless at times in their victory at Kansas. The Oklahoma defense has good stats but hasn't yet faced an offense with as many weapons as Texas Tech.

About those weapons: Jace Amaro might be one of the best inside receivers in the country. Bradley Marquez and Eric Ward have been solid recently. And the combination of Kenny Williams and DeAndre Washington have helped round out an offense that will produce regardless of which freshman quarterback is under center.

That quarterback spot is the only question mark here, in my opinion. Turning the ball over will cost the Red Raiders dearly, especially with Oklahoma's potential to control the game with their ground attack. Unfortunately for Texas Tech's upset bid, both Baker Mayfield and Davis Webb have five interceptions this season. Since I've missed on several Upset Alerts recently, I'm feeling lucky. Guns Up!
Last week: Missed on West Virginia over Texas Tech. Season-to-date: 2-for-7.
SportsLine's computer model simulated every Week 12 game 10,000 times with surprising resu...

Though a marriage between the Vols and Gruden has been rumored for a while, it seems unlik...

Barrett Sallee is cashing on 67 percent of his best bets and gives 3 strong picks for Week...
The No. 16 Bulldogs will travel to Arkansas Saturday afternoon on CBS

The Owls are 7-3 overall and 6-0 in the Conference USA East division

Wisconsin has another chance to impress the committee