Upset Bait: Buckeyes meet their match in Michigan; more love for Week 13 underdogs
The Eye on College Football crew scans the weekly lines for a straight-up shocker or two -- for entertainment only, of course.
The Eye on College Football crew scans the weekly lines for a straight-up shocker or two -- for entertainment only, of course. For more weekend predictions, check out our expert picks.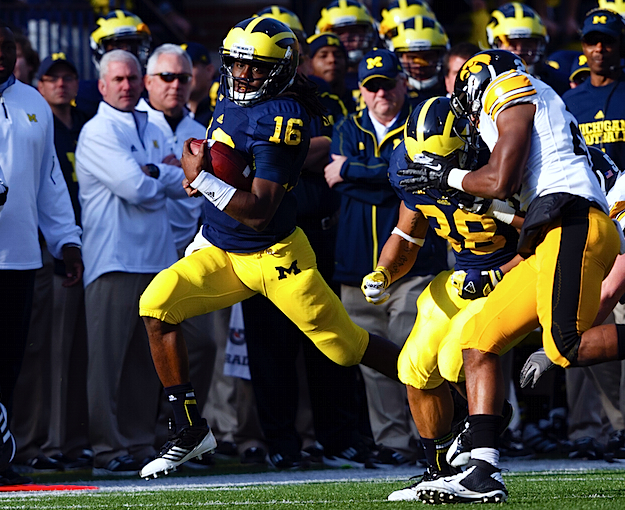 CHRIS HUSTON: USC (+5.5) over Notre Dame.


There is a tradition of USC spoiling Notre Dame's national title hopes at the Coliseum, with the Trojans knocking off undefeated Irish teams in 1964, 1970 and 1980. The same scenario is perfectly set up in 2012, as a scrappy Notre Dame squad with a lot of imperfections has to overcome a talented USC squad trying to salvage a disappointing season.
That the Trojans will have to do so with a backup quarterback may actually be a breath of fresh air: Considering injured quarterback Matt Barkley had thrown nine interceptions in his last four games, it could be a blessing for the home team that redshirt freshman Max Wittek gets a crack at the job. For all the proficiency of the Notre Dame defense this year, it has yet to face a wide receiving corps like USC's, which features Biletnikoff Award front-runner Marqise Lee, All-American Robert Woods and fast-improving freshman Nelson Agholor. Lane Kiffin has put in one of the worst coaching jobs in the history of college football this season, but this is just the kind of game he tends to win -- when it is least expected. The Irish come out flat and USC takes advantage with a solid all-around effort to pull off the upset.
- - -
Last Week: Hit on Stanford (+20.5) over Oregon. Season: 6-for-12.
TOM FORNELLI: Michigan (+3.5) over Ohio State.


Obviously both rivals would be highly motivated for this game no matter the circumstances, but even though Ohio State is 11-0 on the year, Michigan has been playing better over the last three weeks. Since Devin Gardner took over the quarterback spot for an injured Denard Robinson at Minnesota, the offense has played well, and it's because Gardner is a better fit for what head coach Brady Hoke and offensive coordinator Al Borges want to do.
Then there's Ohio State and Braxton Miller, who have struggled offensively against two teams this season: Michigan State and Wisconsin. Two teams that happen to have the two best defenses in the Big Ten. Well, not far behind those defenses is Michigan, and I see that defense leading the Wolverines to a second straight win over "Ohio University."
- - -
Last Week: Hit on Northwestern (+7) over Michigan State. Season: 5-for-12.
CHIP PATTERSON: Duke (+6.5) over Miami.


The Blue Devils have already accomplished their primary goal of postseason eligibility, and Georgia Tech has been named the Coastal Division representative in the ACC Championship Game. But David Cutcliffe's squad still has more to play for than Miami, which announced Monday that it would be foregoing the postseason for the second straight year in the wake of the ongoing NCAA investigation. Last season the Hurricanes sleepwalked through portions of a 24-17 loss to Boston College after the school announced a self-imposed bowl ban, and while I expect more effort and focus this year against the Blue Devils, the game is definitely one of those "who has more on the line?" picks.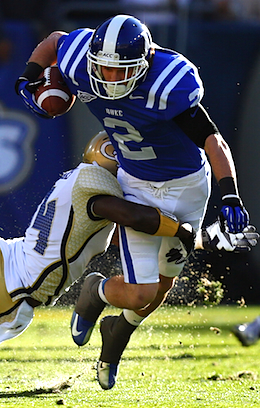 This will also be Senior Day for a battle-tested group of Blue Devils, who have been with Cutcliffe through four tumultuous years of rebuilding and will want to finish their last game at Wallace Wade Stadium in style.  The holiday weekend may lead to a lightly-attended finale, but I'll bet Sean Renfree, Conner Vernon and the rest of the Duke seniors will provide some fireworks for those who manage to roll out of their turkey-induced comas to cheer on the Blue Devils.
- - -
Last Week: Missed on Southern Miss (+3.5) over UTEP. Season: 4-for-12.
JERRY HINNEN: South Carolina (+4) over Clemson.


The bad news for the Gamecocks is that neither quarterback Connor Shaw nor the Carolina defense has been nearly as good on the road as they have been at home over the past season-and-a-half. The good news is that it's not much of a trip across the Palmetto State, and that the venue hasn't much mattered in this series recently -- the Gamecocks have won four of the last six and two of the last three in Death Valley, the last three meetings between the teams ending in Clemson losses of 17, 22 and 21 points.
There's little question that Dabo Swinney's Tigers are better than they've been in any of those seasons, but thanks to Jadeveon Clowney and Co. the Gamecocks still have the vastly superior defense. They should have all the motivation and focus they'll need, too, with no SEC Championship Game on deck and Steve Spurrier and Swinney having engaged in plenty of not-so-friendly banter over the past year. 
- - -
Last Week: Missed on Tennessee (+4) over Vanderbilt. Season: 3-for-12.
MATT HINTON: Southern Miss (+4.5) over Memphis.


Southern Miss cannot salvage its dreadful season and may be beyond the point of saving coach Ellis Johnson's job after an 0-11 debacle in which USM has been blown out by the likes of Western Kentucky, Marshall and Rice. On the heels of arguably the best season in school history in 2011, Johnson's first year has been unquestionably the worst, and as the only winless FBS outfit, the 2012 Golden Eagles probably deserve the title of Worst Team in College Football.
Still, as an alum, I have no choice but to go down with the ship. The Eagles showed some fight last week in a down-to-the-wire, 34-33 loss to UTEP and may have found a quarterback in the process in Arsenio Favor -- their fourth different starter of the year -- who accounted for 416 total yards and three touchdowns in defeat. Back-to-back wins over Tulane and UAB hardly make Memphis some kind of irresistible force. After 18 consecutive winning seasons, surely Southern Miss is still capable of winning one game.
- - -
Last Week: Missed on Kansas (+6) over Iowa State. Season: 2-for-12.
The 21-year-old quarterback was expected to start for the Cougars in 2018

The Fighting Irish will be without some playmakers in 2018

It may have been impossible for Sumlin to meet the expectations set for him in College Sta...
Some players are more easily replaced than others

The 2017 season is in the books, and several big-name stars are jumping early to the NFL

Love was second in the nation in rushing with 2,118 yards in 2017