Upset Bait: Clemson burns Florida State (again), and more love for Week 4 underdogs
The Eye on College Football blog crew scans the weekly odds for a straight-up shocker or two -- for entertainment only, of course.
The Eye on College Football blog crew scans the weekly odds for a straight-up shocker or two – for entertainment only, of course.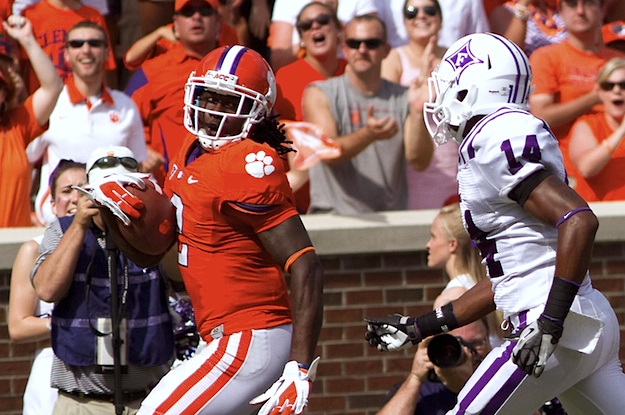 TOM FORNELLI: Clemson (+14.5) over Florida State.


Sorry, Florida State, but this isn't your year, either. Clemson is going to beat the Seminoles on Saturday because Clemson has the best quarterback (Tajh Boyd), running back (Andre Ellington) and wide receiver (Sammy Watkins) in this game. As for that Florida State defense, it has been amazing, allowing only 1 point per game. Of course, that defense has faced Murray State, Savannah State and Wake Forest.
That's right! The same Wake Forest that's ranked 117th in total offense! An amazing feat.
Florida State had a good defense last season, too. Except when it faced Clemson and allowed a season-high 35 points. I'm going to go with the team that's actually been tested this season, not the one that's stepping into the biggest game of its season after three straight practices.
- - -
Last week: Hit on Stanford (+9) over USC . Season: 2-for-3.
BRYAN FISCHER: Louisiana Tech (+3) over Illinois.


OK, this isn't a huge upset. But it will be surprising to see a WAC team top a Big Ten one (though this year, you never know). The Bulldogs' up-tempo, spread offense is explosive with playmakers like Tevin King, Kenneth Dixon and quarterback Colby Cameron. The defense has been really bad. But against an average-at-best Illinois offense, they'll eek out a win in a shootout.
- - -
Last week: Hit on Utah (+3.5) over BYU. Season: 2-for-3.
CHRIS HUSTON: Kansas State (+14) over Oklahoma.


We've seen this before: Oklahoma as an overwhelming favorite going up against a scrappy team led by a gutsy field general at quarterback. This usually doesn't end well for the Sooners. Does it matter that OU has had its way with K-State in recent years? Not when Collin Klein is the one leading the upset charge. The Wildcat quarterback has an incredible will to win, and he's not one to be intimidated by the setting, where OU has won 77 of its last 80.
Oklahoma's sluggishness against UTEP and subsequent layoff could mean a layer of rust must be cleaned off before things get clicking for the Sooner offense. So look for K(lein)-State to get out to an early lead and hold off OU at the end for the upset.
- - -
Last week: Hit on Stanford (+9) over USC. Season: 2-for-3.
CHIP PATTERSON: San Jose State (+3.5) over San Diego State.


I doubt San Jose State will be affected by the short road trip to San Diego State, especially considering the Spartans have not left the state of California yet this season. Quarterback David Fales is off to an outstanding start, completing 73.3 percent of his passes (No. 8 nationally) for 863 yards, five touchdowns, and just one interception.
But the big jump for San Jose State this season has been on defense. As a team, they are giving up just over 100 yards per game. And the same Stanford that pounded USC last week needed 41 carries to get 155 rushing yards (3.8 yards per carry) in the season opener. San Diego State looked flat in its opener against Washington, and the new Ryan Katz-led passing attack that is generating just 194.7 yards per game. It feels like these two programs are trending in different directions, and I like the Spartans as road dogs in Qualcomm Stadium.
- - -
Last week: Missed on Virginia (+10) over Georgia Tech. Season: 2-for-3.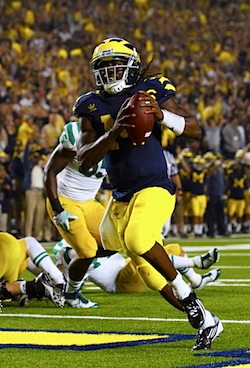 JERRY HINNEN: Michigan (+5) over Notre Dame.


Four of the past six seasons, the Fighting Irish have faced the Wolverines as a narrow favorite. The results of those four games: Michigan 47-21 (2006), Michigan 38-34 (2009), Michigan 28-24 (2010), Michigan 35-31 (2011). And it isn't just the Wolverines that tend to spring surprises in this series, either – the Irish won as underdogs in both 2005 and 2008, meaning the favorite has gone a whopping 1-6 straight-up over the past seven seasons.
There's reason to back the Wolverines that aren't just history-related, either. Denard Robinson and new receiving toys Devin Gardner and Devin Funchess will test the injury-hampered Irish secondary far more than Michigan State did; Robinson's legs should help neutralize the aggressiveness of the Irish's outstanding front seven. And more than anything, it just appears the Irish can't play as well as they did in East Lansing for two weeks straight. The Wolverines should take advantage.
- - -
Last week: Missed on Utah State (+13) over Wisconsin. Season: 1-for-3.
MATT HINTON: Southern Miss (+3.5) over Western Kentucky.


Full disclosure: This is a rare homer pick for me (I'm a Southern Miss alum) and there's more than a little pride invested in the alma mater avoiding its first 0-3 start in 36 years against an outfit that has only been a full-fledged FBS program for five. If the Golden Eagles don't get past WKU, they'll be much larger underdogs in their next three games against Boise State, Louisville and Central Florida – all favorites to win their respective conferences – and well on their way to 0-6. The Hilltoppers, meanwhile, are coming off a dramatic overtime upset of Kentucky, and even a 35-0 loss at Alabama in Week 2 doesn't look that bad in context.
Southern Miss is still waiting on the light to come on for its freshman quarterback, Anthony Alford, who has flashed some of the talent that made him a blue-chip, SEC-worthy recruit. But he has also turned the ball over four times in two games despite splitting time with junior Chris Campbell. Last week, three giveaways in the third quarter alone made all the difference in a 24-14 loss to East Carolina, a game that USM largely controlled otherwise. A repeat of that defensive effort, minus the field-flipping mistakes, should be enough to get the Eagles on the board.
- - -
Last week: Missed on Arizona State (+6.5) over Missouri. Season: 0-for-3.
Culpepper completed 45 of his 75 passes for 518 yards and two touchdowns for the Orange in...

Kevin Purvis began working with the Bulldogs in 2006

Alabama topped Texas in the 2009 BCS National Championship Game and Notre Dame for the 2013...
Nyqwan Murray was projected to once again be a key playmaker in the Seminoles' offense

Just because you were great in college doesn't mean you'll be great in the NFL

Isaiah Williams chose Illinois over schools like Alabama, Clemson, Ohio State and more