Upset Bait: Huskies turn back Stanford surge, and more love for Week 5 underdogs
The Eye on College Football blog crew scans the weekly odds for a straight-up shocker or two -- for entertainment purposes only, of course.
The Eye on College Football blog crew scans the weekly odds for a straight-up shocker or two – for entertainment purposes only, of course.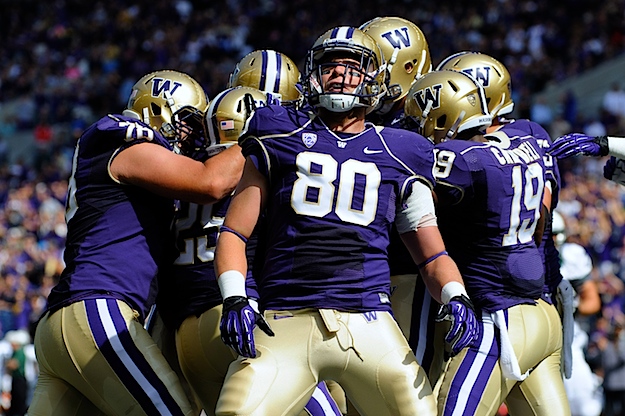 BRYAN FISCHER: UTEP (+4.5) over East Carolina.


They say being at home is worth three points, but I'm not sure East Carolina comes close to being slightly better than what UTEP has shown over the first few weeks of the season. The Miners have a strong running game (although stopping it is the Pirates' strength) and have stood up to Oklahoma, Ole Miss and Wisconsin in surprisingly close games. I think Mike Price gets things done on the road for the first conference win of the season.
- - -
Last Week: Hit on Louisiana Tech (+3) over Illinois. Season: 3-for-4.
CHRIS HUSTON: Washington (+6.5) over Stanford.


In the past three years, the Huskies have lost to the Cardinal by an average of 35 points. This year, it will be different and it's not just because Andrew Luck isn't around to direct the Stanford attack. Why will Washington be able to succeed against the Cardinal where USC failed? The simple answer: Unlike the Trojans, the Huskies have a mobile quarterback, Keith Price, who can be rolled out to avoid Stanford's ferocious pass rush. Washington will move the pocket and use misdirection to keep the Cardinal front seven off balance. Then Austin Seferian-Jenkins and Kasen Williams will make the Stanford secondary pay downfield. When things break down, Price will scramble for extra yardage. It's high time that Price had a breakout game and this should be it.
Also, it helps that Washington was embarrassed two weeks ago (41-3) by a talented LSU team on the road. Playing Stanford will seem like a walk in the park by comparison. The Huskies pull of the upset before a raucous home crowd.
- - -
Last Week: Hit on Kansas State (+14) over Oklahoma. Season: 3-for-4.
CHIP PATTERSON: Missouri (+3) over Central Florida.


Missouri's offense looked sluggish and out of sync last week against South Carolina's defense, even with quarterback James Franklin back in the lineup after a week off to rest a sore shoulder. The up-tempo attack slowed, and the Gamecocks' defensive front – arguably one of the best in the nation – was able to get into the backfield and bring Franklin down three times. The Tigers are 2-2, but their losses are both to top-10 teams. Gary Pinkel's team has been tested, and this is the perfect game for Missouri to get back on track. The Knights have had an extra week to prepare and are at home but, even as an underdog, Missouri shouldn't lose this game to a Conference USA team.
- - -
Last Week: Hit on San Jose State (+3.5) over San Diego State. Season: 3-for-4.
TOM FORNELLI: Ohio State (+2.5) over Michigan State.


I have no profound reason or gut feeling for going with the Buckeyes. I just feel like, at this point in time, Ohio State is simply the better team. While that Michigan State defense is stout, the Spartan offense is entirely one-dimensional right now. And while the Ohio State run defense hasn't been stellar, things will be much easier when it can stick eight guys in the box and dare MSU quarterback Andrew Maxwell to beat it through the air.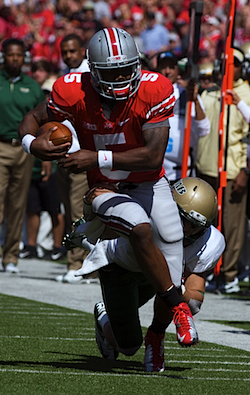 Of course, I'm well aware that Ohio State's offense is rather one-dimensional itself, and that dimension is Braxton Miller-- the same Braxton Miller who was eaten alive by this Michigan State defense last season. Still, Braxton will be the most talented player on the field. While he won't have a huge day, he'll make more plays than I trust the Spartans can. 
- - -
Last Week: Missed on Clemson (+14.5) over Florida State. Season: 2-for-4.
JERRY HINNEN: N.C. State (+2.5) over Miami.


Let's look over Miami's entire body of work on the season, shall we? 1. A 41-32 win over Boston College in which the Hurricanes  were outgained by more than 120 yards and escaped via three B.C. turnovers. 2. A 52-13 beatdown at the hands of Kansas State in which the 'Cane D was again strafed for nearly 500 yards. 3. A 38-10 win over FCS Bethune-Cookman in which the visiting Wildcats finished with as many first downs as the 'Canes and only trailed 24-10 early in the fourth quarter. 4. Last Saturday's wild, 42-36 overtime win over Georgia Tech in which the 'Canes trailed 36-19 midway through the third quarter before storming back in the final 20 minutes.
Yes, the comeback was impressive. But those prior 220 minutes strongly suggest the 'Canes aren't as good as those last 20 vs. the Jackets made them look. Now they face a talented Wolfpack team that's basically had three weeks to get ready after cruising past South Alabama and The Citadel. The guess here is that Miami's surprising reign atop the Coastal Division will be short-lived.
- - -
Last Week: Missed on Michigan (+5) over Notre Dame. Season: 1-for-4.
MATT HINTON: Oklahoma State (+2.5) over Texas.


This line actually opened with Oklahoma State as a slight favorite early in the week before it was moved by an apparent wave of faith in the Longhorns and their sophomore quarterback, David Ash, on the road. Its last time out, Texas dropped a 66-point, 676-yard bomb on Ole Miss with career highs from Ash for passing yards (326) and touchdowns (four). Through four games, he has yet to throw an interception. Impressive stuff.
But even those numbers fall slightly short of Oklahoma State's averages on offense through three games. That including a 636-yard outburst in the Cowboys' only loss, at Arizona. Their undoing in that game was turnovers: OSU committed four and created none, a stark regression for a team that led the nation in turnover margin in 2011. Three weeks later, there will be three major differences Saturday in Stillwater: a) The likely absence of freshman quarterback Wes Lunt, who threw four interceptions at Arizona and has yet to return to practice following a subsequent knee injury against Louisiana-Lafayette; b) The presence of defensive coordinator Bill Young, architect of the Cowboys' aggressive, takeaway-oriented scheme, who didn't make the trip to Tucson while recovering from a medical procedure; and c) The fact that the game is in Stillwater, where Oklahoma State has taken eight in a row, seven of them by at least 21 points. If Texas still manages to outgun the Cowboys in that environment, the sky's the limit for expectations over the rest of the season.
- - -
Last Week: Missed on Southern Miss (+3.5) over Western Kentucky. Season: 0-for-4.
Tom Hutton joins the ranks of former Aussie rules footballers joining the college football...

The freshman is already on Heisman lists after throwing the walk-off score in the national...

These seven teams should make the most noise down the homestretch towards signing day
Air Force was forced to cancel 11 athletic events because of the 69-hour government shutdo...

Olson has a lot of the tools offensive coordinators want in a quarterback

The Tigers have a wealth of talent at their biggest position