Upset Bait: Northwestern has Nebraska's number, and more love for Week 8 underdogs
The Eye on College Football crew scans the weekly lines for a straight-up shocker or two -- for entertainment purposes only, of course.
The Eye on College Football crew scans the weekly lines for a straight-up shocker or two – for entertainment purposes only, of course. For more weekend predictions, check out our expert picks.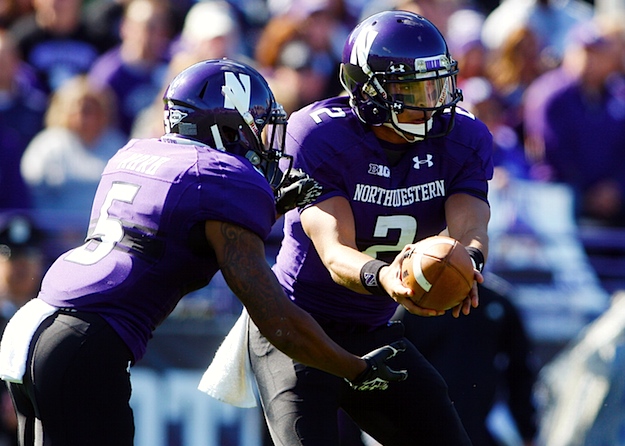 BRYAN FISCHER: Indiana (+2.5) over Navy


A classic letdown game for Indiana, which nearly pulled off remarkable upsets in conference play two weeks in a row before finally falling to Michigan State and Ohio State. Now the Hoosiers hit the road to take on a Navy team that has been hot as of late, winning three of the past four.
Here's the thing: As much as we all love the Midshipmen, they haven't come close to beating an FBS team and the Hoosiers are averaging nearly 36 points per game and 473 total yards. Yes, the defenses aren't great, but Indiana should have just enough to slow Navy down with a penetrating defensive line that will welcome a smaller opponent than it's used to seeing in the Big Ten. By the way, the last time Navy beat a Big Ten team was 1979, so I'll go with history for yet another year.
- - -
Last Week: Hit on Wisconsin (+2.5) over Purdue. Season: 5-for-7.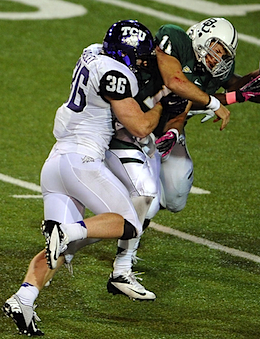 TOM FORNELLI: TCU (+2) over Texas Tech


The line on this game opened at TCU –3.5 before quickly moving to Texas Tech. Let's just say I think Vegas had it right the first time. The gambling public is just responding to Tech's win over West Virginia a bit more than it should be. This is still the same Tech team that lost to Oklahoma by 21 two weeks ago and is going on the road to face a TCU team that is 56-8 in Forth Worth under Gary Patterson, and 23-1 at home since 2008.
TCU might be without its starting quarterback, Casey Pachall, but freshman Trevone Boykin played much better last week, throwing for 261 yards and four touchdowns while completing 73 percent of his passes in a blowout win at Baylor. I don't think he has that same kind of performance against a good Tech defense, but I don't think he'll have to, either.
- - -
Last Week: Missed on South Carolina (+3) over LSU. Season: 4-for-7.
CHRIS HUSTON: Arizona State (+8) over Oregon


The Sun Devils have been one of the surprise teams in the Pac-12 so far, just four points away from being 6-0 in Todd Graham's first season. They're beating teams by an average score of 40-14 and first-year starter Taylor Kelly is fourth nationally in passing efficiency. So why will ASU upset the No. 2 Ducks? Simply put, Oregon has not been challenged so far this season, nor has it played a road game.
Going up against a team that is proficient on both sides of the ball in a hostile environment will be a bit of a shock to young Oregon players like quarterback Marcus Mariota, who have yet to experience any diversity. Look for the Ducks to struggle with turnovers and penalties and for ASU to take advantage on a wild Thursday night in Sun Devil Stadium.
- - -
Last Week: Missed on Stanford (+7) over Notre Dame. Season: 4-for-7.
CHIP PATTERSON: Maryland (+3) over NC State


For the better part of the 21st Century, Maryland has been a thorn in NC State's side. The Wolfpack are 4-8 against the Terps since 2000, with the most recent heartbreaks in 2007 – a loss that kept NC State from a bowl game – and 2010, a loss that kept NCnState from a share of the Atlantic Division title, leaving a bad taste in fans' mouth at the mere sight of a box turtle. College Park has been particularly unfriendly, with Maryland claiming five of the last six meetings on their home turf.
Also, NC State has struggled winning consecutive ACC games in recent years, doing so only three times since 2009. The Wolfpack have been off for a week since the 17-16 upset over Florida State on Oct. 6, but I think Saturday's falls into that unfortunately predictable category of a classic letdown game.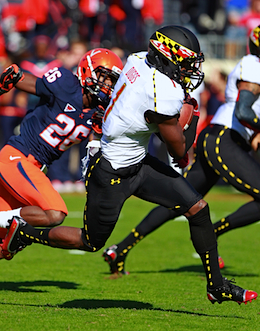 Meanwhile, Maryland has been recharged by back-to-back wins over Wake Forest and Virginia, pulling out games with gritty defense and some timely plays from five-star freshmen receiver Stefon Diggs and his less-touted classmate, quarterback Perry Hills. If the Terps can get anything going on the ground, I like their chances to knock off the Wolfpack and improve to 3-0 in ACC play.
- - -
Last Week: Missed on Texas (+3) over Oklahoma. Season: 4-for-7.
JERRY HINNEN: Texas A&M (+3.5) over LSU


Les Miles' Tigers have played just two road games so far this season. In those two contests, his offense scored a combined 18 points; averaged 4.6 yards per play (worse than Kentucky's average for the season); turned the ball over five times; and converted 7-of-31 third downs. You get the point: It hasn't been pretty. And no, Texas A&M's defense isn't in the same class as Florida's, but it's certainly in the class of Auburn's, and Auburn held LSU scoreless for the final three quarters of a 12-10 slugfest, the only SEC game in which Auburn has even looked competitive. Does an 11 a.m. kickoff at Kyle Field the week after an emotional win over South Carolina seem like the place to get these woes solved?
It's fair to assume A&M quarterback Johnny Manziel isn't going to be quite the superhero he's been week-in-and-week-out against the LSU defense. But the Florida offensive line fared well enough against the Tigers to assume he'll have his chances here and there, and unless the LSU offense shows us something on the road it hasn't before, those should be enough.
- - -
Last Week: Missed on Fresno State (+7) over Boise State. Season: 2-for-7.
MATT HINTON: Northwestern (+6.5) over Nebraska


The last time we saw Nebraska, the Cornhuskers were being ripped for 498 yards (rushing) and 63 points in a wipeout loss at Ohio State. On their only their other road trip this season, the Huskers were gashed for 653 yards (344 rushing) in a 36-30 loss at UCLA. On their last road trip of 2011, they were gashed for 518 yards (238 rushing) in a 45-17 loss at Michigan. On the road, against competent, versatile offenses fueled by athletic quarterbacks, Nebraska's defense has been routinely reduced to mincemeat.
Northwestern doesn't strike as much fear in anyone's heart as the Buckeyes, Bruins or Wolverines, athletically, but the Wildcats are 6-1 on the strength of a competent, versatile offense fueled by arguably the most versatile quarterback in the country, Kain Colter, who'll line up anywhere -- quarterback, tailback, receiver -- on any given play. Between them, Colter and tailback Venric Mark are averaging more than 200 yards per game from scrimmage, better than any other rushing/receiving combo in the Big Ten, and Mark can flip the field in a flash as the league's most dangerous punt returner. When Northwestern upset Nebraska last year in Lincoln, it was a shock. This year, it looks like par for the course.
- - -
Last Week: Hit on Oregon State (+5.5) over BYU. Season: 1-for-7.
It wasn't only the massive $75 million contract that got Fisher to depart for College Stat...

Weinke was injured when Florida State lost to Tennessee in the 1999 BCS title game

It was one of the busiest offseasons for the assistant coaching ranks
Oliver's star has already been born, but 2018 is when it will truly be recognized

Craig Kuligowski is reportedly leaving Miami to take the same job with Alabama

BT Potter is about to be very popular in the Clemson locker room