Urban Meyer on OSU WR comments: 'I'm very disappointed'
Urban Meyer didn't hide his dissatisfaction with receiver Evan Spencer's Monday comments that the Buckeyes would 'wipe the field' with Alabama or 'whoever.'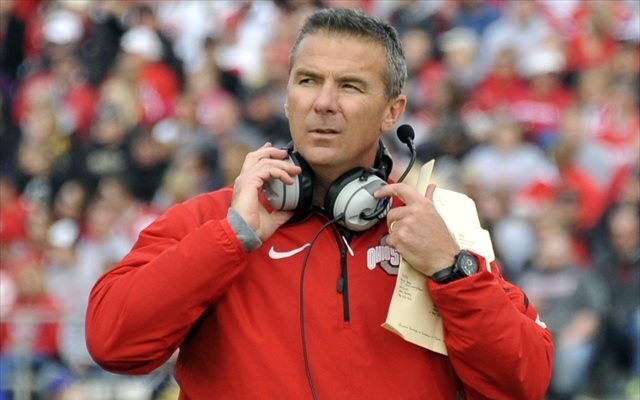 Watch the video of Ohio State wide receiver Evan Spencer telling reporters that the Buckeyes would "wipe the field" with either Alabama or "whoever" else they might face in a national title game, and it's clear Spencer wasn't really trying to talk smack at the Tide, Florida State, or anyone; he's having a loose conversation about watching other BCS contenders on TV, he admits it's "the bias" speaking, and he chuckles afterward.
But what Spencer said is what he said, and so it was no great surprise Tuesday when Urban Meyer said he wasn't happy with his junior wideout.
"I'm very disappointed," Meyer said, per the Columbus Dispatch. "I can't stand that. I think I know Evan well enough and I talked to him briefly. He was kind of smiling when he said it, [but] no, I can't stand it."
It will prove to be the last chance reportes have to talk to Spencer for quite a while.

"He's certainly not the spokesman for our team," Meyer said. "As a result, Evan won't talk to the media for a long, long time. You don't do that. That's not good sportsmanship, and it's not what we expect."
For his part, Spencer took to Twitter late Monday to clarify his comments:
I did not mean to disrespect any FB team today. I am confident in my team, and as is evident in the video, I was having fun ...

— Evan Spencer (@LiLSpencee) November 12, 2013
...with the media answering their questions. I should have chosen my words more wisely. There was no intent to disrespect any other team.

— Evan Spencer (@LiLSpencee) November 12, 2013
The good news for Spencer is also the bad news for Spencer: if Alabama and Florida State win out as expected, relegating even an undefeated Ohio State to the Rose Bowl, Meyer's reprimand and his apology will be the last anyone thinks of his comments, more or less. But that also means, of course, that an undefeated Ohio State would be playing in the Rose Bowl instead of the BCS Championship Game -- and if the Buckeyes weren't already dreaming of their shot at a crystal football, it's clear that Spencer wouldn't have been driven to comment on their potential opponents in the first place.
Barrett Sallee is cashing on 67 percent of his best bets and gives 3 strong picks for Week...

The No. 16 Bulldogs will travel to Arkansas Saturday afternoon on CBS

The Owls are 7-3 overall and 6-0 in the Conference USA East division
Wisconsin has another chance to impress the committee

With the College Football Playoff in its sights, can the Bulldogs get back on track?

The Fighting Irish need a bounce back game in the worst way after losing to Miami