Urban Meyer talks Ohio State, Braxton Miller, Tim Tebow, NFL
Ohio State Buckeyes coach Urban Meyer discusses several topics with CBSSports.com, including Braxton Miller, Tim Tebow and the NFL.
• 10 min read
COLUMBUS, Ohio -- Urban Meyer jumps up from a black leather couch mid-interview and speed-walks to a small whiteboard in the corner.
He pops open a red marker and starts drawing a formation, scribbling as fast as he's talking, the squeaks from the board growing louder with each mark.
Ohio State's coach uses the board to answer a question about the latest offensive trends in college football.
The second-level zone read has his attention. In the traditional zone read, the quarterback reads the defensive end to dictate whether he'll hand off or run. In this version, the quarterback is reading the linebacker.
"That's going to not disappear," Meyer says. "It's even in the NFL now. The NFL doesn't give you three yards."
College does -- as in, officials allow linemen to get up to three yards downfield before a throw. If the linebacker bites inside, the quarterback can throw to the open space with a slant, hitch, out or whatever the pattern dictates. Meanwhile, linemen already are downfield to block.
Meyer estimates 25 teams or so use the second-level concept. He thinks Rich Rodriguez might have started it. Auburn is good at it.
"Probably next year -- 50 (teams)," said Meyer, who allowed a picture be taken of the formation, which he drew in about 15 seconds.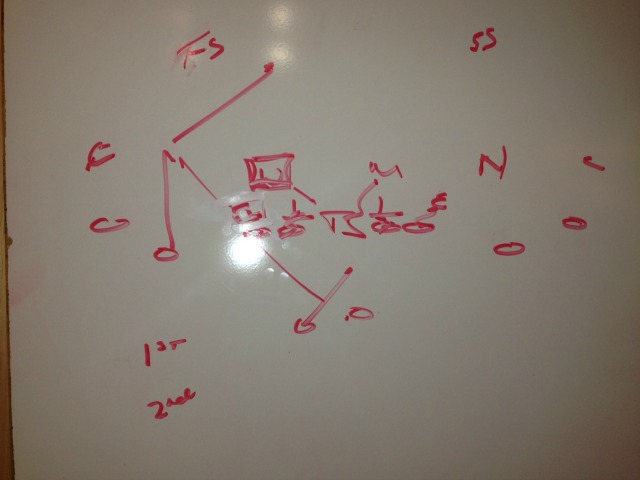 Maybe Meyer is eager to draw up a play because the spring is the time of year for coaches to imagine. Ohio State is in the middle of a defensive overhaul, with help from new co-coordinator Chris Ash and even former Rutgers and Tampa Bay Buccaneers coach Greg Schiano, who's not on staff but visited for three days last week to offer thoughts and observe meetings/practices.
The Buckeyes recently brought in offensive coaches from Texas A&M and Clemson for a groupthink session. Soon enough, quarterback Braxton Miller will get a simulated 'Gruden QB Camp' in the Ohio State offices.
These are just a few topics Meyer addressed in a Q&A with CBSSports.com after a recent spring practice, where the Buckeyes were short three wide receivers due to injury but still looked explosive from Meyer's view.
Offensive skill positions aren't concerns. Getting better at linebacker and defensive back are.
Similar to last year's format with Meyer, this interview touches on Ohio State football and some big-picture topics: NFL, Tebow, new offense, college football parity, NCAA rules, the pizza pic and an 'uncomfortable time.'
On fixing the Buckeyes defense: "I have a vision for our defense. I made it clear what I'd like to see. I'd like to challenge every throw and run like hell, to have a defense like we played at Florida. I want to see it. I'm more involved than I've ever been … There are a couple of positions that have to play better than they've played."
On how to fix it: "Overhaul. Overhaul. Overhaul it. A little bit like when we came here and we overhauled the offense …What Chris Ash is able to do, we're overhauling it entirely. Some things will look the same, but there's a reason why our kids didn't play very fast last year, and it's not because of the players. We're overhauling everything, the terminology, the way we practice, the way we coach. It's going pretty good. No resistance, no egos, really good people."
On his role in that overhaul: "I'm in all the meetings. First year we took over an offense that was ranked in the 100s … We had new coaches and only two of them knew what we were doing so I was over there all the time. We did a nice job. On defense I've kind of let it go -- not let it go, but I let them do their thing. We got better the first year of the last five games we played really good defense. This year, no."
On whether Ohio State, with a better secondary in 2013, would have been Pasadena-bound: "Yes. I don't want to take anything away from Michigan State. They were a great team. They threw for 300 yards on us. You're not going to win many games that way. When you have to outscore people, that's going to catch up to you."
On drowning his Big Ten title game sorrows in pizza sauce inside Lucas Oil Stadium after Michigan State loss: "I heard about that. I've only had a couple of chances in my life to go play a national championship. We just lost one. But I love my players, I was actually better than I ever have been. Anxious for the future, I know we have a really good recruiting class coming in. But really, really disappointed we didn't play better."
On trying to rediscover his Florida depth: "If (Ryan) Shazier didn't leave and (Bradley) Roby didn't leave, we'd be damn close. They left. Now you're still stirring up depth issues. Those were two areas we couldn't lose anybody. Freshmen have got to play -- top 10 programs, all freshmen have got to play."
On why Braxton Miller stayed in school: "It's a matter-of-fact conversation. I've talked to some general managers and some good friends of mine that are coaches. I've gone through every quarterback I've had, Alex Smith, I've seen what they do to those quarterbacks in those meetings as far as knowledge of the game. Same with Tebow. I had Cam for a while but not that long. They are going to grind him. He doesn't have the concepts yet. He's working real hard."
On simulating a Gruden QB Camp for Miller, who isn't participating in spring practices because of a shoulder injury: "We're having him watch DVDs. I think Jon Gruden does a heckuva job with quarterbacks. I tried last year (to get him to come). So we're just doing it ourselves. I would try him again. He's a busy guy. (Co-OC Tom) Herman will be Gruden. I'll be doing it big time in June. We'll have him present to us.
On scaling back Miller's runs: "Big time. Two years ago he was our whole offense. Last year, we leaned on him too heavily in the Michigan State game. He's still the best player. Some of those are just scrambles. Two years ago almost all his rushing yards were called runs. This year it was scrambles.
On whether Miller can/should take the pounding of this offense (557 carries in three OSU seasons): "He's strong. Can he take a lot of hits? He's had some dings. It's not just running. This injury is from the pocket. The quarterback is a violent position. It's the most unique position in all of sports where you're not ready for the contact. (To help) we'll get the ball out fast, break contain and then teach him when it's coming, get out."
On Tim Tebow working for one last NFL shot: "You'd imagine how he works. Works every day. He's hoping. There are some conversations about it. I don't know too much. There's hope and he says there's stuff going on."
On whether parity in college football is improving: "It's close. Oklahoma showed it. Michigan State showed it to beat Stanford. The Big 12 has a strong conference now. I got to watch some games. There are some good teams out there. I think the Big Ten is getting better. Michigan State, Penn State coming off the sanctions, Wisconsin is a helluva football team. We were right there on the 35-yard line to beat Clemson. Traditionally there's an Iowa, that's a helluva team. I think it's coming. The SEC is so unique because there are just so many. I don't know if you'll ever catch them top to bottom. The talent down there -- there are so many players."
On whether he burned recruiting bridges in talent-rich Florida by leaving the state: "No resistance whatsoever … the relationship is stronger than ever."
On five-star freshman LB Raekwon McMillan playing right away: "He's gotta be (ready). I think he will. He's a very mature kid. You need a man."
On scoring McMillan: "One of the best recruiting jobs I've ever seen. I didn't realize he didn't decide until our home visit. I thought we had him. I was kind of relaxed. I'm glad he didn't tell me. I would have screwed it all up."
On not getting any NFL calls this offseason and how he's "probably not" interested in the pro game anymore: "What I found out I missed more than anything with the year off is building teams and I can't get enough of these players and being involved in them. Like with Greg Schiano and some of my closest friends, I saw the stuff you have to deal with. It was intriguing at one time."
On what 'stuff' that was…the tenuous nature of NFL coaching?: "Yes, that's it and how often they change jobs."
On Joey Bosa: "Could be as good a defensive linemen I've ever coached. He can be as good as there is."
On style points and no-huddle offenses: "I get caught up in winning. (Offensive coaches) like to run a lot of plays. But I'll slow them down at times, too. Wisconsin is a perfect example, we're up three scores, I don't know if I did the right thing or not because it got a little close, but we won the game. We're not into that. If I hear that, it's not coming from me. I'm into winning and scoring -- the highest scoring offense in the history of Ohio State. Score every time you touch the ball."
On the 10-second rule proposal: "I was blindsided. We just got done with this big meeting, the one in Indianapolis, all the coaches are sitting there, never came up. We sat there for two hours. A week later I learn they are meeting about this new rule. I'm not saying it's wrong, [but] you don't just start making rules."
On whether defenses should have some sort of concession to combat no-huddle: "It makes you think, when I heard the rationale. Makes you think for a minute. Those take months to have those conversations. If they can prove it's safety, I wouldn't think there wouldn't be one coach that would say you're right, go to the 10-second rule. If they can't prove it or it's not true, football's good. Very popular sport. It's fun to watch, fun to coach, fun to play."
On how he felt he handled the assault on his reputation during Big Ten Media Days over off-field issues at Ohio State and Florida: "It was an uncomfortable time. I thought we did a good job of handling it. We do what we do, coach 18- or 19-year-olds. Some programs have had more (problems) in the past. But we feel we've improved in that area."
On why judging players' character in recruiting is difficult because of NCAA rules: "You're limited in the amount of time you can meet with a guy. You're making a decision on whether that person should be a part of the program in a few meetings."
On how sometimes the NCAA has it right -- like with ban on text messaging: "If you text a kid, he'll get 650 texts a day. If I'm a kid on Instagram, I can manage it."
McElwain will coach receivers and help coordinate the offense for the Wolverines

Nathaniel Watson Jr. was involved in a car accident that injured a passenger in early Febr...

The honorable Tom Fornelli presides over the ASU vs. UM case
Arkansas State is seeking $650,000 for a canceled home game last September due to Hurricane...

Friday Five is tackling the big questions this week

Two unnamed players are being investigated for an incident at an off-campus apartment