Urban Meyer uses NFL scouts to send anti-Michigan message
Ohio State football coach Urban Meyer has forbid NFL scouts from wearing blue -- rival Michigan's color -- on visits to campus.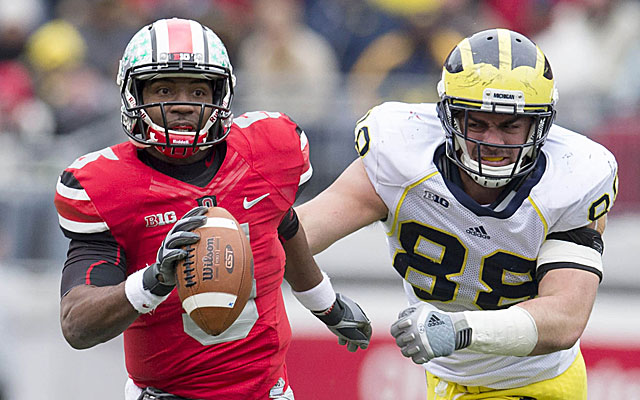 Ohio State coach Urban Meyer might have gone too far when he forbade NFL scouts from wearing blue -- the primary color of rival Michigan -- on their campus visits to Columbus. Meyer (and his players) definitely went too far in the way they sent that message.
Before we go further, understand that this is not a scandalous outrage. This isn't Bobby Petrino scolding a young reporter who dared to wear a Florida cap -- the reporter went to Florida -- to a press conference at Arkansas. Petrino was one of the most powerful men in the state, and she was a young reporter doing her job. Petrino had the microphone in his hand, the cameras on his face and the weight of an entire state behind him. What Petrino did to that young woman was Bullying 101. That was awful.
What Meyer is doing isn't that. I'm not screaming, spitting angry. It's a small thing, but when it comes to stuff like this, small stuff matters. So I'm going to weigh in on this quirky bit of news out of Ohio State, as reported by Fox Sports Ohio's Zac Jackson.
The news as reported by Jackson, in a nutshell, is this:
At points last year, Ohio State coach Urban Meyer let it be known that visitors to Buckeyes practices were not to wear blue, presumably because that's the primary color of Michigan, Ohio State's biggest rival.

On the first day NFL scouts were allowed to observe Ohio State's practice this month, at least two were wearing blue. And at some point during their time in Ohio State's facility, Meyer's message about what not to wear was passed along through Ohio State and staffers and even involved some players yelling to the scouts that blue was not welcome.

Eventually, those scouts in blue were given Ohio State shirts to wear for the duration of their visit.
My problem, in a nutshell, is this:
Meyer and his players are using outsiders as pawns in their game of "Michigan is a very big rival."
And I understand part of that last sentence: Michigan is a very big rival. Wolverines coach Brady Hoke refuses to give Ohio State the respect of using its actual name; he calls the school "Ohio," which is silly. But it isn't confrontational. Hoke isn't (as far as we know) pushing his silly terminology on visitors to campus, telling them they cannot put the word "State" after the word "Ohio." Hoke isn't using outsiders as pawns in his game of "Ohio State is a very big rival."
Not that I'm saying Hoke is a better guy than Meyer. I'm not going there, so don't go there for me. Still, it's one thing for Meyer and his team to send the message that Michigan is a huge rival.
It's something else for the Buckeyes to use invited guests as a canvas, upon which they're painting that message.
The junior will take the snaps for the defending national champions in 2017

MetLife Stadium is about 10 miles away from where the World Trade Center buildings once st...

The Terps will wear these against Indiana on Oct. 28.
The coach of the Eagles isn't here for no science talk

These are the teams that are getting too much -- or too little -- love before the season

The Crimson Tide start atop the AP Top 25 poll for the second straight season