USC, interim coach Orgeron having fun doing the opposite
USC interim head coach Ed Orgeron has come a long way from his turbulent days as the Ole Miss head coach.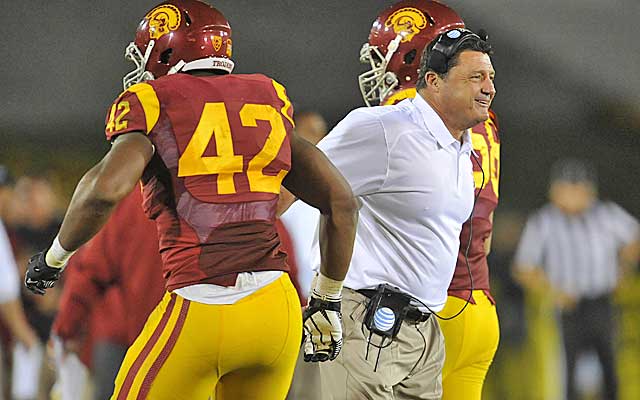 LOS ANGELES -- As Ed Orgeron jogged up the tunnel inside the venerable Los Angeles Coliseum with a cluster of fans chanting his nickname -- "Coach O!" -- he triumphantly pumped his fists in the air, flashed the Trojans hand signal for Fight On, while grinning from ear to ear. The group of Trojans fans, affectionately known as the "Thundering Herd," have been rooting on the Trojans for years, and in the burly Cajun's case, since 1998, when he first arrived in Southern California.
But Thursday night's 38-31 victory was much different than any other night for Orgeron. It was his team as Orgeron made his debut as USC's interim head coach -- even if he tries to steer clear of saying it like that.
"It's USC's team," he was quick to point out. "I'm honored I get to coach and work with these players."
The tone of everything he said, everything he has done in the past 12 days since USC fired Lane Kiffin and named Orgeron as the Trojans interim head coach, has been well-thought out and calculated. It's been the complete opposite in many situations of what Kiffin did. It's as if a coach could pull a "Constanza" and do everything the opposite of what Kiffin did at USC and the team would respond favorably to all of it.
Truth be told, it's been the complete opposite of what Orgeron himself had done when he was a head coach. In his three turbulent seasons at Ole Miss from 2005-2007, Orgeron's teams went 10-25. I was inside that program for most of it while I worked on my book Meat Market: Inside the Smashmouth World of College Recruiting.
I've never seen a team hit more in preparation for games or go harder or a staff grind harder. The Rebels played their butts off and almost upset a bunch of big programs -- LSU, Florida, Alabama, but in three seasons never beat anyone of note. His answer to everything seemed to be to go harder, be more intense. Soon, it backfired. It was like quicksand. The more he efforted, the faster he sunk. One of his former Ole Miss assistants said it was a lot of "Ready. Fire. Aim."
To paraphrase, Orgeron's own colorful verbiage, "He was chasing ghosts."
The harder Orgeron and his staff pushed, the heavier the air around the football complex felt. Before his third season was over, the atmosphere was toxic. Orgeron brought in a bunch of standout players -- many of them blossomed after he had left and the guy who followed him, Houston Nutt, reaped the benefit.
Ole Miss had back to back Cotton Bowl victories and a pair of Top 25 finishes before Orgeron's talent well dried up. Four seasons after the fiery coach left, Ole Miss had the worst season in school history. The coach who replaced Nutt, Orgeron disciple Hugh Freeze, relied on a mix of the two coaches and reeled in a head-turning top-five recruiting class and won a bowl game in his first season with the Rebels.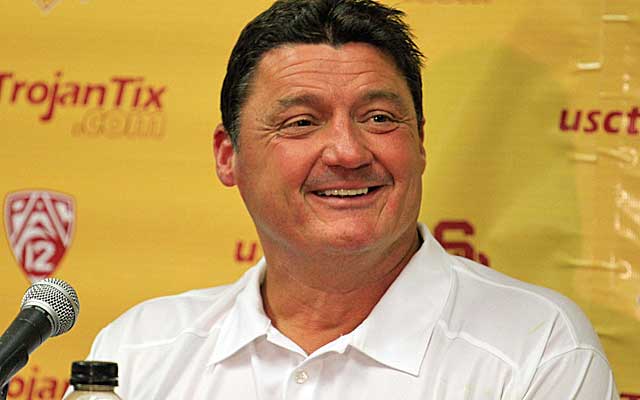 Since then Orgeron, has had brief stints in the NFL (as the New Orleans Saints D-line coach) and at Tennessee before returning to USC, the program that he helped Pete Carroll resurrect. And so there he was, hearing the cheers coming off the field deep into a very surreal Los Angeles night.
"Gahdang, I felt good," he told me early Friday morning. "Those are all my guys, the Thundering Herd. You could really feel the energy and the crowd."
The crowd Thursday night was far from a sellout. Inside the press box the attendance was announced as 64,216. It seemed more like 50,000. To Orgeron, it felt like 150,000. It was such a dramatic difference from the last time he was a head coach, when Ole Miss squandered a 14-0 fourth quarter lead and lost at arch-rival Mississippi State, 17-14, leaving the field at Davis-Wade Stadium in misery. He and his staff would be fired the next morning.
"I've had five years," Orgeron said, his booming voice trailing for a few heartbeats, the remnants of the rest of that sentence hinting at the time one has to ponder all that went wrong, all that could've been done differently, all the things people said about you, and the grim reality that you probably never get another chance to learn from your mistakes.

"I promised myself I'd treat these players and these coaches different," he said. The secret -- and after watching Carroll and one of his mentors Jimmy Johnson all those years, it shouldn't have been much of a secret -- was you have to create an environment where the players -- and staff want to be around you, want to play for you, bust their ass for the cause, for each other.
Pat Haden, USC's old Rhodes Scholar QB-turned AD, observed that side of Orgeron before he fired Kiffin and named the 52-year-old the interim head coach.
"That passion that Ed had coaching defensive linemen through that same stupid bag drill he's done for 27 years, it's just incredible," Haden said then. "That energy. That passion. The love for the game. The love for the university, it means a lot to us."
"What impresses me is he brings it every day," Haden said early Friday morning inside the Coliseum. "That's not a fake thing. And the players know it and they've responded remarkably well."
Orgeron brought a litany of changes in the 12 days since being named the interim: From bringing back sweets to the Trojans training table ("Give a lineman a cookie and he's happy," Orgeron explained) to catering Roscoe's Fried Chicken and Waffles for a post-practice meal after introducing the Trojan Bowl, a spirited, short bye week practice where vets coach the backups (an old Miami staple known as "the Toilet Bowl") to tabbing some football legends to speak to the team. (Earlier in the week it was Ronnie Lott. On Thursday, it was Keyshawn Johnson leading the team out of the tunnel.) He also let the assistants decide their player rotations. Above all, Orgeron wanted everything upbeat. There would be energy, but it'd be more enthusiasm, not angst.
Haden, who played at USC in the 70s and spent six seasons in the NFL and a bunch more in football as a broadcaster, sounded in awe as he recounted seeing the Trojans locker room before kickoff.
"I've never seen anything like it," he said. "And I've been in a lot of locker rooms. It was a much different environment. It was unbelievable.
"I don't know what the music was. It's not on my iPod. It was weird music but they loved it. Our kids were having a blast."
Orgeron played a song that the Saints play before games in the Superdome. "They (the players) went nuts, but it was a good nuts," he said. "I don't really know the name of that song -- Get Crunk or Something. The Dome always goes crazy. It was a nice little get-up."
The Trojans responded well to all of it. The buttoned-up play-calling of Kiffin that frustrated so many USC fans and seemed to hamstring the Trojans QBs was gone. USC hit two 60-yard plus TD passes within the first 10 minutes.
They'd only had one such play in the previous five games. The Trojans finished with 546 yards, a season-high, lighting up what had been the nation's No. 9 defense, an Arizona unit that came in averaging only allowing 14 points per game. A suspect O-line powered the way to 249 rushing yards as USC overcame playing without three wideouts, including star Marqise Lee. QB Cody Kessler still managed to throw for a career-high 297 yards. The Trojans also were without standout pass-rusher Morgan Breslin, but J.R. Tavai jumped in and had a monster game with 10 tackles and 3.5 tackles for loss. The 38 points tied the most an Orgeron-led team had scored in any game in his three seasons at Ole Miss.
"No disrespect to the coaches who were here before, and I don't want to get into that, but you want a coach that you would go to war for every time," said Kessler. "And this man right here to my right (Orgeron) -- and I don't only speak for myself -- I speak for the whole team, we would go to war for this guy any day of the week. Anytime he needs us, we have his back. When you have a coach you can not only see but feel that he cares about you so much and he wants you to be the best you can be and succeed, that's love right there. That's awesome. I couldn't ask for a better head coach right now. I know all of us, we'd go to war and put our life on the line for this guy any day of the week."
Kessler's words were echoed by many other Trojan players in the hours after the game. LB Hayes Pullard said "we love Coach O like a dad."
I suspect a lot of folks in Mississippi are incredulous to see players talk like this about Orgeron. The coach knows he can't change what happened back then. Only grow from it, he said, before coming back to his point that it's really not about him, it's about the players and USC. That's what matters most.
It has to.
The Trojans players admitted they don't know much about Orgeron's time at Ole Miss, and they don't care.

Pullard, who has become close to Orgeron, said that the coach told him he did things the wrong way and he "wasn't going to make those mistakes again," before the linebacker pronounced Thursday night's game, a "turning point. We got beat pretty bad in Tempe (by Arizona State) and this got that bad taste out of our mouth."
They weren't the only ones, and for Orgeron that bad taste had been there for a lot longer than two weeks.
"I woke up happy for the first time in my life other than when I married my wife and had my kids," Orgeron conceded, chuckling while flanked by his players. "I'm not a happy guy but today I was happy. I just had a feeling of happiness being able to represent USC."
The Trojans, 4-2 and 1-2 in Pac-12 play, still have some sizable concerns, starting with a secondary that got roasted repeatedly Thursday night and its previous time out against ASU. The schedule also gets much tougher now with a road trip to rival Notre Dame up next. Later comes a road trip to Oregon State and games against two top-12 teams, Stanford and UCLA. The Trojans may only be favored in three of their final seven games.
An hour after the win, Haden was asked if Orgeron has a shot to become the Trojans head coach following this season. "Sure," Haden replied. Maybe the former USC star felt like he had to say that. Maybe the AD could've said he wasn't commenting on the coaching search at this time. Maybe he, too, was caught up in what he admitted was a very cathartic night for the Trojan family.
It certainly was for Orgeron.
"These guys, I watched them hurt and I just wanted to change them, and I really mean that," Orgeron said of the players. "And to see them happy, to see them celebrating and feeling good about themselves, a little more pep in their step, that's all I wanted. I did tell the guys I'd treat them like my sons. And you see your sons hurting; you hurt for them. We just wanted them to feel good. That's what this was about.
"This is not about anything I do. This is about those young men out there. I'm really proud of the way we came out starting fast. I'm proud of the coaching staff and the leadership on this team, of every team member, how they bought into what we were telling them, how they practiced, how we started to form an identity and a bond as a team. I'm really pleased with the overall effort of the football team."
On Friday night, it's back to recruiting. Orgeron will be on a helicopter flying all over Southern California, dropping in on four high school games.


CBS Sports HQ Daily Newsletter
Get the best highlights and stories - yeah, just the good stuff handpicked by our team to start your day.
Please check the opt-in box to acknowledge that you would like to subscribe.
Thanks for signing up!
Keep an eye on your inbox for the latest sports news.
Sorry!
There was an error processing your subscription.
Fotu Leiato was found at the scene of a crash near Oregon's Autzen Stadium

Jordan McNair, 19, died on June 13

Win total selections and odds for all 14 teams in the Southeastern Conference ahead of the...
Riley's new contract extends through 2023 and is worth $25 million

Kennedy will have two years of eligibility remaining to play for the Vols

Jackson threw for 2,991 yards and 20 touchdowns as a rising freshman in 2017