USC star wideout Marqise Lee day to day with bone bruise
USC star Marqise Lee's injury Friday, turns out, is only a bone bruise. And that is great news Coach Lane Kiffin said.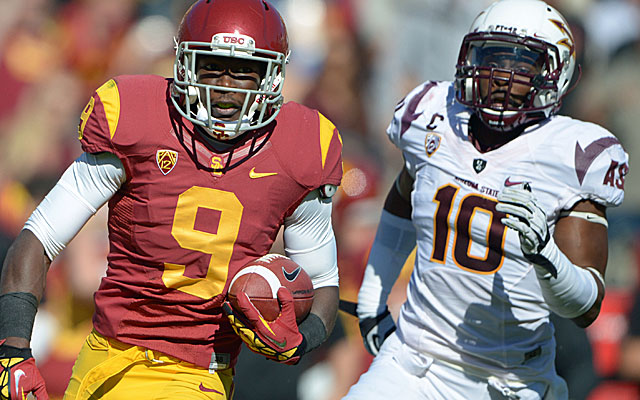 LOS ANGELES -- USC fans can exhale again. The Trojans' star wideout, Marqise Lee, has only suffered a bone bruise and is day to day, coach Lane Kiffin said after Saturday night's practice.
"It's great news," Kiffin said, adding that he expects Lee back at practice soon.
Kiffin said the past 24 hours of seeing the Biletnikoff winner leave practice injured, favoring his right shoulder and undergoing an X-ray only to find out Lee would be fine was like the feeling of losing -- and then finding -- his wallet.
Lee was held out of both the Trojans' morning and evening practices Saturday. The 6-foot, 200-pound junior was in uniform for Saturday night's session, but didn't have pads on. He watched from the sideline and did catch a few balls while teammates ran drills, but mostly kept his right arm down. Lee had a practice script and assisted the other young receivers getting lined up, said Trojans wide receivers coach Tee Martin.
In two seasons at USC, Lee has amassed a staggering 191 catches for 2,864 yards and a pair of kick return touchdowns.
"We've still got to get him a lot of work," Kiffin said. "We've got to make sure that we're not relying on his athletic ability to take over and that we're still putting him in a lot of situations so he can continue to improve as a receiver."
With Lee in the line-up the Trojans should have the most potent 1-2 punch in college football, coupled with rising star Nelson Agholor, but depth is an issue. Earlier this year, USC lost George Farmer and Steven Mitchell, leaving the team with only five scholarship receivers.
One of the bright spots of USC's fall camp so far has been one of those five -- freshman Darreus Rogers, a physical 6-2, 200-pound wideout who has displayed excellent ball skills.
Air Force was forced to cancel 11 athletic events because of the 69-hour government shutdo...

Olson has a lot of the tools offensive coordinators want in a quarterback

The Tigers have a wealth of talent at their biggest position
Pineiro received the award for stopping an attack the morning of Oct. 15, 2017

The first opening weekend lines for college football in 2018 have been posted

A year-end wrap-up of college football statistics you need to know from 2017