Utah, BYU agree to continue rivalry series in 2017, 2018
One of the best in-state rivalries not enough people follow is back on for two more meetings as BYU and Utah come to agreement.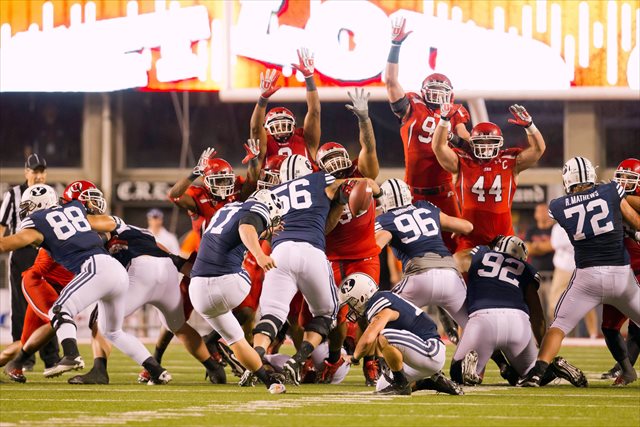 Texas and Texas A&M haven't been able to work it out, or Michigan and Notre Dame, or Kansas and Missouri. But at least one pair of bitter rivals seems committed to maintaining their hatred on the field despite the hurdles of realignment.
BYU and Utah announced Monday that the teams have officially agreed to a home-and-home renewal of the "Holy War" in 2017 and 2018, with the Utes visiting Provo on Sept. 9, 2017 and the Cougars returning the favor in Salt Lake City on Nov. 24 of the following season.
"As many people are aware we have been working on these two games for awhile," BYU athletic director Tom Holmoe said in a statement. "It's an important historical series for the state and the fans of both schools. It's nice to have it completed."
Discussions between the two schools on a renewal were first reported in July.
Coincidentally (or not), the two in-state rivals will square off for the 89th time this coming Saturday. With a win, the Utes would clinch the 2013 possession of the Beehive Boot, awarded to the Utah team with the best record among the other two FBS Beehive State schools.
The teams are now set to play four times in the next six seasons (2013 included), with a meeting also scheduled for 2016.
Robbie Robinson has not been enrolled at ASU for more than a year

Rutgers' offensive line challenged a local curling club to a match

These five teams have the best chance of being the Group of Five darling this coming year
Drevno had been running the Michigan offense for three seasons

Aaron was reportedly shot while trying to protect his girlfriend when a fight broke out at...

An assistant-by-assistant look at changes Saban made to the Tide's staff ahead of 2018