Utah names Travis Wilson its starting quarterback
Travis Wilson beat out Oklahoma transfer Kendal Thompson for Utah's starting quarterback job.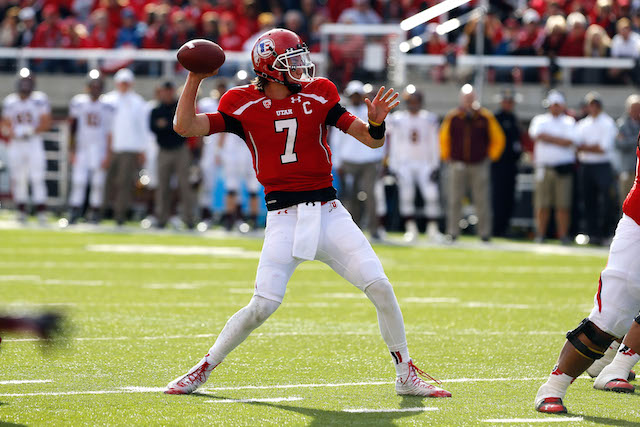 Did you know that Utah had a quarterback competition going on this summer? Well it did, but now it's over, and Travis Wilson has been named the victor. I don't know if it comes with a WWE-style championship belt, but it probably should.
Don't you think it'd make the players try harder if they got a belt?
Anyway, while the result of the competition may not have been the biggest of surprises, it was somewhat interesting considering that Wilson's primary foe was Oklahoma transfer Kendal Thompson. Thompson was a member of Oklahoma's 2011 recruiting class and spent three years with the Sooners before announcing his transfer to Utah in February. Thompson graduated from Oklahoma in May and was therefore eligible to play this season.
He'll start the season on the sideline, though. 
Wilson played in nine games for the Utes as a sophomore in 2013, passing for 1,827 yards and 16 touchdowns. He also rushed for 386 yards and five touchdowns, but there were the 16 interceptions he tossed as well.
So while Thompson will start the year behind Wilson on the depth chart, should Wilson's turnover woes continue this year, Thompson could still find himself getting a shot.
The first opening weekend lines for college football in 2018 have been posted

A year-end wrap-up of college football statistics you need to know from 2017

Stanford produces apps and Super Bowl participants
The Alabama QB has a new look after the Tide claimed another national title

Young was injured during Miami's Orange Bowl loss to Wisconsin

The movie will zero in on former Penn State coach Joe Paterno during the Jerry Sandusky sc...