Utah QB Jordan Wynn retiring from football 'with no regrets' after latest shoulder injury
Wynn has already endured three shoulder surgeries in as many years as Utah's starting quarterback, and will not be attempting to come back from a fourth.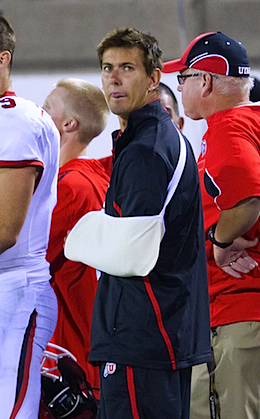 Jordan Wynn has already endured three shoulder surgeries in as many years as Utah's starting quarterback, and will not be attempting to come back from a fourth: Still wearing a sling on his left (non-throwing) arm, Wynn confirmed to local reporters Tuesday that he's decided to retire from football after suffering a season-ending shoulder injury for the third year in a row in last Friday's overtime loss at Utah State. Like the others, his latest injury will likely require surgery to repair.
"I'm walking away with no regrets. I can honestly walk away from the game with my head up," said Wynn, who has already earned a bachelor's degree in economics. "I went out and tried as best as I could and worked hard and just in the end it's not meant to be. For whatever reason my shoulders just couldn't hold up."
Wynn took the reins as Utah's starting quarterback during the last five games of his freshman campaign in 2009, eventually racking up 4,637 yards and 33 touchdowns over the course of 21 career starts, 14 of them resulting in Utah wins. But he was also plagued by the recurring injuries, beginning in his sophomore season when he missed early games against UNLV and New Mexico to a wonky thumb and the bowl game against Boise State with the first of three significant shoulder injuries. The second came in the fourth game of 2011, costing him the rest of the year. Last Friday, he was knocked out of the Utes' second game of the season with less than two minutes remaining in the first half, and spent the rest of the night watching from the sideline with his arm in a sling. Utah eventually lost in overtime, 27-20.
Wynn will remain with the team to help his successor, senior Jon Hays, who started the last nine games in Wynn's place in 2011 to uninspired reviews. (Against Utah State, Hays was 12-of-26 passing off the bench for 154 yards and a late touchdown pass that sent the game to OT.) More promisingly, there's the heir apparent, 6-foot-6, 220-pound freshman Travis Wilson, a coveted recruit who enrolled early for spring practice, has already seen limited snaps in the first two games and could very well push Hays or pass him as the season progresses.
"In practice the gap [between Hays and Wilson] is very small. In scrimmages, the gap is very small. But guys react differently when they're 'the guy.' So far, Travis hasn't been 'the guy,'" said head coach Kyle Whittingham. "It's either Jon's the guy with Travis supplementing what we do or it's Travis is the guy."
The first opening weekend lines for college football in 2018 have been posted

A year-end wrap-up of college football statistics you need to know from 2017

Stanford produces apps and Super Bowl participants
The Alabama QB has a new look after the Tide claimed another national title

Young was injured during Miami's Orange Bowl loss to Wisconsin

The movie will zero in on former Penn State coach Joe Paterno during the Jerry Sandusky sc...