Vanderbilt WR Chris Boyd pleads guilty to lesser charge in rape case
Vanderbilt wide receiver Chris Boyd has agreed to a plea deal on his accessory charge in the rape case involving four ex-Commodores.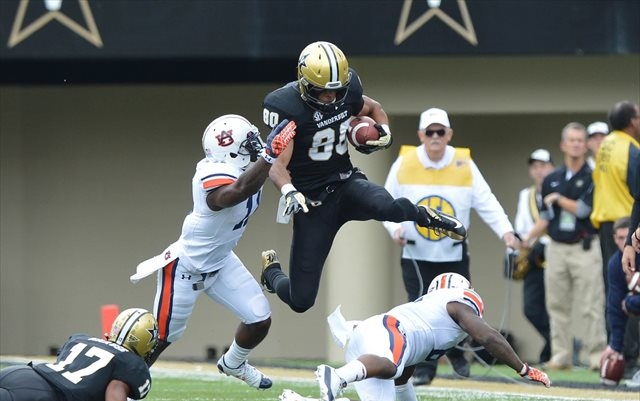 Vanderbilt wide receiver Chris Boyd has pleaded guilty to a lesser charge for his role in the rape case involving four dismissed Commodore players.
Boyd was indicted August 16 on a felony charge of being an accessory after the fact to the alleged rape, which according to police took place in the dorm room of ex-Vandy tight end Brandon Vandenburg June 23. Per the Tennesseean, Boyd pleaded guilty Friday to a lesser charge of "criminal intent" to be an accessory, and was sentenced to 11 months and 29 days of probation.
The misdemeanor conviction will be wiped from Boyd's record if he completes the probation.
As part of Boyd's plea deal, he will cooperate with prosecutors in building the case against his four former teammates.
Boyd had been suspended indefinitely from the team following his indictment. Vanderbilt issued a statement Friday that he "will remain suspended from the Vanderbilt University football team, pending further review by the university." The school said it would have no further comment.
A junior from Roswell, Ga., Boyd was the Commodores' second-leading receiver in 2012 with 50 catches for 774 yards and five touchdowns.
Vandenburg, 20, from California; Brandon Eric Banks, 19, from Maryland; JaBorian "Tip" McKenzie, 18 from Mississippi and Cory Batey, 19, of Nashville, were each charged with five counts of rape and two counts of sexual battery on August 9, with Vandenburg also charged with evidence tampering. None of the four had ever played for Vanderbilt.
All four players have been released on bond. McKenzie appeared for FCS Alcorn State in the Braves' Week 2 game against Mississippi State before being dismissed from the team Thursday night.
It may have been impossible for Sumlin to meet the expectations set for him in College Sta...

Some players are more easily replaced than others

The 2017 season is in the books, and several big-name stars are jumping early to the NFL
Love was second in the nation in rushing with 2,118 yards in 2017

It looks like Jennings is slowly making his way back to the Vols after being dismissed last...

Offensive coordinator Brian Daboll's departure to the NFL has left a void at Alabama