Vandy 'Anchor Down' jerseys banned after approval 'miscommunication'
The SEC has issued a statement saying the emailed approval for their jerseys using the 'Anchor Down' slogan on their nameplates was a 'miscommunication.'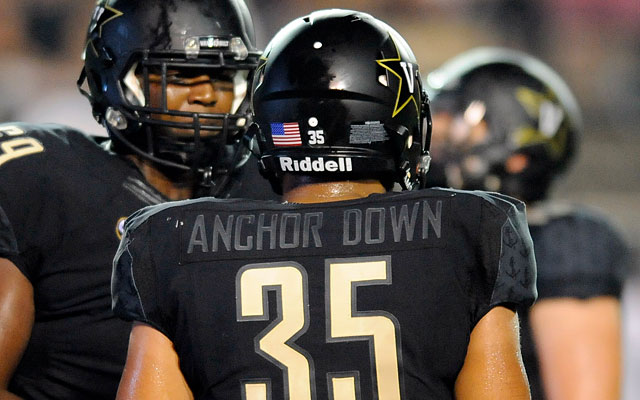 Calling the NCAA's approval of jerseys that "are not permissible under the NCAA football uniform regulations" a "miscommunication," the SEC issued a statement Friday saying Vanderbilt will no longer wear jerseys with its "Anchor Down" slogan used in place of the players' last names.
In a bizarre scene during the Commodores' 37-7 loss to Temple Thursday night, head referee Ken Williamson announced that the uniforms violated NCAA rules and Vanderbilt would be penalized one timeout per quarter for continuing to wear them. But after Vanderbilt officials provided Williamson an email printout reportedly showing the NCAA's approval of the "Anchor Down" jerseys, the Commodores' initial lost timeout was restored. 
"I don't know if it's wrong or not," Vanderbilt athletic director David Williams told the Tennesseean, "but they had approved it."
But according to the SEC's statement, the approval of the uniforms had not been intended to OK the use of the slogan as well. The full statement:
A miscommunication resulted in Vanderbilt wearing jerseys during its football game Thursday night that are not permissible under the NCAA football uniform regulations. Before production of the jerseys, Vanderbilt sought approval of the jersey design from the NCAA, which included the words "Anchor Down" on the back panel. The NCAA responded with written approval of the design as presented and Vanderbilt proceeded with the jersey production, assuming the approval was applicable to the slogan as well as the colors and overall design in the submitted layout.

NCAA football regulations do not permit the use of slogans on jerseys. Vanderbilt was originally penalized for the jerseys during the game and after being shown the written correspondence, the head referee also interpreted the correspondence to mean the slogan had been approved. Vanderbilt has been notified it cannot wear the slogan on its jersey for future games and has agreed to comply.
USF recently announced it would not go through with plans to use the slogan "The Team" on its nameplates, citing the same NCAA regulation.
Per the NCAA, jerseys may contain only a player's name, the school name, the NCAA logo, sleeve stripes, an American flag, a state flag or logo for a school, conference, mascot, postseason game, memorial or the military. Exceptions have been made only for service academies and other military-related alternate uniforms.
When reached by CBSSports.com's Jeremy Fowler Friday, SEC officials coordinator Steve Shaw said the league communicated to its schools the NCAA parameters on jersey displays, and that USF's decision to remove its "The Team" slogan was the correct one.
Shaw declined further comment on correspondence with Vanderbilt or the SEC because the league was preparing to release its statement.
Cristobal's first game at Oregon ended the same way Chip Kelly's did

Conner Manning and the Panthers dominated the Hilltoppers in the Cure Bowl

You can only go to the well so often before it dries up
The Trojans beat LSU earlier in the year and now have their first 11-win season as a FBS t...

Saban has never been a fan of the early signing period and made it clear that hasn't chang...

Paul Tyson is a three-star quarterback prospect for the 2019 recruiting class