Vast majority of coaches against proposed rule
In a poll of 128 FBS coaches, only 25 were in favor of a proposed rule that would slow down offenses.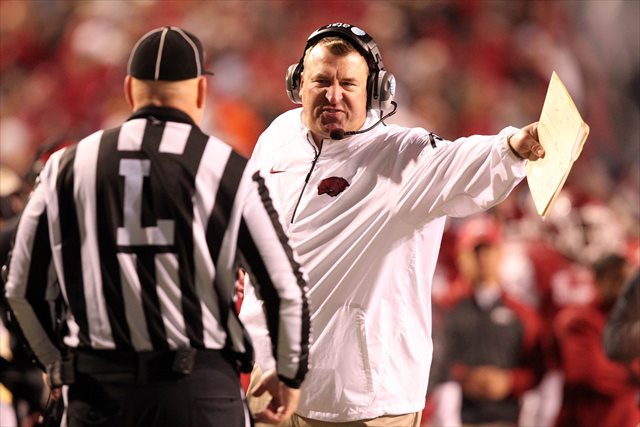 It doesn't come as a surprise given how many coaches have publicly come out against a proposed rule that would slow down offenses, but it turns out most coaches are against the idea.
ESPN.com's Brett McMurphy took a poll of 128 FBS coaches, and of the 128 he asked, 93 said they were against the idea. Of the other 34 coaches, 25 are for the rule while nine others remain undecided. Of the 25 coaches who are in favor of the rule, McMurphy reports only 11 of them come from one of the five power conferences.
For those unfamiliar with the rule, the proposal was that offenses would not be able to snap the ball before the 29-second mark of the play clock. That would allow defenses to substitute players, which would make things "safer" for defensive players. The problem with this theory is that, while the idea of keeping players safer is certainly admirable, there's no actual data that supports the theory that up-tempo offenses lead to more injuries.
The rule will be voted on by an 11-member oversight panel on March 6. Should six of those members vote in favor of the rule it will be passed, but given how the coaches feel about the situation, it's hard to imagine it will at this point.
Arizona State will wear military-themed uniforms against Colorado on Nov. 4

The Gators are off to their worst start since 2014

Just in case you wanted another reason to watch this game
Irvin's son is a sophomore tight end for the Hurricanes

Alabama-LSU will be the second of two SEC on CBS games on Saturday, Nov. 4

Jerry Palm is back to look at where the bowl games stand after the midway point of 2017