Vegas expert: Buckeyes TD swung $100 million toward bettors
In maybe the most high-profile college football gambling moment ever, Ohio State's last-play touchdown swung the result against the spread.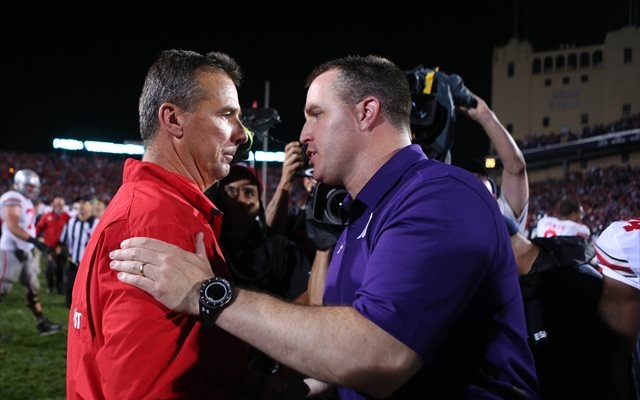 If you're an engaged college football fan, you probably know by now that Northwestern 's failed desperation lateral sequence on the final play of its 40-30 loss to Ohio State -- one that ended in the Buckeyes recovering a loose ball in the end zone for six "meaningless" points --may not have changed the outcome of the game, but did change the outcome of thousands of wagers nationwide.
The Buckeyes were anywhere from 5.5- to 6.5-point favorites, meaning that touchdown suddenly swung the against-the-spread result from a Northwestern cover to an Ohio State victory. And with the Buckeyes one of the most popular wagers on the board for last Saturday, that touchdown wound up being very bad news for oddsmakers. 
How bad? Noted Las Vegas sports gambling expert R.J. Bell explained to CBSSports.com's Bruce Feldman:
That last-second #OhioSt TD vs #Northwestern, prompted an estimated swing from bookies to bettors of $100 million worldwide, per @RJinVegas

— Bruce Feldman (@BFeldmanCBS) October 7, 2013
That is quite the bad beat for the house, to use the gambling parlance. But even that $100 million figure obscures the true fallout from the Buckeyes' fortunate cover: that Man has finally reclaimed the standings lead over Woman in Tom Fornelli's weekly Man vs. Woman vs. Machine pick-off.
The 2021 Chick-fil-A Kickoff Game will feature Louisville and Ole Miss

The Fornelli 50 ranks teams based on nothing but their performance in 2017

Penn State better have its eyes wide open with a trip to Iowa City on deck this weekend
Ohio safety Javon Hagan has a rather unique personal tradition during games

Mississippi State has been good to Mullen, but he should be the next Bulldog to upgrade

Cowart was the No. 3 overall recruit in the 2015 class but has not panned out yet for the...