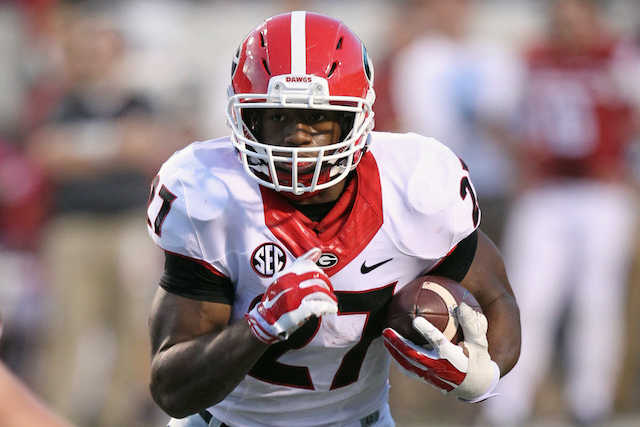 The College Football Playoff released its first set of rankings Tuesday night, and Georgia found itself as one of the few SEC teams not in the top 10. The Bulldogs are ranked No. 11 even if they are the prohibitive favorite in the SEC East right now.
But there's at least one sportsbook in Las Vegas that doesn't care where Georgia is ranked right now. CG Technology actually considers the Bulldogs to be the favorite to win it all this season, ranking be damned.
Georgia is now the favorite to win the national title at Vegas book @CGTechnology_ UGA 5/1 Bama 11/2 FSU 7/1 Ore 8/1 Miss St 10/1

— David Payne Purdum (@DavidPurdum) October 29, 2014
And you know what? It's really not all that insane an idea.
Mississippi State, Ole Miss, Auburn and Alabama may all be ranked ahead of Georgia right now, but those four teams still have quite a few games scheduled against one another. Then there's Georgia, which, aside from a home game against Auburn on Nov. 15, has a much easier road the rest of the way.
Odds are the Dawgs will be making that short trip to Atlanta for the SEC Championship Game, and when they arrive, Todd Gurley will already be back in the fold. In other words, it'll be a team more than capable of beating whichever beat-up SEC West champion it faces. If Georgia wins the SEC, there's no way it's not making the playoff.
And if Georgia gets in, I don't think there'll be any other team there it can't beat either. So while considering it the favorite right now is a bit of a stretch, things could change quickly.
Wink of the eye to Dawgs247