VIDEO: Miami mascot Sebastian walks bride down the aisle
A Hurricanes-loving bride whose father died recently found the perfect substitute for her walk down the aisle: Sebastian the Ibis.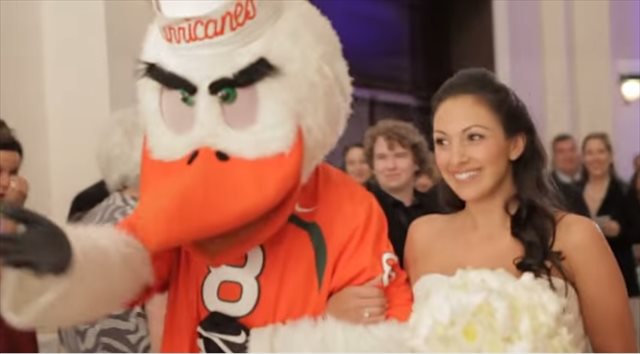 More college football: Jon Solomon | Dennis Dodd | Jeremy Fowler | Latest news
The official Miami Hurricanes Facebook account called this its most popular post ever, and watching the video embedded therein, it's easy to see why. You might want to turn down your speakers, but it's more than worth it to watch Miami graduate and fan Jennifer Urs Sullivan walk down the aisle, escorted by none other than Sebastian the Ibis:
In a comment on the Hurricanes' post, Sullivan -- who per local reports is a graduate of both the University of Miami and its attendant law school --  wrote her own account of the wedding, which makes the above video that much more engaging:
When my dad passed away, I dreaded walking down the aisle without him and wasn't sure how I'd make it through the moment. And yet it ended up being one of the most amazing/memorable moments of the day. I just want to thank all of the amazing people in the athletic department (along with Harry Rothwell of allCanes.com who customized the jersey to include my dad's nickname on the back) who helped to make this happen. Without you, my day might have been just a little less beautiful. We're all so lucky to be fans of such a great program, led by the most compassionate of people. Now let's get these W's. GO CANES!
The heartiest of kudos to everyone involved at Miami are obviously in order. Mazel tov!
Craig Kuligowski is reportedly leaving Miami to take the same job with Alabama

BT Potter is about to be very popular in the Clemson locker room

McElwain will coach receivers and help coordinate the offense for the Wolverines
Nathaniel Watson Jr. was involved in a car accident that injured a passenger in early Febr...

The honorable Tom Fornelli presides over the ASU vs. UM case

Arkansas State is seeking $650,000 for a canceled home game last September due to Hurricane...