VIDEO: Mike Leach and Paul Petrino exchange words
Somewhere along the way during Washington State's 42-0 win over Idaho, Mike Leach and Paul Petrino didn't see eye to eye.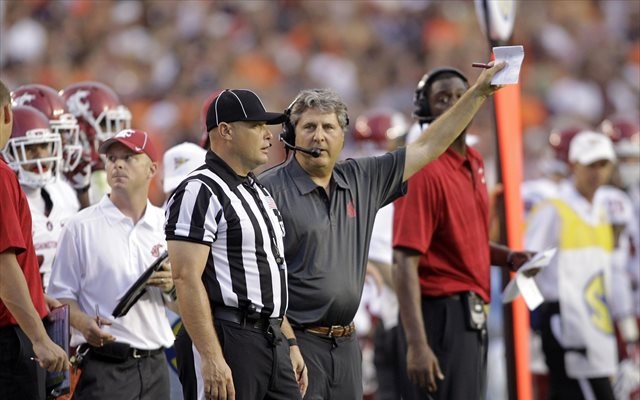 Just by glancing at the team names and the scoreline, it doesn't seem like Washington State's routine 42-0 victory over winless, overmatched Idaho on Saturday would be the sort to drive the team's coaches to an angry exchange of words at the postgame handshake.
But it's worth remembering that Moscow, Idaho, and Pullman, Wash., are just eight miles apart, and that neither Mike Leach nor first-year Vandals coach Paul Petrino (yes, brother of Bobby) won't meet anyone's definition of a shrinking violet. Add in a highly competitive end to the game -- in which Leach reinserted many of his defensive starters to mount a last-minute goal-line stand and preserve the Cougars' first shutout since 2003 -- and yeah, maybe some acrimony is to be expected.
But this response from Leach, via KREM, goes a bit beyond "some." Though the clip is labeled "Raw Video," turn up your volume, and you can hear that a brief moment of audio has been deleted just before Leach says "you" in Petrino's direction:
Particularly after viewing this gif, we'll leave it to the reader's imagination precisely what word preceded that "you." And so will both Leach and Petrino; each said afterward the contents of their exchange were between the two of them.
HT: SBNation
Josh Adams and Derrius Guice helped their teams to big wins in Week 8

The Eagles have started winless in Summers' second season and were 5-13 overall under him

The Fighting Irish are up to No. 9 in the latest edition of these college football ranking...
The Fighting Irish are getting more attention after throttling USC 49-14 Saturday night

Jerry Palm is back to look at where the bowl games stand after the midway point of 2017

The sophomore leads the SEC in total offense and passing