VIDEO: Nick Saban's response to Pat White recruiting allegations
Pat White's response to Derrick Henry's new car resulted in some colorful language from Alabama coach Nick Saban.
• 1 min read
Former West Virginia quarterback Pat White stirred up the Alabama smack talk this week, suggesting on Facebook that Crimson Tide running back Derrick Henry obtained his most recent automobile by impermissible means. Nick Saban was asked about White's comments in Nashville, and his response both dismissed the issue and belittled the question. 
"I didn't even know it happened," Saban said. "So I can't comment on it.
Saban scoffs in the direction of the question, looks around, and shuts down the conversation.
"Is that the best thing we can talk about?" then, under his breath, "kiss my ass."
Check out video of the interaction below, via AL.com. 
Adding an extra layer of intrigue is the season opener between Alabama and West Virginia, set for Saturday, Aug. 30 in the Georgia Dome for the Chick-fil-A Kickoff. We've included a screen shot of the post from White's Facebook page below.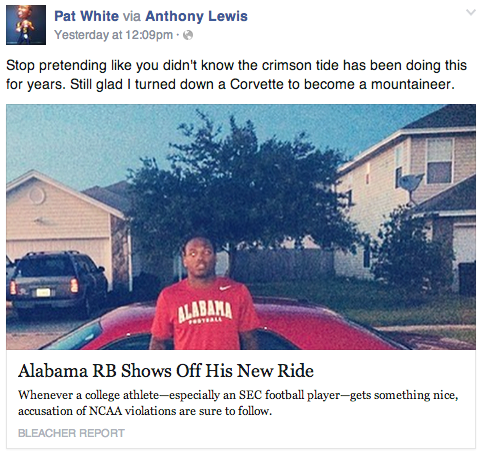 These seven teams should make the most noise down the homestretch towards signing day

Air Force was forced to cancel 11 athletic events because of the 69-hour government shutdo...

Olson has a lot of the tools offensive coordinators want in a quarterback
The Tigers have a wealth of talent at their biggest position

Pineiro received the award for stopping an attack the morning of Oct. 15, 2017

The first opening weekend lines for college football in 2018 have been posted