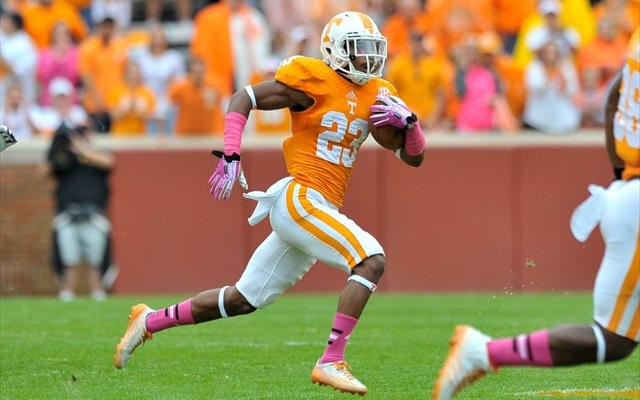 For the third time this fall camp, a Tennessee Volunteer has been lost for the season due to injury. But it turns out you'll see his jersey number on the field in 2015 after all.
Butch Jones said following Saturday's practice that sophomore defensive back Rashaan Gaulden, the team's likely starter at the nickel, will miss the entire 2015 season after fracturing his foot this week in practice. Gaulden was injured during a punt return drill.
"It's very, very unfortunate," Jones said, per GoVols247.com. "Rashaan meant so much to us not just from a [defensive back] standpoint, but in special teams, as well. Last year as a true freshman, that's where he made his impact. So now not only on defense do we need to replace him, but we have to replace the productivity on special teams, as well."
Jones also spoke of Gaulden's impressive off-field presence ("I love him to death," he said), and Gaulden apparently made much the same impression on his teammates -- so much so that, per GoVols247, fellow secondary member Cameron Sutton has received permission from Jones to wear Gaulden's No. 7 jersey this season.
"Honestly, there's guys on the D-line that would have wanted to wear No. 7," veteran Vols linebacker Curt Maggitt said. "There's guys in the linebacker room that would have wanted to wear No. 7. That just shows how much respect guys have for RG, and how far he's came. He's probably one of my favorite people on the team. I care about him a lot as a person, as well."
But if Gaulden's number remains on the field, his absence from it will nonetheless sting a Vols team that's already lost a pair of guards, Marcus Jackson and Austin Sanders, to biceps tendon injuries. The silver lining for Jones might be that with players like All-SEC contender Sutton and senior safeties Brian Randolph and LaDarrell McNeil, his secondary should be fine even without Gaulden. But there's only so many times the injury bug can bite before things really start to hurt.