Volunteers QB Joshua Dobbs impressing on the field, in classroom
Tennessee QB Joshua Dobbs has wowed by his coaches and his professors in his first year in Knoxville. He's also probably what the NCAA hopes people think of whenever they hear the term student-athlete.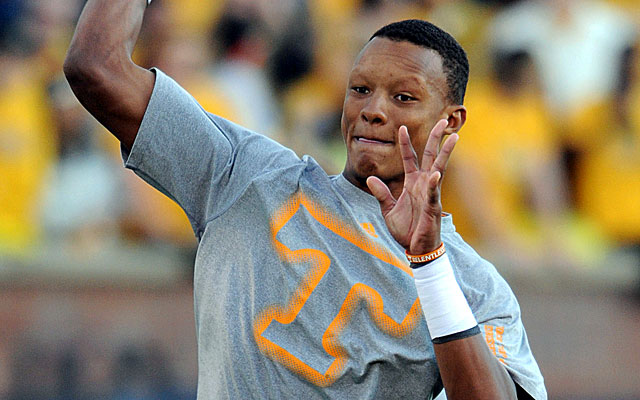 More college football: Bruce Feldman | Dennis Dodd | Jeremy Fowler | Latest news
Joshua Dobbs has had a pretty hectic first year of college. The Tennessee freshman started four games for the Vols at quarterback, where he completed 60 percent of his passes and threw for 695 yards with two touchdowns and six interceptions to go with 189 rushing yards and another touchdown. In his five games of action, Dobbs faced three Top 10 opponents: No. 1 Alabama, No. 7 Auburn and No. 10 Mizzou. (A fourth opponent, Vandy finished in the Top 25.) But it's the 6-3, 210-pounder's work in the classroom that makes what he's doing at UT even more impressive.
Dobbs is also majoring in aerospace engineering. To say his class schedule is hefty is like saying Neyland Stadium is a pretty big venue. I suspect whenever the NCAA uses the term student-athlete, Joshua Dobbs is who they're hoping people think of. Vols coach Butch Jones raves about Dobbs' poise and concentration level and the kid's ability to persevere.
"To play the position he plays that is so highly scrutinized, and to come in as a true freshman in the most competitive conference in college football, and balance life as a student-level the way he has is remarkable," says Jones, adding that Dobbs has really earned the respect of his teammates.
I recently traded emails with Dobbs to try and get a better sense of how he juggles his studies and developing as an SEC quarterback looking to help lead the Vols back into the Top 25.
Q: How did you decide you want to focus on aerospace engineering? What prompted your interest in it?
Dobbs: I have been fascinated with airplanes all of my life. Since my first airplane ride at six months old, my parents often joke that I thought I owned Delta Airlines. I've always enjoyed and done well in math and science classes. So, engineering is a good fit for me.
My decision to major in aerospace engineering was solidified by two early experiences -- a visit to Kennedy Space Center when I was in elementary school and my selection for the ACE Academy in middle school. The Space Center visit was the spark that helped me identify my passion for aircrafts. Then a few years later, I had the privilege of participating in the Atlanta OBAP (Organization of Black Aerospace Professionals) ACE Academy. Partnering with the Tuskegee Airmen, this organization mentors youth and promotes educational opportunities in aviation/aerospace. The Academy was the flame that introduced career opportunities in the fields. After that summer, I knew that I wanted to study aerospace engineering in college. I want to design airplanes and one day run my own company building them.
Q: What was the reaction of college coaches when you told them that's what you planned on pursuing knowing the time you'd have to invest in it academically?
Dobbs: We had full disclosure about academics with coaches early in the recruiting process. Every coach with whom I spoke was fully aware of the type of student that I am. My college selection process focused on schools that offered an aerospace engineering undergraduate major. If it didn't, we tried to figure out a curriculum that would put me on course for graduate work in the field. My parents and I never got a sense that the coaches had any issues with my plans to major in aerospace engineering. The academic schedule was always at the top of our discussions. Prior to each of my recruiting visits, the coaches arranged academic meetings and tours with professors, advisors, students, and student-athletes in the School of Engineering and Honors Programs. My parents and I had very detailed conversations about a graduation plan and how my class schedule would fit with the football schedule -- practice times, workout & conditioning expectations, independent film study, etc. When we were on campus, my agenda was always packed with meetings. The coaches would usually setup academic meetings for me, while other recruits had free time or were attending an on campus sporting event.
Q: I saw that this semester you've got Introduction to Materials Science and Engineering; Honors Calculus III; Honors: Physics of Engineers II and Honors: Cultural Anthropology. Which is the most demanding of all these classes?
Dobbs: They are all challenging. The honors anthropology has a good bit of reading material and the honors portion of the class adds more out-of-class projects and assignments. The Honors Physics is a continuation of Physics for Engineers from the fall semester. So, it helps that I have established a rapport with the professor and am familiar with lab protocol; but, the problems can be very difficult. I guess the honors Calculus III class is the most challenging, not because of the math concepts but because of the software. My professor requires us to use an application called Mathematica for all of our computations. So in addition to understanding the calculus concept, I have to know how to program the system to get the correct answer. I'm glad to get the exposure to the software so early in my studies, but the program can be tricky, especially during exams when I have limited time to work.
Q: How many other athletes are in these classes?
Dobbs: I've only had one football teammate, Kenny Bynum, in a class with me. We took Economics 201 last summer during my first semester at UT. During high school, I took all honors and Advanced Placement classes. I was also a dual enrollment student taking college courses my senior year. So, entering college with a little over 30 credits allowed me to exempt many of the introductory classes. One of our linebackers, John Propst, was an industrial engineering major. He graduated at the end of the season. So with him being an upperclassman, we never had an opportunity to take classes together. The only other athlete that I have had in my classes is soccer player Michele Christy, who is majoring in biomedical engineering. We've taken honors physics for engineering and chemistry together. I'm excited that two of our new enrollees, Daniel Helm (TE) and Emmanuel Moseley (DB), plan to major in engineering.
Q: What are some of the examples of the kinds of work/projects you are required to do in each of these classes?
Dobbs: My Physics for Engineers class involves various on-going projects throughout the semester. The class meets for about an hour three times a week and has lab twice a week. For the fall and spring semesters, we've worked on projects that include developing feasibility plans to make existing UT buildings more efficient than originally designed; performing a mechanical dissection of a given device; using all recycled material to design, construct, and demonstrate a small vehicle; and most recently designing and building a model, using only foam core, of an Olympic medal stand with the ability to bear the weight of three students at one time.
I am also in UT's Chancellor's Honors Program which requires a minimum of 25-credit hours of honors-designated course work within the context of my undergraduate degree program. I'll be getting a minor in business so I'll have several business courses. Then there are the required University general education electives which give me an opportunity to take some classes just for the fun of it. For instance, I'm taking a yoga class this semester which is hopefully going to give me more flexibility to get out of some tight situations on the field.
Q: What has been the reaction of your teachers and classmates when they first saw you (the team's starting QB) in those classes?
Dobbs: Professors and classmates have been very supportive. When I became the starter last season, many of my classmates congratulated me and were very encouraging. I'm not sure if all of my professors follow football; but, those who do expressed how excited they were for me and the team. Some of them have found ways to mention me or relate football to a topic in their lecture.
Q: Walk me through a typical day from the time you wake up to the time you go to sleep.
Dobbs: A typical day for the spring semester:
Starts at about 7:00 a.m. with breakfast
Class starts at 8 a.m. on Tues. and Thurs. and at 9 a.m. on Mon., Wed., and Fri.
Classes go until about until 2:30 p.m. 
I squeeze in lunch 
Football film study, workouts, meetings, and/or independent throwing from about 3 until 7 p.m. 
After dinner, I complete the day at the Thornton Academic Center from 7:30 to about 10 p.m. 
Return to my room to finish homework and prepare to start the routine over for the next day
I try to get to bed by midnight 
On some Friday's we workout early morning before class.
The key is to have great time management skills.
Q: Do you think it'd be easier to prepare for being an SEC QB if you weren't taking such a demanding major? How do you think your acumen as a top student helps you prepare as a quarterback?
Dobbs: No, I don't think my demanding major makes it harder for me to prepare as a SEC QB. It has actually helped my overall mental conditioning. I've always had a busy schedule. During my high school years, I had a rigorous course load with honors, AP, and college classes. I played football and baseball all four years and basketball as a freshman and competed at the highest classification (6-AAAAAA) in the state. I played saxophone in the band and was involved in various activities like student government, student ambassador, mock trial, mentors, service organizations, and various honors clubs. So, being challenged in the classroom and preparing for competitive athletics has been a way of life for me.
My football preparation benefits from many of the same skills I've used and continue to develop in the classroom. I have pretty good memory skills and am able to retain information which helps me quickly digest and assimilate large volumes of material, especially when I study the playbook. In the same way that I put in hard work in the classroom, I understand the value of putting in work outside of practice time to perfect my QB skills. I've never backed away from a challenge in classroom; so I know how to stay cool under pressure when I compete or perform. It conditions me to think strategically even when I'm tired and mentally spent. Handling the demands of the classroom has also taught me the importance of being consistent and level headed when facing the highs and lows on the practice field and in the football game. To be good at anything, academically or athletically, you have to be willing to work for it.
Q: What kinds of classes will you plan on taking this fall (during the season)?
Dobbs: I'm currently planning my fall schedule. Since certain courses in a series are only offered during the fall, I'm at the mercy of the curriculum. I'll be taking 200- and 300-level classes that fall in sequence for my aerospace engineering major.
Q: What is the biggest thing you've realized in your first year at Tennessee?
Dobbs: I realized several things in my first year at UT:
1. My mom and dad really do know best. I'm so grateful for the values they passed on to me and for them stressing that I stay true to myself because there are so many distractions in college, especially as a student athlete.
2. You can go thru all the practices, drills, and playbook studies; but none of it comes close to simulating the actual speed of the game. You quickly realize just how fast it is when you take the first snaps of your college career facing the defenses of nationally-ranked, top-10 teams. It's difficult to replicate your opponent's disguised formations and movements in practice.
3. There is nothing like the Vol Walk and UT game day experience. Stepping off the bus at the top of Peyton Manning Pass with my teammates, wading through a river of orange and white, making our way through Gate 21 at Neyland Stadium, and playing on that checkerboard field in front of 102, 455 is one of the most unique experiences in college sports.
Q: What are your goals, both as a student and as a QB, for 2014?
Dobbs: For the 2014-2015 school year/season, I will continue to focus and work on the things that I can control.
Academically, I want to complete a majority of my 300-level classes to stay on course to complete my undergraduate requirement early.
As the QB, I want to be an effective leader for the team. To develop team chemistry during this off-season, the team was divided into eight groups which have been competing in the "VFL Challenge". As a co-captain with Jordan Williams (DE), our "Team Passion" has led the completion all spring, and I plan to challenge the guys to lead the team into the start of the season. I've taken an aggressive role in our strength and condition workouts. Personally, I've added about 25 pounds of muscle and will be putting on at least another 5 pounds.Last year in a new system, our Team 117 seniors did a great job welcoming us newcomers and building team chemistry. We plan to build on their efforts as we welcome our recent enrollees and those coming in the summer to be a part of Team 118. With a new offensive line, and key additions to our receiver and running back corps, it's critical that we hone our timing, blocking schemes, and routes. My goal is to continue to sharpen my QB's mechanics and improve my pre-snap reads.
These Jayhawks got a tremendous surprise they weren't expecting

Jovon Durante announced on Twitter he's headed to FAU

From Week 1 through the title game, everything runs through Atlanta this season
A concert is a nice way to break up preseason camp

Mills was arguably Georgia Tech's most important player coming into the season

Hugh Freeze's phone records reportedly show another troubling pattern for Ole Miss