Washington shows it's not messing around with win over Boise State
Washington impressed in a 38-6 victory against Boise State. Coach Steve Sarkisian and the Huskies are dark horse contenders in the Pac-12.
• 3 min read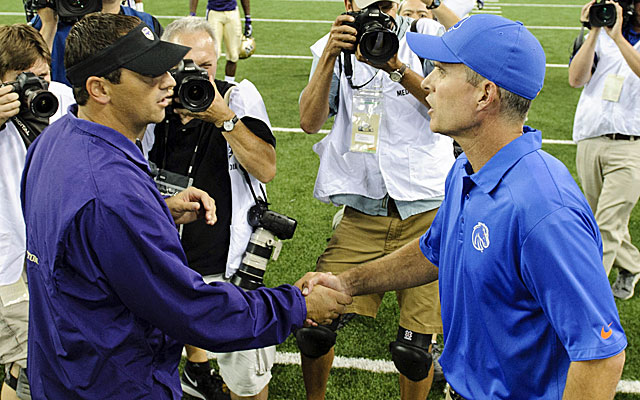 During the 10-minute daily work commute on his boat -- a black-and-white, 27-foot Cobalt 262 cleverly named "NoahSark" -- Washington coach Steve Sarkisian sometimes thinks about his job.
Donors. Players. Recruiting. Coaches meetings.
Why he's stuck on seven wins.
He's alone on the commute, and the Lake Washington calm helps him reflect.
There was nothing to consume him late Sunday morning on the way to the football offices. He just listened to the water.
"It was just about being happy for our fans, our kids, our players -- this was a big night for a lot of people involved," Sarkisian said about Washington's resounding 38-6 victory over Boise State in the first game in renovated Husky Stadium. "I was just thinking about how the game gave people a really cool memory they can hold onto for a lifetime."
To simplify the game as a memory doesn't consider all parties involved, because the Huskies' explosion will be one Boise wants to forget.
UW is desperate to evolve from back-to-back-to-back 7-6 seasons. The urgency is palpable. Boise State just doesn't get beaten like this under Chris Petersen, but the Broncos gave up 592 yards to Washington's revamped offense.
Sarkisian isn't overselling the Boise game as an elixir to Washington's middle-tier Pac-12 status.
But with 17 returning starters and a rejuvenated Keith Price (324 yards and two touchdowns Saturday), Sarkisian says he believes Washington is better than 7-6. Washington's enhanced leadership and a relatively smooth transition to the no-huddle didn't leave Sarkisian surprised at Saturday's outcome.
Washington has recruited well in recent years, but those classes took time to develop. Sarkisian is watching them do so now.
"I thought the last few years we lacked leadership, and now all of a sudden we have great leadership," Sarkisian said. "We knew we had a better football team than we had the previous four years. I believe we're ready to take the next step. We need to go out and prove it."
Sarkisian gets asked often whether Washington is ready to rise in the Pac-12 North. He was asking that same question to himself eight months ago.
Shortly after the 2012 season ended in a 28-26 loss to Boise State in the Las Vegas Bowl, Sarkisian organized a meeting with his entire staff.
The offense wasn't very good and changes were coming, he told them. Sarkisian, the former Southern California offensive coordinator, taught pro-style offense with motions and shifts and formations. But Sarkisian was asking Price to overanalyze the game, which didn't coalesce well with an oft-maligned offensive line. Price saw his passer efficiency rating dip from 161.9 in 2011 to 122.4 a year ago. Washington never established a reliable No. 2 receiver and lost running back Jesse Callier to a torn ACL.
Sarkisian didn't want to abandon his pro-style roots or his two-back sets but knew he wanted his offense making quick decisions.
His staff blended those two worlds in a three-day, coffee-induced marathon.
"Close the door on the staff room, went to work," Sarkisian said. "The Keurig coffee machine was working. We really dove in and made a wholesale commitment."
After nearly 600 yards on 85 plays against Boise -- up from last year's 69.5 plays per game -- Sarkisian seems comfortable with the switch.
"I probably had more fun calling plays last night than in a long time," Sarkisian said.
Price is the catalyst. Sarkisian watched him rededicate himself in the weight room this offseason. Power cleaning and squatting helped with the "explosiveness that we saw last night when tucking and running," as Price finished with 25 yards on six carries.
Running back Bishop Sankey and wide receiver Jaydon Mickens combined for nearly 300 yards Saturday.
Arguably the country's best tight end, Austin Sefarian-Jenkins, will return to the lineup Sept. 14 against Illinois after serving a one-game suspension for a drunken driving charge in the offseason. The offensive line has been a problem but has cohesion on its side with several returning starters.
Sarkisian is excited about his playmakers but knows it's a process. Washington doesn't have to win a Pac-12 title. Oregon and Stanford seem intent on keeping everyone else out. But incremental improvement seems necessary.
If Sarkisian has his way, the Boise game will be a springboard rather than a ceiling.
"You go and you watch the film," Sarkisian said about what's next. "You see so many little things you can improve upon in all phases. Whether offense or defense or special teams, you can perform even better than that."
Georgia jumped four spots to No. 8, while Florida State dropped 14 spots to No. 25

Louisville and TCU get big-time bumps after conference rivals fell on Saturday

The Bulldogs jumped up to No. 7 after an emphatic win over Mississippi State
The Penn State running back made a case that he's a legit Heisman Trophy contender

The Nittany Lions came up huge when they needed to against Iowa

It just might have been the best game of the season so far