Washington State suspends Marquess Wilson after alleged walkout
A school spokesman confirms a disappointing ending to a disappointing season for the best player on a disappointing team.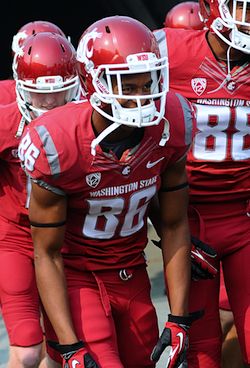 Washington State coach Mike Leach has never been a man to mince words and made no attempt to hide his scorn on Saturday after the Cougars' sixth consecutive loss. He described his team's effort in a 49-6 debacle at Utah as "pitiful" and "horrible" and pledged to spend the coming week "working on effort."
As it turns out, that pledge might begin with the purge of his best player: A team spokesman confirmed Monday morning that the school's all-time receiving leader, Marquess Wilson, has been suspended indefinitely, amid multiple reports that Wilson walked out of a workout on Sunday night and might have quit the team.
If Wilson is finished in Pullman, it's a disappointing ending for arguably the best receiver in school history, who was widely expected to flourish in the same wide-open, receiver-friendly "Air Raid" system that produced a succession of star wideouts -- including Wes Welker and Michael Crabtree -- during Leach's decade-long tenure at Texas Tech. In Wilson's case, he was already a star: As a true freshman in 2010, he went over 1,000 yards receiving on more than 18 yards per catch, the best average in the Pac-12, and followed up in 2011 with 82 grabs for 1,388 yards, 12 touchdowns and a first-team all-conference nod. With Leach's arrival last winter, Wilson was widely projected as a preseason All-American and a potential first-round pick in next year's NFL draft.
Instead, he has been the embodiment of Leach's thoroughly disappointing debut. In the spring, Leach openly criticized Wilson's effort and periodically demoted him to third-string; by midseason, the relationship had deteriorated to the point of at least one open clash over Wilson's effort during a practice. Although he still leads the team in receptions (52), yards (813) and touchdowns (5), Wilson's production is nowhere near his prolific sophomore pace, and he has started each of the Cougars' last two games on the bench.
That more or less sums up Washington State's season. The Cougars are averaging nearly 11 points and 70 yards per game below their mediocre numbers in 2011, and they rank last nationally in both rushing offense and sacks allowed. In October, following their third consecutive loss in Pac-12 play, Leach publicly criticized some of his veteran players for having an "empty corpse quality," or just going through the motions; since then, they've dropped three more in a row to California, Stanford and Utah, failing to top 17 points in any of them.
If he leaves school, Wilson would be eligible to enter the 2013 draft, though his stock has already fallen into the middle rounds and could drop further if he's tagged with the dreaded "character risk" label. With a redshirt year to burn, he would also be eligible (pending his academic status) to transfer to another FBS school, sit out 2013 under standard NCAA transfer rules and spend his final year of eligibility in 2014; if he transferred to an FCS or Division II school, he'd be eligible to play next year. At any rate, it seems his Washington State career is not going to end as anyone expected.
South Florida and UCF played the most entertaining game of the 2017 season

Bielema completed his fifth season with the Razorbacks on Friday

Friday's upset to Pittsburgh was bad, but it's not a season-ender for Miami
Pittsburgh pulled the upset of the weekend with a 24-14 win on Friday afternoon

Lock beat out some big-time names with 41 touchdown passes (and counting)

You can remove Patterson's name from your coaching wish lists