Washington's Austin Seferian-Jenkins wins Mackey Award
In a choice sure to cause some second-guessing, Washington tight end Austin Seferian-Jenkins has won the 2013 Mackey Award.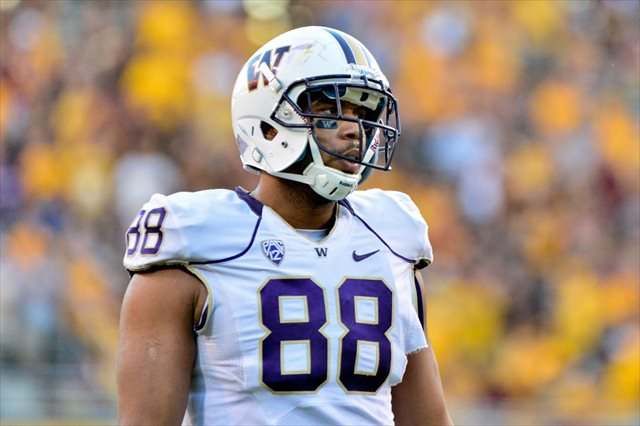 Washington junior tight end Austin Seferian-Jenkins has won the 2013 John Mackey Award, "awarded annually to the most outstanding Tight End in FBS college football."
Seferian-Jenkins edged out fellow finalists Nick O'Leary of Florida State and Eric Ebron of North Carolina.
From the Mackey press release:
In his three years playing at Washington, Seferian-Jenkins has established a reputation for his elite blocking ability and strong receiving prowess and 2013 was another outstanding year for him. The junior recorded 33 receptions for 413 yards and seven touchdowns while leading Washington to the Fight Hunger Bowl.

In addition to winning the Mackey Award, Seferian-Jenkins was named a Preseason First-Team All American by Athlon, Lindy's, The Sporting News, SI.com, National Football Post, SB Nation and Phil Steele. He has also earned Second-Team All Pac-12 honors. Seferian-Jenkins has totaled 143 receptions, 1,801 receiving yards and 20 touchdowns in his college career making him the all-time leader in receptions, receiving yards and touchdowns by a Washington tight end.
The 6-foot-6, 276-pound Seferian-Jenkins is without a doubt one of the most physically-impressive players at any position in college football, has enjoyed a terrific career at Washington, and is well on his way towards becoming a top NFL draft pick and successful pro.
But for all of that, that the above bio includes the phrase "Second-Team All Pac-12 honors" should tell you that the Mackey Selection Committee's decision won't come without controversy. Consider:
• While Seferian-Jenkins finished fourth on the Huskies in receiving yards and third in receptions, Ebron led the Tar Heels in both categories, easily bettering Seferian-Jenkins's numbers with 55 catches for 895 yards.
• The other finalist, O'Leary, caught the same number of passes and touchdown passes as Seferian-Jenkins, but for 144 more yards (and as a major part of the passing game of the 13-0, top-ranked Seminoles).
• The most effective pass-catching tight end in the FBS was, of course, Texas Tech's Jace Amaro, who finished with 98 catches for 1,240 yards and 7 touchdowns. Amaro was named one of eight semifinalists, but did not make the cut for the finalists.
• And lastly, per the Mackey Award site, the award "also stands for positive sportsmanship-like behavior, good academic standing and exceptional leadership abilities." Does this description come into conflict with Seferian-Jenkins' guilty plea to a DUI charge over the summer, an incident that cost him a one-game suspension for the Huskies' season opener vs. Boise? 
You can absolutely argue that it does not, and that Seferian-Jenkins' overall leadership qualities and positive off-field impact far outweigh the DUI incident. You can argue that passing statistics don't measure Seferian-Jenkins' substantial role as a blocker in the Husky run game, one that ranked among the most effective in the country. You can argue that no matter the numbers, no tight end in the FBS is as physically dominating, as purely talented, as Seferian-Jenkins. In short: you can absolutely argue that the Mackey Award made the best choice and that Seferian-Jenkins deserves the award.
Just don't expect Red Raider fans, or Tar Heel fans, or -- apparently -- the Pac-12 coaches that took Arizona State's Chris Coyle for first-team all-conference to agree with you.
The movie will zero in on former Penn State coach Joe Paterno during the Jerry Sandusky sc...

Bidding for Salaam's trophy, which the auction house says was obtained legally, ends Satur...

Locksley has been the offensive coordinator at Illinois and Maryland during his coaching c...
Many NFL-eligible juniors ignore advice provided by the league and risk going undrafted each...

Snyder died in Manhattan, Kansas, on Wednesday

Locksley joined Alabama's staff in 2016