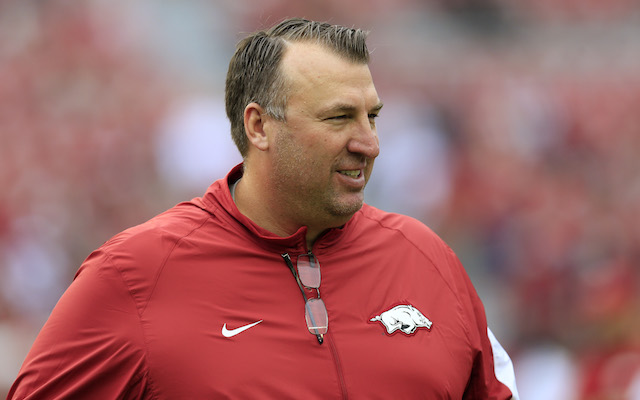 Update, Oct. 13: The clip below of the Bret Bielema-Cam Robinson incident has gone viral many times over since its appearance early Monday, with SEC commissioner Greg Sankey issuing a statement to media (including CBS Sports) on Tuesday indicating he'd spoken to Bielema about it.
"I visited with Bret over the phone on Monday and we discussed the play that has now become widely reviewed through a brief video clip," Sankey said. "Football is played in an intense competitive environment and I reminded him of the need for head coaches to resolve with their own players issues that may arise, which was his intent. The unsportsmanlike penalty assessed on the play was not directly associated with Bret's efforts to intervene at the end of the play and we are moving forward in a positive manner."
Original story:
When you look at Bret Bielema, the words "great athlete" probably aren't the first two that come to mind. Don't be fooled, though. Under all that flesh is a man that has all the athletic grace he needs to succeed.
Why, with flopping skills like this, Bielema could lead the NBA in charging fouls drawn. He could win a World Cup with the United States Men's National Team.
He could do anything.
@ClayTravisBGID watch Beilema instegate Cam Robinson, fake like he was shoved, then dance a jig to celebrate. pic.twitter.com/DYSSZdEkOM

— Anthony Jacks (@Coach_Jacks) October 12, 2015
Yes, that's Bielema drawing a personal foul call on Alabama offensive lineman Cam Robinson. Robinson was involved in a kerfuffle with Arkansas players near the Razorbacks sideline, and Bielema decided to get involved.
He then feigned a shove from Robinson, which drew the flag, and led to an immediate jig of sorts from the Arkansas heel coach.
I'm sure had he been asked to describe the feeling of drawing such a flag against Robinson, Bielema would have told us it was "borderline erotic."