WATCH LIST: Roberto Aguayo seeks second straight Groza Award
Florida State sophomore placekicker Roberto Aguayo is one of 30 names on the Lou Groza Award watch list.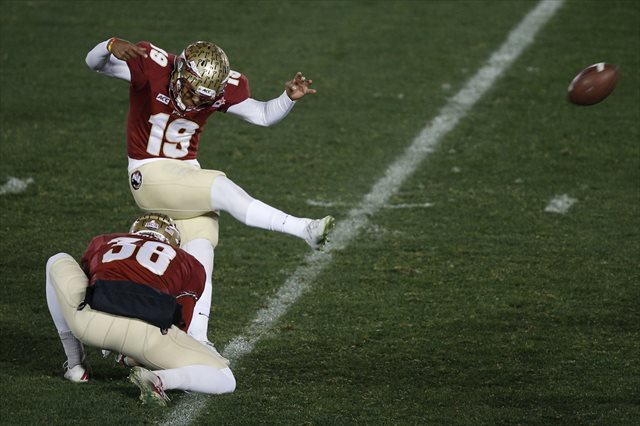 Watch Lists: Maxwell (player of the year) | Bednarik (defensive player) | More
Florida State sophomore Roberto Aguayo is one of 30 kickers on the Watch List for the 2014 Lou Groza Award, awarded annually to college football's best placekicker.
The 2013 Groza winner after hitting a remarkable 21-of-22 field goals and all 94 of his attempted extra points during his freshman season, Aguayo is seeking to join Seminole placekicking legend* Sebastian Janikowski as the only two-time winner of the award.
The full list, with full stats available at the Groza site here:
Roberto Aguayo, Soph., Florida State
Kyle Brindza, Sr., Notre Dame
Ryan Bustin, Sr., Texas Tech
Jack Cantele, Jr., Kansas State
Will Conant, Sr., Air Force
Brad Craddick, Jr., Maryland
Colby Delahoussaye, Soph., LSU
Jeremiah Detmer, Sr., Toledo
Jake Elliott, Soph., Memphis
Kyle Fischer, Soph., Louisiana Tech
Elliott Fry, Soph., South Carolina
Michael Geiger, Soph., Michigan State
Zane Gonzalez, Soph., Arizona State
Dan Goodale, Sr., Boise State
Michael Hunnicutt, Sr., Oklahoma
Maxwell Johnson, Sr., New Mexico State
Marvin Kloss, Sr., USF
Austin Lopez, Jr. San Jose State
Shawn Moffitt, Sr., UCF
Marshall Morgan, Jr. Georgia
Jaden Oberkrom, Jr., TCU
Will Oliver, Sr., Colorado
Andy Phillips, Soph., Utah
Jared Roberts, Sr., Colorado State

Niklas Sade, Sr., North Carolina State
Carl Salazar, Sr., Tulsa
Tyler Tate, Jr., Bowling Green
John Wallace, Jr., Louisville
Jordan Williamson, Sr., Stanford
Josiah Yazdani, Jr., Ohio
*If there are such things as placekicking legends. But if not, Janikowski is surely as close as we're going to get anywhere, right?
Locksley joined Alabama's staff in 2016

Saban reportedly wants to hire Freeze, but there may be things keeping that from happening

Florida State-Miami will be on Oct. 6, and the Seminoles will play Clemson on Oct. 27
Weis Jr. was an offensive assistant for the Atlanta Falcons in 2017

Lott is joined by three current athletic directors and will serve a three-year term

These are the top guys every school is still chasing