Watch: Texas Tech assistant feels Tommy Tuberville's wrath (literally)
When the boss is unhappy, everyone on the Red Raider sideline knows it.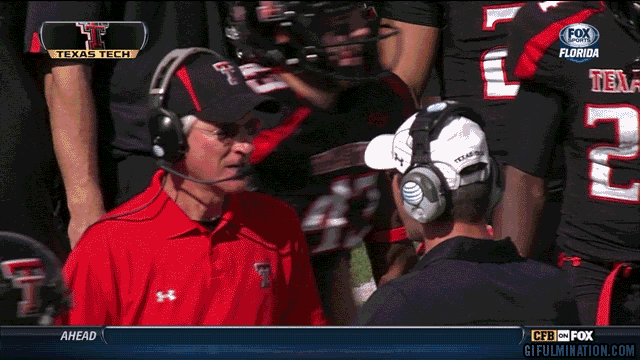 Texas Tech coach Tommy Tuberville is not generally known as the hot-tempered, Woody Hayes type, but he did get incensed enough during the third quarter of Saturday's game against Kansas to take a glancing shot at a young assistant. This was with the Red Raiders winning at the time, 24-17.
We haven't been able to ID the unfortunate coach on the receiving end of his boss' anger – you can try to pick him out of a lineup of Tech assistants, if you're so inclined – but the outburst apparently came in response to an illegal formation penalty against Tech on 4th-and-2 from the Raider 49-yard-line. (Here's video of the sequence.) After the penalty, Tuberville scrapped the decision to for it in favor of a punt on 4th-and-7, and he obviously was not happy about it. Fortunately, the assistant's headset and cap were the only casualties.
The same cannot be said yet of the Red Raiders' odds of locking up a winning season: As of this writing, the game is raging on in overtime, with Kansas attempting to snap an 18-game conference losing streak at Tech's expense.
At any rate, be careful, coach: Remember what happened to the guy who was there before you.
- - -
Hat tip: Mocksession.
These five teams have the best chance of being the Group of Five darling this coming year

Drevno had been running the Michigan offense for three seasons

Aaron was reportedly shot while trying to protect his girlfriend when a fight broke out at...
An assistant-by-assistant look at changes Saban made to the Tide's staff ahead of 2018

Find out when Nick Saban, Kirby Smart and the rest of the coaches will speak ahead of the...

It wasn't only the massive $75 million contract that got Fisher to depart for College Stat...