Wazzu WR Gabe Marks arrested, cited for misdemeanor assault
Washington State's leading receiver Gabe Marks was arrested early Saturday and cited for four misdemeanors, including fourth-degree assault.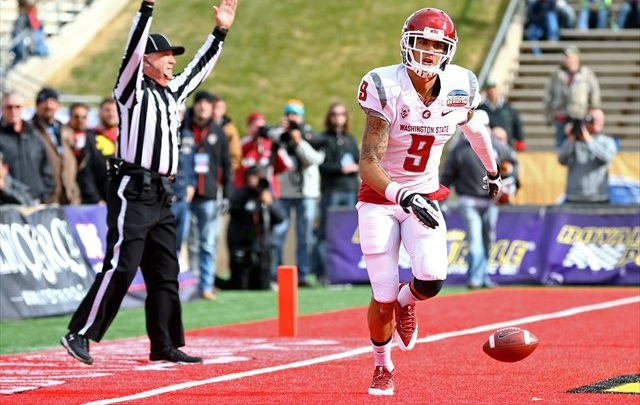 Washington State 's leading receiver in 2013 was arrested early Saturday morning and charged with four misdemeanors.
Gabe Marks was charged with fourth-degree assault, second-degree criminal trespass, being a minor intoxicated in public and frequenting a tavern as a minor after Pullman police officers were called to a Pullman bar at 2 a.m. Saturday, Sgt. Dan Dornes confirmed to the Seattle Times.
Dornes said Marks was "heavily intoxicated" and punched a bar employee. He was issued a citation and released, avoiding jail since all four charges are misdemeanors.
Marks was also cited in 2013 for being a minor in possession of alcohol.
A rising junior, Marks led the Cougars with 74 receptions and 807 receiving yards in 2013, tying for the team lead in receiving touchdowns with 7. He Tweeted an apology which was later deleted, but published by CougCenter:
Rosen, a junior, will be eligible for the upcoming NFL draft

Find out which of your favorite team's players are among the nation's best entering the 2017...

Texas A&M has to be better defensively to stand a chance in the SEC West
A letter indicated that there is a growing awareness of the persistent problem in college...

The series will follow the Navy football program throughout the 2017 season

Should college football players still be tested and punished for using marijuana?