Week 1 lessons: Playoff favorites dodge bullets, Aggies still on rise
Florida State, Ohio State and UCLA survive scares to stay alive in the playoff hunt, while Texas A&M proves it's fine without Johnny Football and the Big Ten stands tall.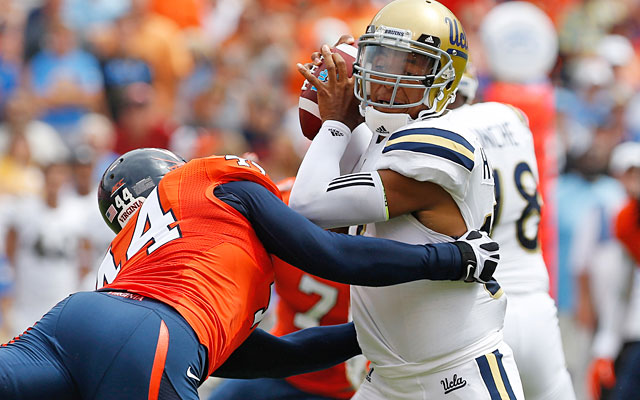 What we learned in Week 1 ...
You can't play your way into the playoff in August, but you can play your way out.
That's why there were huge sighs of relief from top-10 dwellers Ohio State Buckeyes , UCLA Bruins and Florida State Seminoles .
Three 2014 powerhouses. Three leagues. Three struggles of different degrees away from home. Take a bow Buckeyes, Bruins and Seminoles, you're still in the race.
Too soon?
Remember the only thing the playoff (virtually) guarantees is every undefeated Power 5 team will be in. (There were never more than three in the BCS era.) Losing in the dying days of August to a double-digit underdog would have endured. Worst case, it would have ruined the seasons of three teams projected in various arenas to compete for that playoff.
The Buckeyes had the requisite issues with Navy Midshipmen option (surrendering 370 rushing yards), but the better athletes prevailed. The same was the case in Jerry World where Florida State beat Oklahoma State Cowboys both despite and because of Jameis Winston.
Seminoles tailback Karlos Williams described his team's struggles in a 37-31 victory over Oklahoma State in a unique way.
"You play on the East Coast the whole time being in the ACC," he said. "You come out to Dallas, being in a different atmosphere. The weather's different. It's really a dry heat out here. The sweat is even different."
The most troubling effort of the three may have been UCLA's. The offensive line gave up five sacks at Virginia Cavaliers . In a Pac-12 that figures to tee off a bit on Brett Hundley, that is not good news.
"That is the first time I've ever been outscored by the defense," veteran offensive coordinator Noel Mazzone said.
Three first-half defensive touchdowns saved the Bruins. That's more than 75 teams had all of last season.
The point remains, all three won. They're still alive in the playoff.
Too soon?
We learned sometimes you just sit back and root for a guy.
Consider the implication of the Penn State Nittany Lions kicker Sam Ficken's game-winning field goal against UCF Knights on Saturday in Dublin. Ficken clinched what was arguably the Big Ten's biggest win of opening week.
There were 12 of them in the Big Ten (against two losses). Not a bad showing with Michigan State Spartans traveling to Oregon Ducks this week. Only the SEC had a higher winning percentage (8-1) in nonconference games among Power 5 leagues.
Six of the 12 wins came over FCS schools. There was one each against the MAC ( Western Michigan Broncos ), Conference USA ( Florida Atlantic Owls ) and Sun Belt ( Appalachian State Mountaineers ). In the most significant conference game of the week, Wisconsin Badgers played admirably but lost to LSU Tigers .
That left a win over the defending American Athletic Conference champion –- a BCS bowl winner -- as perhaps the Big Ten's best of the week.
Too soon? Not with keyboards loaded up to proclaim the league's playoff worthiness this week in Eugene.
The Dublin result sort of closed the loop on a Rudy-esque career for Ficken. Two years ago Ficken was the face of the angst and anguish surrounding the program after the Sandusky sanctions. He missed four field goals and an extra point against Virginia.
An avalanche of hate email and vitriol followed.
"There was one joke," Ficken told reporters after Saturday's 26-24 win, "'Hey, we don't need to worry about Ficken hanging himself. He can't kick the chair out from under himself.' That one's actually kind of funny."
Ficken followed up by making his final 10 field goals of 2012 and first five of 2013. That made for a school-record 15 in a row.
This time Ficken's 36-yarder may have preserved the Big Ten's rep through the end of August. Hey, only 14 more weeks to go.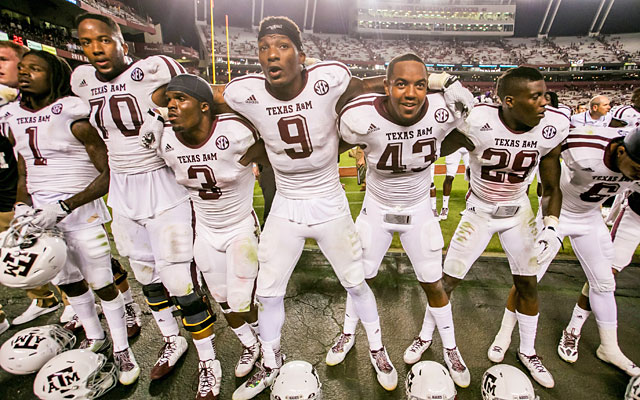 We learned Texas A&M Aggies is still ascending.
There was some question that -- as Kevin Sumlin put it -- the Aggies were a "one-trick pony" with Johnny Manziel.
Yeah, that Heisman, those 20 wins the past two seasons and national acclaim reclaimed were nice. But how were the Aggies going to follow that up in the SEC without Manziel and with a shaky defense?
"Quite frankly, there's a little chip on their shoulder," Sumlin said after the 52-28 upset of South Carolina Gamecocks . "Basically nobody gave us a chance to even be close in this game."
The Aggies haven't been included in many preseason conversations. They were projected as a fourth-place finisher at best in the SEC West. But Kenny Hill showed he has the smarts, arm and demeanor to take over for Manziel. Just don't ask him to improvise -- much.
"We were ready to go and prove everybody wrong and show that we can be good without Johnny," Hill said.
In a short time, Sumlin has shown he is a master recruiter, quarterback developer and turnaround artist. Quick question: When is an NFL team going to snatch him up? There was interest from the Texans before they hired Bill O'Brien.
Too soon, Aggies?
We learned the Big 12 should stop scheduling North Dakota State or add the Bison to the conference.
Either option would stop the embarrassment of losing to an FCS program that plays "up" better than anyone. After routing Iowa State Cyclones , the Bison now have more Big 12 wins the past two years than Kansas Jayhawks .
The realistic option might be for the conference to stop scheduling FCS teams in this playoff era. The Big Ten already has adopted that policy.
We learned that while Alabama Crimson Tide may have quarterback issues, Auburn Tigers does not.
Jeremy Johnson started in place of the suspended Nick Marshall. Johnson completed his first eight passes against Arkansas while Marshall sat the first 30 minutes.
With Marshall changing the look after halftime, the Tigers ran for 234 yards in the second half.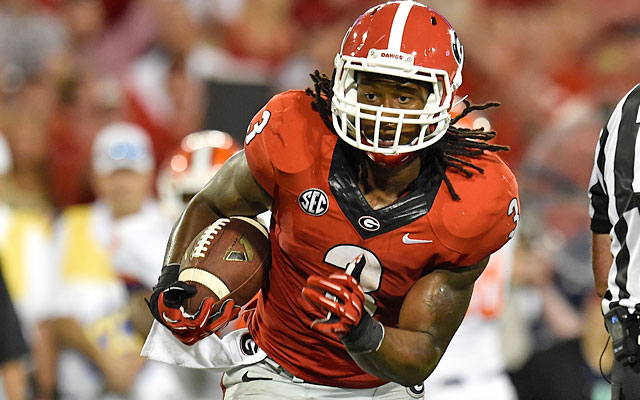 What else we learned ...
We learned that Arkansas Razorbacks has lost 10 in a row.
Through Saturday, 10 players with at least 13 carries had averaged more than 10 yards per carry. That list was led by Georgia Bulldogs Todd Gurley, who averaged 13.2 yards against Clemson. Welcome to the Heisman race/lead, Todd.
Through the 150-plus games played through Saturday, scoring was actually down. Teams averaged 28.8 points per game. That's a slight decrease from last season (29.4) and the all-time record set in 2012 (29.5).
Eight quarterbacks had 500-yard passing days all last season. There were three in Week 1 -- Hill, Western Kentucky Hilltoppers Brandon Doughty and Washington State Cougars Connor Halliday.
We learned how some schools celebrate opening day.
Florida International Golden Panthers chose to hide itself -- at least from most of the newspaper readers in the market.
The FIU beat writer for the Miami Herald was inexplicably denied a credential for the Golden Panthers' opener against Bethune-Cookman. Instead of sending a credentialed photographer and reporter approved by FIU, the Herald chose not to cover the game.
"The team does not get to choose who covers the program," Herald executive editor Aminda Marquez Gonzalez said.
Well said.
Professional college football bettors are loving Jim Harbaugh and Michigan against Purdue

Temple knocked off USF last year to claim the division title

Guice is dealing with a 'minor injury' which has not been specified by coach Ed Orgeron
These are the best bets to make in Week 4 including Florida-Kentucky and Oklahoma State-TC...

Two players died as a result of playing college football on Saturday

Gary Danielson previews this week's SEC on CBS Game of the Week from Nashville