Week 3 Heisman Watch: Geno Smith leads wide-open race as Matt Barkley falters
New faces emerging in the Heisman Trophy race in the season's early going.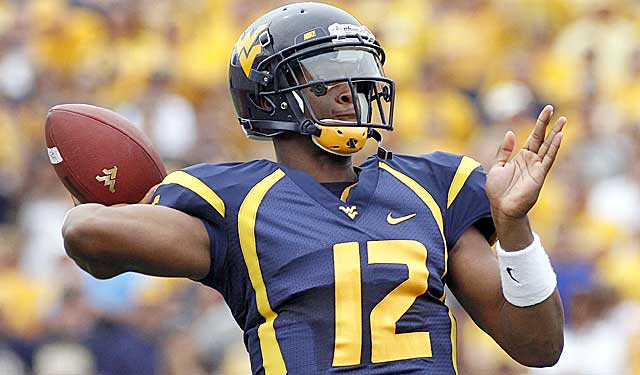 The Mountaineers' Smith moves into our top spot. Can he keep up his current pace? Unlikely. (Getty Images)
Week 3 of the college football season is in the books, and the race for the 2012 Heisman Trophy has been dramatically altered.

USC's Matt Barkley is the latest preseason favorite to stumble, throwing two interceptions in a huge loss to Stanford. [go here for full analysis of Barkley's Heisman status]
If you had told me before the year began that Barkley, Denard Robinson and Montee Ball would all be out of the Heisman race by the middle of September, I would've said you were crazy. 
But it's happened, and now it's a wide-open competition. Any number of candidates could emerge. The next two weeks will give us a better understanding of the Heisman terrain, but for now the race is very fluid.

Keep in mind that the goal of this Heisman Watch is not just to track who is playing well from week to week. This is not a college football version of Kasey Casem's top 40. The goal here is to figure out who will ultimately win the trophy. We take a long view of the race, factoring in not only individual performance, but also schedule, team success and the historical voting trends of the Heisman electorate.

These are the players who currently stand the best chance of actually winning the Heisman Trophy. Keep in mind that some players not on this list will undoubtedly finish in the top 10 of the final Heisman voting. That's all well and good, but this Watch does not exist to gauge their prospects.
1. Geno Smith, QB, West Virginia -- Smith is off to a great start so far this season, with 734 passing yards and nine touchdown passes (with no interceptions) in his first two games. He is completing an amazing 88 percent of his passes and has an efficiency rating of 209. He is on pace to run and pass for 60 touchdowns. Granted, he is putting up these numbers against awful competition, but we all know he's a very good quarterback playing in a passer-friendly system. It's going to be difficult to for him to maintain this level against Big 12 competition, but he'll still be very productive. As with Robert Griffin III last year, he's not expected to lead his team to an undefeated season, and so Heisman voters will look to his overall numbers and how well he performs against Big 12 traditional powers like Texas and Oklahoma to gauge his worthiness. Given his solid name recognition, his potential for an elite statistical season and his odd status as a Mid-Atlantic player competing in the Southwest, he's at the top of this Watch ... for now.
2. Aaron Murray, QB, Georgia -- Murray is not getting much Heisman buzz at the moment, but he is well set up to make a run for it in the season's second half. He replaces Barkley as the candidate whose main selling point is that he is the quarterback for national title contending team (while AJ McCarron and Zach Mettenberger can also make this claim, neither will produce the numbers necessary to win the Heisman). He has done well so far, throwing for 842 yards and eight touchdowns in his first three games. He is on pace to have 3,653 yards and 35 touchdowns by the time the Heisman vote is due. Still, his fate is inextricably linked to the fate of his team, so it's vital for UGA to keep winning. Georgia will be favored the rest of the way and if Murray can keep playing at this level while leading his team to an undefeated season, he'll be knee deep in Heisman hoopla.
3. De'Anthony Thomas, RB, Oregon -- Barkley's collapse helps out Thomas, who becomes the Pac-12's top candidate as a result. He is the race's all-purpose candidate, and voters will focus on his overall yardage, his touchdown-to-touches ratio and his ability to crank out highlight-reel plays with regularity. Thomas is averaging 159 all-purpose yards per game, which is 17th nationally, but he's only touched the ball 31 times in three games as Oregon has been blowing out lesser competition. He is also tied for fifth nationally with seven touchdowns. He's on pace to have 2,100 all-purpose yards and score 30 touchdowns, which should be more than enough to challenge for the Heisman. Oregon's schedule is favorable, and Thomas should have plenty of opportunities to build up his resume before taking on USC in a key matchup in early November.
4. Braxton Miller, QB, Ohio State -- Miller passed his first test this past weekend, helping the Buckeyes survive a scare against Cal. In fact, Miller came through in the clutch, hitting Devin Smith for a 72-yard touchdown with 3:26 remaining to provide the margin of victory. Miller continued his impressive production, accounting for 324 yards of total offense and five touchdowns. His numbers through three games are very close to where Tim Tebow's were after his first three games as a sophomore starter in Urban Meyer's system and he's doing it without the kind of dynamic vertical threats Tebow had at his disposal. He is on pace to have 2,436 passing yards and 1,500 rushing yards with 48 total touchdowns in just 12 games. Even without a conference title game to buoy his campaign, these numbers are good enough to win. Can he join Andre Ware as the only players to win the Heisman while on NCAA probation?
5. EJ Manuel, QB, Florida State -- The Seminoles finally played a team from a BCS conference and didn't miss a beat, crushing Wake Forest, 52-0. As usual, Manuel didn't play a full game and his numbers, while efficient, weren't overwhelming. On the season, he's completing 71 percent of his passes for 525 yards with six touchdowns and one interception. If the 'Noles are to remain undefeated, I fully expect he will be called upon to pick up the pace and so he'll be able to put up the kind of statistics that would merit Heisman consideration. His position at No. 5 on this Watch will be justified if he leads FSU to a win over Clemson this coming Saturday. A loss to the Tigers will knock him off the list.
6. Collin Klein, QB, Kansas State -- There's something about Klein that makes him an appealing candidate. A friend of mine commented on the oddity of his throwing motion during Saturday's 35-21 K-State win over North Texas, but he was forced to admit that he still gets the job done. No other player in college football seems to succeed by the same kind of sheer will that Klein does. On the season he is completing 73 percent of his passes -- a huge improvement over last year -- with 609 yards and five touchdowns to go with 210 rushing yards and four scores. He's on pace to have 2,436 passing yards, 840 rushing yards and 36 total touchdowns. He'll have to improve those numbers quite a bit, but I think he's likely to do so as he gets into a groove against more able competition. A hard-nosed leader on an underdog team, Klein has a chance to become the sentimental favorite for the award as the season wears on.
7. Johnathan Franklin, RB, UCLA -- Three games into the season, Franklin is unexpectedly leading the nation in rushing, averaging 180 yards per outing. He opened with a pair of 200-yard games and followed up with a solid 110-yard effort against Houston. He's on pace to rush for 2,160 yards and score 16 touchdowns. If he indeed tops the 2,000 mark, he's going to be a formidable candidate. The key early-season matchup for him comes this Saturday when the Bruins take on Oregon State. A good performance against a Beavers defense that stopped Montee Ball cold will provide fodder for the notion that Franklin is an elite back. And with Barkley out of the Heisman picture, it will propel him into the upper tier of candidates. 
8. Tajh Boyd, QB, Clemson -- Boyd is the main reason the Tigers are ranked in the top 10 of both polls heading into Saturday's key ACC clash with Florida State. The junior has thrown for 747 yards with six touchdowns and one interception so far this year. He plays in a dynamic offensive system and his numbers should explode now that Sammie Watkins is back playing again after a two-game suspension. If Boyd leads the Tigers past the Seminoles this week, there's a real chance that Clemson could cruise through the schedule unscathed. And if that happens, he'll be heading to New York as a Heisman finalist.
9. David Ash, QB, Texas -- A traditional power like Texas is always capable of producing a Heisman candidate from scratch, and it looks like Ash could fit the bill. The sophomore is off to a fine start, completing 76 percent of his passes for 703 yards and seven touchdowns, with no interceptions. His passer rating is an impressive 190.5 and he's also rushed for 58 yards and a score. With most of the preseason front runners swept away these past few weeks, a window of opportunity has been opened and it makes sense not to dismiss the potential that exists for an Ash candidacy. After all, the Longhorns are a bit under the radar, creeping around the edge of the top 10, but that will change in October with back-to-back games against West Virginia and Oklahoma. If Texas heads into November undefeated, it will become a real national title contender, and Ash, if he keeps improving, will be talked up as a Heisman possibility. 
10. Stepfan Taylor, RB, Stanford -- Beating USC is almost as important as beating Notre Dame when it comes to the Heisman race, and Taylor is now 4-0 against the Trojans in his career. His 153-yard effort against SC on Saturday was one of the heroic efforts of the season to date. He's got 338 yards and three touchdowns so far, putting him on pace for 1,464 yards and 13 scores if the Cardinal should somehow make it to the Pac-12 title game. He'll have to increase his production considerably if this is to be the fourth straight year that a Cardinal player contends for the Heisman. But sometimes a game like the one he had against USC can serve as the spark for a tremendous season. 
Others to watch: Landry Jones, Denard Robinson, Matt Barkley, Teddy Bridgewater 
For an archive of this Heisman Watch and more Heisman analysis from Chris Huston, go here.
CBS Sports HQ Daily Newsletter
Get the best highlights and stories - yeah, just the good stuff handpicked by our team to start your day.
Please check the opt-in box to acknowledge that you would like to subscribe.
Thanks for signing up!
Keep an eye on your inbox for the latest sports news.
Sorry!
There was an error processing your subscription.
Robinson threw three touchdowns in 2017 as a backup to Kenny Hill

Taking a close, detailed and opinionated look at the AAC as the college football season ap...

When you ask their peers, these are the coaches that either get too much -- or not enough --...
Outside linebacker Chris Allen will miss the season after sustaining a knee injury

Quintez Cephus is instead focusing on a legal case for "unspecified" charges from an April...

This is the second ACL injury for White in as many years