Week 3 Picks: 'Noles will roll, Vols' passing game will cruise
Here are this week's guesses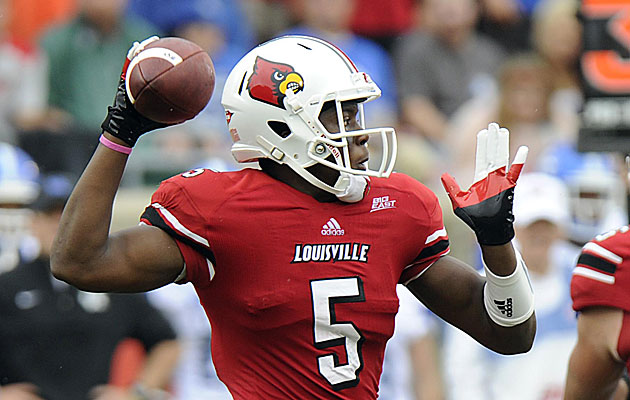 Bruce Feldman likes Teddy Bridgewater and Cardinals over the Tar Heels. (U.S. Presswire)
I'm coming off a dismal week, going 10-14 against the line. That puts me two under .500 for the season against the spread. The good: picking UCLA Bruins to give Nebraska Cornhuskers a lot of trouble; the bad: picking Duke to hang around against Stanford Cardinal . The ugly: picking Washington to not get destroyed at LSU Tigers . Here are this week's guesses :
Florida Gators State 38, Wake Forest Demon Deacons 17: The 'Noles have had fits with Wake in recent years, but this is a different FSU squad. The D is too good and E.J. Manuel's experience will keep this ship on course.
Ohio State Buckeyes 28, California Golden Bears 10: Braxton Miller has Urban Meyer raving and he'll have Jeff Tedford raving by the end of Saturday as Bears drop to 1-6 vs. Buckeyes.
Virginia Tech Hokies 24, Pittsburgh Panthers 10: Getting standout RB Ray Graham is good news for Pitt. Getting to face Virginia Tech and Bud Foster's D? Not so much. Although hearing that the Tech LB corps is banged up does give me some pause.
TCU Horned Frogs 49, Kansas Jayhawks 17: The young Horned Frogs should have no trouble with a Charlie Weis team that just lost to Rice.
Clemson Tigers 56, Furman 7: The Auburn Tigers have averaged almost 40 ppg without Sammy Watkins . Furman's in trouble here.
Oregon Ducks 69, Tennessee Volunteers Tech 14: Even though the Ducks have lost a couple of key players, they're still loaded enough to roll here.
Louisville Cardinals 24, North Carolina Tar Heels 17: Teddy Bridgewater should continue his hot stretch against a team that gave up 362 passing yards to Wake last week.
Michigan Wolverines 49, UMass 10: Denard Robinson ran wild last week and should again, although my hunch is the Wolverines really ease off the throttle early against a team that has been outscored 82-6 by two teams with much less talent than Michigan.
Alabama Crimson Tide 34, Arkansas Razorbacks 13: The Hogs have the wrong team coming to town after a brutal Week 2 upset loss to Louisiana-Monroe Warhawks . Tide rolls as Nick Saban's team dominates on both lines of scrimmage.
West Virginia Mountaineers 63, James Madison 17: JMU is a good FCS team, having won its first two games by a combined score of 97-10, but the Mountaineers had a week off and they won't look rusty as Geno Smith continues to pile up gaudy numbers.
Tennessee Volunteers 24, Florida Gators 17: The Gators took a step forward last week in College Station, but the Vols have the more experienced QB ( Tyler Bray ) with the more gifted receivers in this match-up. Plus, the home crowd.
South Carolina Gamecocks 42, UAB 14: The Blazers D looked really shaky first time out at home against Troy. A road trip to face Marcus Lattimore and company won't end well.
Kansas State Wildcats 48, North Texas Mean Green 13: UNT is too one-dimensional on O to challenge the Wildcats.
Georgia Bulldogs 55, Florida Atlantic Owls 0: The Dawgs' fierce D dominates from the start. The Owls, No. 111 nationally in scoring, only managed seven points against Wagner. Doubt they can be that, um, prolific against Georgia.
Southern California Trojans 38, Stanford Cardinal 24: The Trojans will miss Khaled Holmes anchoring the O-line, but Barkley's experience and his great receiving duo will exploit Stanford's suspect secondary in the second half.
Michigan State Spartans 23, Notre Dame Fighting Irish 14: The Spartans' D is much better than the Purdue defense that gave Irish trouble last week. Curious to see if Irish remain in the nation's Top 10 in turnover margin after this road trip. Doubt it.
LSU Tigers 58, Idaho 6: The Vandals lost to a very good FCS team (EWU) and now will lose big to a very, very good FBS team in a much more hostile setting. The Tigers D-line should have a fun day against a team 92nd in sacks allowed.
Texas Longhorns 35, Ole Miss Rebels 17: Good start for Hugh Freeze in Oxford, but Texas' D is a too big a step up for the Rebels.
Brigham Young Cougars 20, Utah Utes 13: Two good defenses here, but I'm going with the team with the more seasoned QB.
UCLA Bruins 45, Houston Cougars 31: The Bruins young offense has been a revelation and the UH D has been reeling all season so far. Two La. Tech freshmen backs not as good as Johnathan Franklin carved up the Brigham Young Cougars last week so expect the Bruin to take another step forward in the Heisman race.
Arizona Wildcats 48, South Carolina State 7: Matt Scott is thriving in RichRod's system and the Cats will keep rolling. S.C. State just lost last week by double-digits at home to BCC.
RANDOM STUFF
*Entering this fall, there were two Pac-12 head coaches on the hot seat, Cal's Jeff Tedford and Oregon State Beavers 's Mike Riley. Both have had a lot of success at their programs, are well respected by both their peers and the media and have made their schools better than when they found them. Still, each program had lost momentum heading into this fall.
Last week, Riley did wonders for his job security when the Beavers knocked off Wisconsin. Tedford, though, seems headed for a worse start than most would've expected. It began with the loss to Nevada in the opener and things look much more grim because UCLA and ASU, opponents on the horizon, appear much better than projected. A 1-5 start for Cal seems very possible. Anything more than 2-4 would be a huge reach.
Still, pushing the re-set button on Cal football is more complicated than most might think. As Jon Wilner notes, it'd cost Cal almost $10 million to make a coaching change this winter.
Not to say Riley's job is now safe, but it's getting to the point where we can start to wonder how shaky the ground around Colorado coach Jon Embree is. The Buffs are 0-2, losing arguably the two easiest games they'll have this fall.
*Few things make recruiting sound more like a farce than this: A four-star DB, Shaq Wiggins told the AJC that he's "100 percent committed" to UGA but … will still visit UF, Tenn, Ole Miss and Vandy. Huh?
Obviously, you're either committed or you're not. Not 82 percent committed. Not 46 percent committed. You can be 100 percent committed, and Wiggins says he is. Yet, he's also visiting a bunch of schools?!?
Note to Georgia fans, saying he's 17 and just going for the free trips, nothing to see here: every winter die-hard fans dismiss recruiting rumors or reports by talking about how "committed" one of their recruits is, and often times that kid flips. Who knows maybe Wiggins will eventually sign with Georgia. Maybe he won't. It also seems like a lot of the blue-chippers who have some of this recruiting drama end up underwhelming once they get to college. We'll see.
One thing I can say with certainty is no staff likes to see a committed kid visiting someplace else. The kid may be telling them one thing, but they're savvy enough to know he could be telling other coaches something very different.
*As I mentioned on Twitter, I'm hearing that rogue former Miami booster Nevin Shapiro--enraged at how he thinks the NCAA has handled Miami's case--is making more allegations. The bulk of these are UM hoops related.
*West Virginia CB coach Daron Roberts is one of the most fascinating people in football. Andy Staples did a good job exploring Roberts' background. I first got to know Roberts while working on Mike Leach's book Swing Your Sword.
Roberts, then a law student at Harvard, had reached out to Leach (a Pepperdine Law grad) and the two became friendly. When Leach was up for the Maryland Terrapins job, he was planning on trying to hire Roberts, an NFL assistant at the time, on his staff. Leach knew Roberts had never recruited before, but reasoned that if the guy was charismatic and persuasive enough to have been elected student body president at the University of Texas, he could probably win kids—and their parents and grandparents over. Not surprisingly, Roberts has emerged as one of Dana Holgorsen's top recruiters at WVU.
*Interesting Urban Meyer nugget: The first-year Ohio State coach told Buckeye beat writers that in his career he only coached in the press box for one year. The reason: "because I'm claustrophobic and ADD."
*Brett Favre's nephew, Dylan Favre, is ranked No. 3 in the country among juco QBs in passing. The 5-10 former Mississippi State QB is now at Pearl River CC in Mississippi and averaging 309 yards per game. He's thrown six TDs. The downside: he's also thrown five picks.
*In three games for NAIA Baker University in Kansas, Dillon Baxter, the former blue-chip USC recruit, is averaging 60 rushing yards per game and has scored one TD.
*Former ASU DB Ramon Abreu, who had some off-field issues with the Sun Devils, has eight sacks in two games for Glendale CC. Eye-catching numbers, especially for a strong safety.
The 2021 Chick-fil-A Kickoff Game will feature Louisville and Ole Miss

The Fornelli 50 ranks teams based on nothing but their performance in 2017

Penn State better have its eyes wide open with a trip to Iowa City on deck this weekend
Ohio safety Javon Hagan has a rather unique personal tradition during games

Mississippi State has been good to Mullen, but he should be the next Bulldog to upgrade

Cowart was the No. 3 overall recruit in the 2015 class but has not panned out yet for the...