Week 4 Heisman notes
Featuring our Heisman Player of the Week, EJ Manuel of Florida State.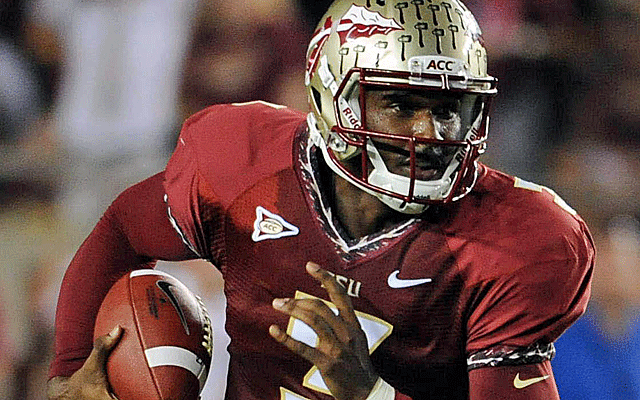 Things are looking up for EJ Manuel after his performance vs. Clemson.
(Getty Images)
Random questions and answers on the Heisman race after Week 4 ...
1. How are the regions shaping up?
Don't forget that the battle for the Heisman boils down to what voters decide in six different geographic regions. There is the Northeast, the Mid-Atlantic, the South, the Mid-West, the Southwest and the Far West. Each region has 145 media voters for a total of 870 media votes. Additionally, there are 55 former winners who have a vote and then there is one fan vote, which brings the size of the overall Heisman electorate to 926 voters.
So how would the regions break down if the vote was held today?
I think something like this:
Far West: (1) De'Anthony Thomas (2) Geno Smith (3) Johnathan Franklin
Southwest: (1) Geno Smith (2) Collin Klein (3) De'Anthony Thomas
Mid-West: (1) Geno Smith (2) Braxton Miller (3) Manti Te'o
South: (1) EJ Manuel (2) Geno Smith (3) Aaron Murray
Mid-Atlantic: (1) Geno Smith (2) EJ Manuel (3) De'Anthony Thomas
Northeast: (1) Geno Smith (2) De'Anthony Thomas (3) Manti Te'o
Smith would win handily if the vote was held today, helped in large part by his high-profile presence in both the Mid-Atlantic and the Southwest regions (a unique phenomenon I talked about in the preseason).
2. This time it will be different. No, it won't.
A couple weeks ago it was Jarvis Jones who was going to challenge for the Heisman, and now it's Manti Te'o who has taken up the mantle for the defensive side of the ball. I can't count how many times I get asked about the Heisman chances of various defensive players. But let's keep it simple: Pure defenders can't win the Heisman.
It's not that there's an official rule against it, or some sort of bias. It's really just a reflection of human nature. Voters naturally gravitate toward seeking as much tangible information about a player as possible. And if you play offense, there are several stats categories available to accurately gauge your impact on the field. It's a little murkier for the defense. We know Geno Smith is second nationally in pass efficiency, and we know exactly how many touchdowns he has accounted for and how he helps his team win. Meanwhile, Te'o is one of 15 players with three interceptions on the season, and he is tied for 39th nationally in tackles.
Ah, you say, but the stats don't tell the whole story about his impact! Well, that's exactly my point. The stats don't tell the whole story with defenders, and most of the voters are reliant on stats and numbers to help them make a decision. Unless a Heisman voter watches every Notre Dame Fighting Irish game in its entirety, he won't have a full understanding of Te'o's impact. He won't see it in the box score the way he will with Smith, or some other offensive player. 
This doesn't take into account other factors, like how offenses find ways to scheme around defenders, thus lessening their impact on a game. Defenders don't control their own destiny when it comes to production. The greatest cover corner in the history of the world can't defend a pass against a team that never throws his way.
We have awards for defensive players. The Heisman is not one of them.
3. The September Heisman
Every September, we in the sports media jump the gun a little bit by anointing a player as the Heisman front-runner while ignoring that candidate's obvious (in retrospect) shortcomings over the long haul.
Through no fault of his own, the player who wins the 'September Heisman' (what I also call the Kyle Orton Honorary Heisman) is almost always doomed to fizzle, usually as soon as October rolls around.
In 2002, it was Seneca Wallace. Remember his amazing reverse-field run against Texas Tech that left breathless commentators racing to put him atop their Heisman lists?
In 2003, it was Chris Perry. He had three big games to start off the season and was the leader in most Heisman watches. His candidacy died at Autzen Stadium in Game 4.
In 2004, it was Kyle Orton. Purdue Boilermakers blazed to a 5-0 mark, including a smashing of Notre Dame. Taylor Stubblefield was striking Heisman poses on the sideline and Orton's numbers through four games were amazing (17 TDs, no interceptions). By Game 6, though, he was kaput.
In 2005, it was Matt Leinart. Because most commentators still don't understand that there will never be another two-time winner, he was tabbed as the Heisman front-runner. By October, he had been superseded as a candidate by his teammate, Reggie Bush.
Okay, in 2006, the winner of the September Heisman was Troy Smith, who actually ended up winning the award. Anomaly!
But in 2007, it was Andre Woodson of Kentucky Wildcats , who had the Northwestern Wildcats at 5-0 and ranked high in the polls early before they collapsed.
In 2008, it was Missouri Tigers 's Chase Daniel, who was atop Heisman polls in the first month of the season before falling back behind guys like Sam Bradford and Colt McCoy.
In 2009, it was Tim Tebow, with people once again unwilling to accept the no-repeat rule.
In 2010, it was  Denard Robinson , who blazed to some amazing numbers in the first month before tapering off due to injury and the weaknesses of his team in conference play.
In 2011, it was Andrew Luck, who looked like a sure thing at the time but couldn't overcome Robert Griffin III's late surge.
The winner of the 2012 September Heisman is Geno Smith of West Virginia. Now, I think Smith is a strong candidate and have him as my front-runner right now. He's on top of all the Heisman polls, too.
He may certainly buck history and join Troy Smith as the only September Heisman winner in the last decade to actually go on to win the trophy (maybe it's a 'Smith' thing) but if he doesn't, we'll look back on his September performance as yet another case of early-season Heisman fool's gold.
4. Where are the running backs?
It looks like the Heisman race will once again be bereft of running backs. Of the last 100 players to finish in the top 10 of the Heisman vote, only 30 have been running backs. Only two running backs have won the Heisman since 1999. It didn't used to be this way. The running back position dominated the 1970s and early 1980s, winning 11 straight Heismans from 1973-1983.
A big reason for this shift is because of the emergence of the spread offense, which has caused quarterback production to boom. The last four quarterbacks to win the Heisman accounted for an average of 49 touchdowns in their Heisman-winning seasons. Running back numbers have tended to look meager by comparison. 
The top back in this year's race -- De'Anthony Thomas-- is as much a receiver and return man as he is a ball carrier.
It doesn't help that more teams have gone to two, or even three running backs as part of their rotation. We just don't see too many workhorse backs out there who can last a full season. And of the top 10 rushers in 2012, just two -- Johnathan Franklin and Le'Veon Bell -- are from power conferences.
I don't see this dynamic changing anytime soon. For the time being, keep your eyes on the quarterbacks.
Heisman Player of the Week -- EJ Manuel of

Florida State Seminoles
It's been a long time coming for EJ Manuel and Florida State Seminoles .
How many times have we written "This is the year that FSU will be good again?" only to have it blow up in our faces later?
Maybe it's premature to say that the Seminoles are truly "back," but I don't think it's too early to hail the progress that has been made with Manuel under center.
On Saturday against No. 10 Clemson Tigers , FSU finally came to play in a big game.
And Manuel was the star of the show.
The 6-foot-5, 250-pound senior went 27 of 35 for 380 yards and two touchdowns while also rushing for 102 yards on 12 carries. He directed an FSU attack that piled up 667 yards of total offense while looking more explosive than it has in ages.
Down 31-21 midway through the third quarter, Manuel didn't panic. He led FSU to 28 unanswered points to bury the Memphis Tigers and solidify the 'Noles as legitimate national title contenders.
For this, he is our Heisman Player of the Week.
In the process, he has inserted himself into the Heisman conversation. If he keeps it up, he'll be the first Seminole to make it to New York as a Heisman finalist since Chris Weinke won the trophy in 2000.
Past Heisman Players of the Week for 2012
Week One: Le'Veon Bell, Michigan State
Week Two: Johnathan Franklin, UCLA Bruins
Gyree Durante of Albright College was dismissed after he kneeled during the national anthe...

Penn State's star rusher loves to argue, just not about whether he's the nation's best pla...

The Fornelli 50 ranks teams based on nothing but their performance in 2017
Find out which of your favorite team's players are among the nation's best midway through...

Anybody can rank the best college football teams, only we rank the worst each week

The Badgers never get talked about, but that might change if they keep up their hot streak