Week 4 of BCS standings released: Tide, Seminoles in control
Alabama and Florida State are a clearcut Nos. 1 and 2 in this week's edition of the BCS standings.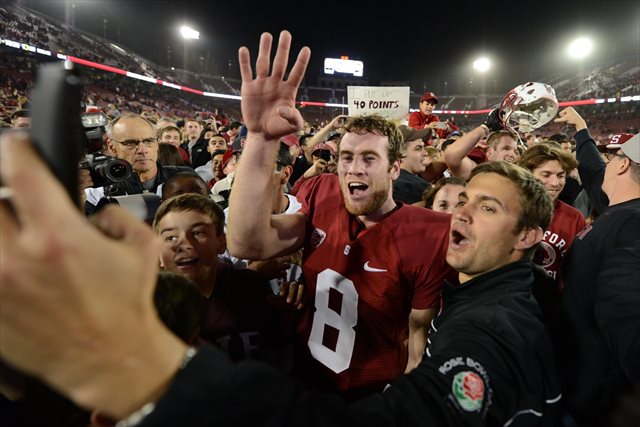 If there was ever any doubt about which two teams controlled their own BCS championship destiny in the wake of Oregon's loss to Stanford, the release of the fourth week of 2013 BCS standings erased it for good Sunday.
Alabama and Florida State will meet in Pasadena for the BCS title if both teams win out. And though that's long been a foregone conclusion for the No. 1 Tide, it's now nearly just as certain for the No. 2 Seminoles, which enjoyed a margin of .069 over No. 3 Ohio State.
The Seminoles were the top-ranked team in the BCS computer aggregate and own a commanding lead in both the Harris and Coaches Polls, where FSU is closer to Alabama than Ohio State is to the Seminoles.
Elsewhere in the new standings, Stanford maintained its edge on undefeated Baylor to move to No. 4, and new No. 13 Fresno State widened the gap between itself and Northern Illinois in the race to become the one allotted automatic-berth BCS buster.
The full standings:
THE TOP 16
1. Alabama [.996]: The Tide defense is tied for No. 1 nationally in scoring defense. The Tide offense (not counting an end-of-half possession) just put up back-to-back-to-back-to-back-to-back touchdown drives of 78, 80, 79, 71 and 78 yards against LSU. Life isn't fair.
2. Florida State  [.962]: No longer needing a marquee ACC Championship Game win to boost themselves past Oregon, are the Seminoles disappointed a rematch with the Hurricanes no longer looks on the cards?
3. Ohio State  [.893]: The silver lining for the Buckeyes might be that if beating Oregon wasn't enough to push Stanford to No. 3, it becomes that much harder to see it happening down the stretch.
4. Stanford  [.869]: The Cardinal are no doubt relishing having ruined Oregon's national title hopes and seized control of the Pac-12 North. But they might also be kicking themselves harder than ever for losing to a Utah team now sitting at 4-5.
5. Baylor  [.862]: In a surer sign of the apocalypse than the Mayans ever dreamed of concocting, the Bears defense is No. 2 in the FBS in yards per-play allowed at 4.08 a snap, just in front for Florida State.
6. Oregon [.767]: The past two seasons, the Ducks' average margin-of-victory in 13 games vs. Pac-12 teams other than Stanford is 31 points. In two games vs. Pac-12 teams that are Stanford, it's negative-4.5.
7. Auburn  [.721]: Auburn's home date vs. Georgia Saturday (3:30 p.m., CBS) has major ramifications in both SEC divisions; a Tiger win both set up a winner-take-all finale in the Iron Bowl for the West and leave Missouri very likely needing to win out to avoid ceding the East to South Carolina.
8. Clemson  [.720]: The Tigers were officially eliminated from the Atlantic Division race with Florida State's win. But at least they can still have a major say in the Coastal race against Georgia Tech Saturday, and that's something, right Tiger fans? Right?.
9. Missouri  [.712]: It's misery in Gainesville right now, but if the Gators want to see how big a turnaround can be engineered with some staff tinkering and -- more importantly -- not suffering a tidal wave of injuries, they can look to Mizzou.
10. South Carolina  [.558]: Speaking of the Gamecocks, why would Mizzou "very likely" have to win out in the event of a Georgia loss? Because Carolina plays its final SEC game of the season Saturday at home to Florida, and it's "very likely" they win to finish at 6-2 in the league.
11. Texas A&M  [.547]: Every week that goes by with the Alabama defense looking more and more like itself, the more remarkable the Aggies' offensive performance in the teams' September meeting -- 42 points, 628 yards, 8.8 yards per-play -- becomes.
12. Oklahoma State  [.467]: Why is the entire Big 12 schedule so backloaded? After not playing a team ranked in the current BCS top 25 all season, the Cowboys now face three of them (Texas, Baylor and Oklahoma) in their final three games.
13. UCLA  [.455]: The Bruins' 7-2 record is even more impressive when you consider that the losses are at Oregon and at Stanford.
14. Fresno State  [.432]: Even after the Bulldogs handled what looked like a tricky trip to Wyoming with ease, don't pencil them into the BCS just yet; an equally tricky trip to San Jose State remains in the season finale, and either Boise State or Utah State would loom in the MW Championship Game.
15. Northern Illinois  [.351]: The Huskies break into the top 16 for the first time -- just in time for their biggest game of the regular season, a Wednesday night #MACtion visit from 9-1 Ball State.
16. Michigan State  [.342]: It's a one-spot jump for the Spartans despite them having the week off. If the Seminoles are shocked, no one would be happier about State's rise into the national top-15 than Ohio State, which could use such a marquee opponent in the Big Ten title game.
"Non-AQ" teams must reach the BCS top 16 and outrank one "AQ" champion to be eligible for an automatic BCS berth.
THE WAITING LIST
17. UCF
18. Oklahoma
19. Arizona State
20. Louisville
21. LSU
22. Wisconsin
23. Miami
24. Texas
25. Georgia
CBS Sports HQ Daily Newsletter
Get the best highlights and stories - yeah, just the good stuff handpicked by our team to start your day.
Please check the opt-in box to acknowledge that you would like to subscribe.
Thanks for signing up!
Keep an eye on your inbox for the latest sports news.
Sorry!
There was an error processing your subscription.
The lawsuit claimed Colorado officials failed to properly address domestic violence claims...

The cupboard isn't bare in Tuscaloosa

Media members are now on the record for their picks for the 2018 season
Bubba Cunningham believes his coach's remarks were 'poorly communicated'

Ball is still life for Malzahn, but he now has some space to be himself as he leads the Ti...

Swinney is happy to have his current quarterback situation