Weekend Watch List: Aggies, Tide set for annual SEC Game of Century
We've seen this before. Two SEC powers -- Texas A&M, Alabama -- will meet in the annual Game of the Century. History tells us the loser will still have a shot at the title.
This week's latest Game of the Century is an example why Mike Slive lobbied hard for his version of the college football playoff.
We're a year away from the CFP, but already you see the SEC commissioner's vision at work. He wanted the four best teams eligible for the next iteration of the sports' postseason. The other options were conference champs only, or some sort of hybrid.
But Alabama-Texas A&M has become a living, breathing example of why Slive's model works best -- for the SEC, first and foremost.
Saturday's loser in College Station could still play in the national championship game. While that applies more to No. 1 Alabama than No. 6 A&M, the possibility still has to be considered. A close loss by the Aggies probably still keeps them in the top 10. Win the rest of their games and the SEC West runner-up absolutely could be ranked among the top two in the final version of the final BCS standings.
When it was suggested to Slive that the loser almost has a chance to rehab itself in the BCS standings, he replied: "I wouldn't say almost."
It happened two years ago with Alabama. That November loss to LSU eventually did nothing to harm the Tide's chances except to keep them from winning the SEC West outright. It was a rematch for the ages with the Tigers, at least in SEC territory. Saturday's loser could face the same prospect. Consider Alabama-Texas A&M II next Jan. 6 in the Rose Bowl. Start with Johnny Football facing Bama for the third time in 13 months and let the hype build from there.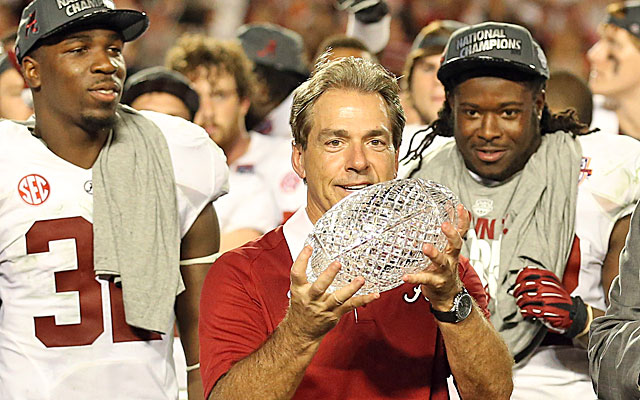 Pure math tells you there's a greater likelihood of runner-up teams playing for the title going forward in the four-team format. Slive knows that. That's why he pushed for his playoff model. If the SEC is the best league, the logic goes, why shouldn't the four best teams play for the national championship? Using the BCS standings in the last 15 years, at least one SEC team would have been included in a playoff in 12 of those years.
LSU lost twice in 2007 but thanks to last-minute upsets was able to get into the title game, and win it. In fact, in the SEC's current seven-year run, its national champion has been undefeated only twice (Alabama, 2009; Auburn, 2010).
The league is considering a nine-game conference schedule in the future that would only consolidate its power -- more content for the SEC Network and more schedule strength with the country's best conference playing seven additional games.
The margin for error is greater for Saturday's participants just because of the neighborhood they live in. Despite no national champion in the BCS era ever losing in the first three weeks of the season, the odds favor Saturday's loser gaining back traction.
Only one team in the BCS era has lost in September and won the national championship: Florida in 2008.
The reason Slive lobbied for the best-four model is that he figured the league's strength of schedule would create a possibility of two, three or even four of his teams populating the playoff.
Had the playoff been in existence since the BCS debuted in 1998, the SEC would have had multiple teams in discussion in at least four of the 15 years. Just last season, there would have a huge discussion between Florida, Georgia, Stanford and Oregon for the two remaining spots behind Notre Dame and Alabama.
"It's a five-yard game," Slive said of Alabama's 32-28 win over Georgia in the SEC title game. "The team that won the game goes on in solid fashion and wins the national championship. The loss by Georgia, if you're on the basketball committee watching that game, you'd be hard-pressed to punish Georgia. They well should be in the top four. That's the strength of schedule inside our league."
The commissioners are close to announcing the composition of that football selection committee that will be choosing the playoff teams beginning in 2014. There are indications the committee will operate similar to the basketball version.
Slive began pushing for this moment back in 2004 when Auburn went undefeated but was left out of the BCS title game. That year Oklahoma and USC also went undefeated and were ranked 1-2. His push for a plus-one -- essentially a four-team playoff -- took root a couple of years ago when the commissioners grew weary of criticism of the current system.
"For us to have an expectation that a team is going to go undefeated in our league is really misplaced ..." Slive said. "I've always felt that four slots would give you twice as many opportunities as two slots."
And make it more likely that games like Saturday's become more common in the SEC.
"This is the SEC's annual game of the century," Slive said.
Breaking down Alabama-Texas A&M
After spending three days in Tuscaloosa this week, these bullet points have moved to my frontal lobe.
• The criticism from the Virginia Tech game stung. Alabama's problems with the offensive line that night can be corrected. The busts were more positional issues than talent issues.
• It's personal with Johnny Football. Tide players wouldn't bite on using the 2012 LSU game as an excuse. It was clear Alabama was physically and mentally exhausted from a last-minute win in Baton Rouge prior to A&M. Yes, the defense was somewhat surprised by seeing Manziel in person but Bama outscored the Aggies 24-9 after the first quarter. They made progress within that loss that will continue on Saturday.
• Bama's offensive strategy will be to pound the ball on the ground and use play-action (what else is new?) while playing keep-way from Manziel. That will force A&M's offensive coaches to score in a narrow window of possession time. A&M is currently 107th in possession time (26 minutes, 20 seconds). Its 17 scoring drives have lasted an average of slightly more than two minutes.
I believe two things from those numbers: The Aggies will need more than two minutes, on average, to drive the field against Alabama. If form holds and Bama possesses the ball 34 minutes, that window for Manziel is going to be extremely narrow.
• Alabama's biggest advantage will be an undermanned A&M defensive line that is part of the nation's No. 92 defense. The Aggies gave up almost 450 yards per game against Rice and Sam Houston State. And, yes, I understand that Kevin Sumlin is getting back three defensive players among four suspended for the first two games.
• Call it, 35-20 Alabama. The Tide rolls.
A loyal Longhorn returns to the fold
Ladies and gentlemen, please give a warm round of applause to an old friend and loyal Longhorn, Greg Robinson.
Texas' former "analyst" and new defensive coordinator -- also the Horns' former defensive coordinator (2004) -- hasn't had a college defense he coached finish above 57th in the national rankings since 2005.
That includes four years as head coach at Syracuse where his defenses were 57th (2005), 107th (2006), 111th (2007) and 101st (2008). His two defenses under Rich Rodriguez at Michigan finished 82nd (2009) and 110th (2010).
This is not a good matchup for Texas against an Ole Miss team that has loads more offensive talent than BYU.
Hide the salsa and children
Arizona State's 300-pound Pac-12 defensive player of the year Will Sutton could play fullback against Wisconsin.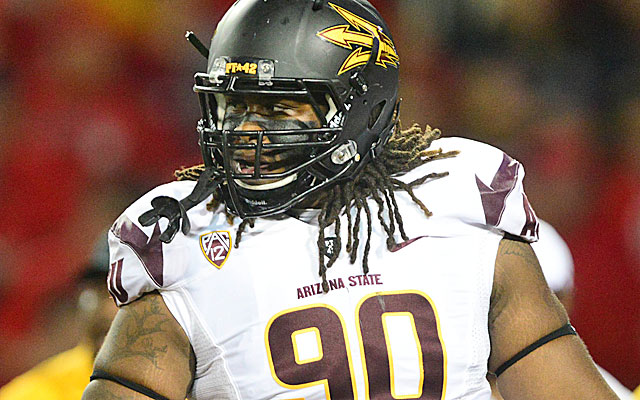 The Badgers figure to wilt in the heat but they're actually built for an upset. Arizona State must prove it can stop Gary Andersen's three-headed ground attack featuring Melvin Gordon, James White and Corey Clement. The Sun Devils finished 10th in the Pac-12 and 81st nationally last season giving up 183 yards a game on the ground. The Badgers have had a top-15 rushing attack five years in a row.
And there's this little note: According to the depth chart, Todd Graham has one -- one! -- starting defender taller than 6-foot-1, defensive end Gannon Conway.
Brawn over heat exhaustion.
Someone's rep will get a boost in Lincoln
The Nebraska faithful are growing skeptical of Bo Pelini and his inconsistent defenses. UCLA's Jim Mora is on the cusp of ruling Los Angeles, if he doesn't already. The Bruins had a bye week while mourning the death of receiver Nick Pasquale. These are two teams at the next level underneath the elite contenders. The winner gets momentum toward its conference title game.
Someone at USC please take control
Was it a players-only meeting? Was it cocktail hour? Was it illegal loitering?
Blind draw
Which set of these mind-blowing offensive numbers represent Oregon and which belong to Baylor?

A. 17 scoring drives in two games
Average number of plays: 5
Average length of drive: 64 yards
Average time of possession: 1:11
Longest drive for a TD: 89 yards
Most plays for a TD drive: 8 (3 times)
Number of scoring drives longer than 2 minutes: 1 (2:07)

B. 19 scoring drives.
Average number of plays: 5.2
Average length of drive: 59.2
Average time of possession: 1:21
Longest drive for a TD: 97 yards
Most plays for a TD drive: 10
Number of scoring drives longer than 2 minutes: 3 (3:08, the longest)>

A: Baylor, No. 1 in total offense (bye).
B: Oregon, No. 2 (at home vs. Tennessee)
Mentionables
Brady Hoke goes for his 17th consecutive home win at Michigan without any losses against Akron, which has a 27-game road losing streak ... Much has been made of <span data-shortcode= State" data-canon="Ohio Bobcats" data-type="SPORTS_OBJECT_TEAM" id="shortcode0"> traveling to Cal with a hobbled Braxton Miller (not cleared as of Thursday). No worries, the Bears just gave up 553 yards to Portland State ... As well as being one of the hottest coaching commodities nationally, Northwestern's Pat Fitzgerald is successfully playing two quarterbacks -- Kain Colter and Trevor Siemian. "I've kind of been pounding the drum for years here talking about 1A and 1B, about two championship-level quarterbacks." ... Illinois' Nathan Scheelhaase (vs. Washington at Soldier Field) threw four touchdowns all of last season. He has six already this year under new offensive coordinator Bill Cubit ... You may have noticed offensively-challenged Michigan State's leading scorer is defensive end Shilique Calhoun. His three touchdowns lead the Spartans. Only four other Big Ten players have more touchdowns ... Oregon has five 100-yard rushing performances in two games ... Ducks' coach Mark Helfrich on XM Radio this week. Host: "Everybody knows you score points." Helfrich: "Not against Auburn." ... If this week marks the Game of the Century, what's there to look forward to in the final 13 weeks of the season?
98 problems
If I live to be 98, I'll never get used to seeing Devin Gardner wear No. 98. Every time I see it, I'll think of some Class A pitcher invited to spring training playing in a late March B game.
What better way than to get into this week's Heisman Watch?
Heisman Watch
1. Marcus Mariota, Oregon: Is it me or is the entire country sleeping on this guy? I don't care if it was against air, Mariota went for 122 yards on four carries at Virginia.
2. Jameis Winston, Florida State: A bye week makes the heart grow fonder.
3. Chuckie Keeton, Utah State: Already 836 yards in total offense for another Texas quarterback that got away.
4. Johnny Manziel, Texas A&M: Proved he could throw from the pocket against Sam Houston State. Alabama will be tougher.
Your moment of Brian Bosworth Zen
Behold the mullet of Nevada's Brock Hekking.
One question
What would Bear Bryant have thought of the last week in college football on his 100th birthday?
The Tigers are going worldwide for their next punter

Led by Heisman Trophy winner Baker Mayfield, the Big 12 finished with seven first-team sel...

Schiano would have made $4.4 million in Year 1 with annual raises as part of a six-year de...
Dykes spent this season as an offensive analyst at TCU

The 'Wyoming Wild Man' notched six tackles for loss as a junior in 2017

Zaycoven Henderson was charged with aggravated assault with a deadly weapon