Weekend Watch List: Bama can't survive another November loss
Alabama has twice survived November losses to win it all, but losing to a dangerous LSU team on Saturday would likely end its shot at the three-peat.
It took some digging, a few computer clicks, and some research from CBSSports.com's fine writers, but we got down to the deciding factor in the LSU-Alabama game.
November. In terms of being a back-to-back national champion, Bama's current championship run is one of the worst of all time ... in this month.
Only 12 times in the history of college football have back-to-back titles been won (in the wire service era post-1936). Of those teams, only Oklahoma in 1975 and Alabama in 2011-2012 have lost games in November.
National champions just don't lose in November. For the most part. Only four times in the last 19 years has a national champion lost a game in this month. Alabama has half that total. (LSU in 2007 and Florida in 1996 are the others.)
Put that in perspective: The previous 11 back-to-back winners (Alabama 1964-65 and 1978-79 among those) were a combined 75-1-1 in November. Bama the last two years in this month is a combined 6-2.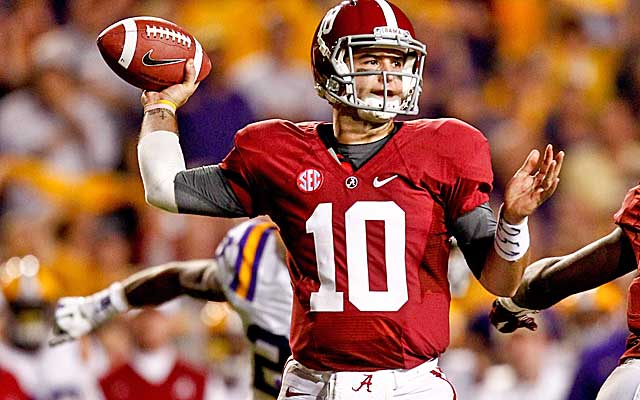 That's tied for the third-best November record in its own conference since 2011. At least 13 BCS conference schools have had an equal or better record in the last three Novembers (see below).
Point is, the Tide likely can't survive another November loss and win a third straight title. No. 10 LSU already has lost twice. A loss at home to the Tigers who have already been beaten by two currently unranked, three-loss teams (Georgia, Ole Miss) is not going to sit well with the voters and computers.
At least it shouldn't.
"It's really pressing your luck to lose in November and try to get back to the title game," CBSSports.com's Jerry Palm said. "With both Florida State and <span data-shortcode= State" data-canon="Ohio Bobcats" data-type="SPORTS_OBJECT_TEAM" id="shortcode0"> looking like prohibitive favorites every game from here on out, the odds that there will be room for a one-loss team in the title game this year are not good."
Alabama has been not only good these last two years, it has been fortunate. But you knew that. One week after that loss to Texas A&M at home year ago, the Tide benefited from losses by Oregon (to Stanford) and Kansas State (to Baylor).
In 2011, Alabama barely survived for the BCS title game by the closest margin ever. Oklahoma State and Alabama lost in overtime within 13 day of each other that month. Bama survived because its loss to LSU was deemed "better" than the Cowboys' loss to Iowa State.
The question is how vulnerable are the Tide this November? In Week 3, Johnny Manziel helped throw up the most yards ever on an Alabama defense. Since then, the Tide have surrendered 26 points in six games.
"I like this kind of football," Nick Saban said this week. "This is more the kind of football we grew up with."
Except it may not be like anything Saban has seen recently from LSU. Zach Mettenberger is throwing to perhaps the two best set of receivers in the SEC -- Odell Beckham Jr. and Jarvis Landry. Jeremy Hill is quite possibly the most physical tailback in the country.
Those kinds of traits travel well.
But for the fourth time in the last five years, Bama has a bye before LSU. While Heisman talk builds, AJ McCarron's numbers are down slightly from last year when he led the country in pass efficiency. Still, 46 touchdown passes and six interceptions in his last 23 games aren't bad.
The 11 1/2-point line seems ... out of line. Even including the 2011 BCS title game, (21-0 Alabama), the last five meetings have been decided by an average of eight points.
Game of the century? Not quite this time. After Thursday's mega-matchups, it is merely the game of the day. All Bama has to do is win the month.
Just for fun
A short list of teams with an equal or better record than Alabama the last three Novembers (prior to Thursday): Georgia, 9-0; Arkansas State, 7-0; Stanford, 8-1; South Carolina 7-1; Baylor, 7-1; Oklahoma, 7-1; Nebraska, 7-2; Wisconsin, 6-2; Vanderbilt, 6-2; Florida State, 6-2; Oregon, 6-2; Boise State, 6-2; Michigan State, 6-2.
Please don't call it a 'distraction'
Jimmy Sexton is brilliant. The week of the LSU game, it is revealed that Saban's agent told Texas regents in January that his client had "special pressure" at Alabama. And that Texas is the only job he'd leave T-town for.
Sexton continues to shame every high-powered marketer/spinmeister out there. Check out this short list of Saban's quotes that in the end -- thanks to Sexton -- benefit Saban.
• "I guess I have to say it. I'm not going to be the Alabama coach." -- Saban in 2006, days before leaving the Miami Dolphins for Alabama.
• "Would I manage it differently?  Absolutely." -- Saban in 2010 expressing regret about how he left Miami. 
• "I'm too damn old to start over somewhere else." -- Saban to Alabama boosters, Sept. 2013.
• "I'm totally committed to the University of Alabama." -- Saban this week.
If nothing else happens, Saban will have successfully maneuvered himself and/or staff for another round of raises. Take a bow, Jimmy. You've had a great week.
Identity crisis
The last time Nebraska and Michigan met unranked, it was during the Kennedy Administration (1962).
Insert current Husker/Wolverine joke here.
Sure, the schools weren't in the same league until a couple of years ago. Still, a couple of (perceived) football factories meet in a (somewhat) key Big Ten Legends Division game that is less about what happens Saturday than about the future.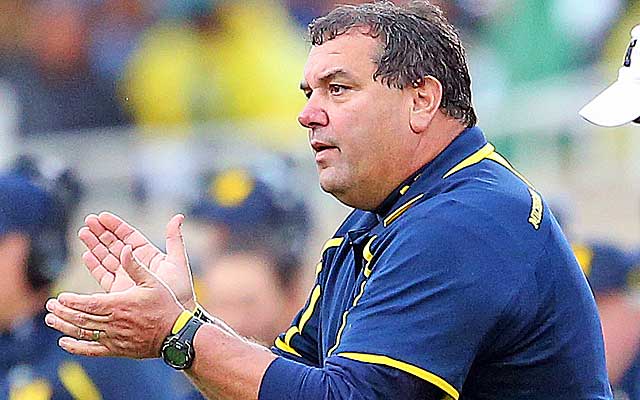 Where – it should be asked -- are these two proud program headed?
There's a lot to like about the game's No. 1 and No. 5 all-time winningest programs, just not a lot to love at the moment. At 6-2, Michigan finds itself receiving votes (six) in the AP poll, one less than Minnesota, a team it beat head-to-head by 29 points. This is the second time in four years the schools have each entered the second week of November unranked.
In Brady Hoke's third year, he has lost nine times in 34 games. Not bad, just not up to standards. Hoke's team has played in the Sugar Bowl two years ago but hasn't so much as won its division yet.
It is a program still in transition. There's little of the Bo -- or even Lloyd Carr -- swagger on either side of the ball. All-American offensive lineman Taylor Lewan seems to be losing his grip on that 2012 designation, if not opponents' facemasks.
Michigan's road games have included an escape at dreadful UConn, an overtime loss at Penn State and a record-setting defeat last week at Michigan State. The Wolverines' rushing yards that day could have matched the temperature on the surface of Mars -- minus-48.
Nebraska's Hail Pelini will go down in Husker lore, but where does the program go from here? There is still the possibility that the other Bo can win at least nine for a sixth straight year. But it's clear the fandom wants more.
It's hard to tell whether the miracle against Northwestern will lead to another division title or, worse, another blowout in the Big Ten championship game. The defense is 85th against the run, and Taylor Martinez continues to be in and out of the lineup. Do we need to go on?
Neither of these schools do much well consistently, perhaps reflecting their conference.
Michigan and Nebraska should stand for something more. Fifty-one years after they last met unranked, it's not quite Camelot in Lincoln and Ann Arbor. There's clearly something missing. Right now, these two proud franchises would settle for a top-25 ranking.
The games
Kansas at Oklahoma State: If Art Briles doesn't win Big 12 coach of the year, Mike Gundy should. The Cowboys' coach has stabilized the program after a September loss at West Virginia. The Cowboys have won four in a row and control their destiny in the Big 12 with Baylor coming up Nov. 23.
Texas at West Virginia: The same can be said of Mack Brown. Another Big 12 coach of the year candidate and his team (5-0) also controls its Big 12 destiny. I actually had a Texas loyalist text me this week saying fact that the Longhorns are unranked at 6-2 is a sign of "disrespect." There are a lot of things to be said about Texas football -- a lack of respect is not one.
Auburn at Tennessee: Bret Bielema freaked when Auburn's Anthony Swain dropped to the ground like he'd been hit with an invisible meteor against Arkansas. It looked for all the world like Swain was faking an injury to slow down the surging Razorbacks. Except there were only four seconds left in the third quarter. It's hard to believe from watching the video, but Swain's knee was braced and he missed Sunday's practice with a bruised knee.
Whether the collapse was ordered or not, Gus Malzahn won't need any such "tactics" against the Vols.
Arizona State at Utah: Bad week for ASU's Todd Graham. He got a mighty scare in the air during a recruiting trip then lost his AD to Texas. Utah will capitalize on the distractions to throw the Pac-12 South into confusion.
Houston at UCF: If someone told you before the season that the Cougars and Knights would have two losses between them, would you have cared? It's time to pay attention. The winner controls the American and a likely berth in the Orange Bowl.
Virginia Tech at Miami: Bowling Green and Kentucky have turned it over two more times all season (six) than Hokies' quarterback Logan Thomas did in the second half against Boston College (four). Miami's Dallas Crawford has proved he is a capable backup for Duke Johnson (out for the year).
Notre Dame at Pittsburgh: The nation's active leader in sacks -- Aaron Donald -- leads a mild upset of the Irish. Donald, a defensive tackle, has 27.5 career sacks and is currently leading the country with 2.4 TFL's per game.
Mentionables
Minnesota is 3-1 (7-2 overall) and has become bowl eligible since coach Jerry Kill's latest seizure. He will remain in the press box this week against Penn State. "I guess I'm the CEO now," Kill said ...
So it's done at Texas. Whether he likes it or not, new AD Steve Patterson just became one of the most powerful persons in college sports. His first task is at once sticky, complicated, political and will test him as a leader of a football factory. Steve, meet the Mack Brown situation ...
Time to pause to salute the man who now amounts to the greatest passer in SEC history. Judge for yourself as Aaron Murray and Georgia host Appalachian State this week.
• Murray is already No. 1 in SEC career total offense (12,591) and passing yards (12,287). But look at who he passed on the way to the top.
Behind him in total offense is Tim Tebow, Chris Leak, David Greene  and Peyton Manning. In passing yards it's Greene, Leak, Manning and Eric Zeier.
• With two touchdown passes this week, Murray will pass Danny Wuerffel (114) for the conference career mark.
Georgia may not make a third consecutive trip to Atlanta, but Murray should not be forgotten for what he has accomplished for the Bulldogs -- and for the SEC.
Oliver's star has already been born, but 2018 is when it will truly be recognized

Craig Kuligowski is reportedly leaving Miami to take the same job with Alabama

BT Potter is about to be very popular in the Clemson locker room
McElwain will coach receivers and help coordinate the offense for the Wolverines

Nathaniel Watson Jr. was involved in a car accident that injured a passenger in early Febr...

The honorable Tom Fornelli presides over the ASU vs. UM case