Weekend Watch List: Curb your enthusiasm for Canes-Noles
Miami and Florida State in a top-10 showdown isn't exactly a throwback to the glory days, while Florida-Georgia is a cocktail party that's lacking punch.
Whatever happened to Miami -Florida State?
This week's mega blockbuster -- not! --- has all the hype of a Laverne and Shirley rerun. That's mostly because it isn't a throwback. While both schools are ascending -- they meet each ranked in the top 10 for the first time in a decade -- FSU is considered already at a place, Miami striving to reach.
That is, becoming a national program again. Miami is undefeated but certainly not without flaws. It has had to rally from double-digit deficits in each of its last three games. One Las Vegas gaming site said the 22-point spread is the largest in a meeting of two top-10 teams since at least 1980. It might be the largest such spread ever.
We'd settle for 1987. That's when the modern rivalry really got started. Bobby Bowden went for the win with a failed two-pointer. Miami won 26-25 and eventually the national championship that year.
What emerged was a rivalry dripping with more than humidity. In the next quarter century, Miami continued a dynasty. Florida State won a couple of national championships.
The psyches of a series of FSU kickers were tested. The rivals even played in a bowl game (2004 Orange Bowl). Together, they helped make (state of) Florida football high end.
The rivalry was supposed to be ratcheted up another level when Miami joined the ACC. For three consecutive Labor Day nights, the teams met in prime time. But FSU was getting further and further away from Bowden's glory days while Miami was going through a series of coaches -- three since 2006 -- and a debilitating NCAA investigation.
It's great to have the two franchises back together in the top 10. But it's hard to see this game being close. Miami has spun its habit of playing close into a "Cardiac Canes" rallying cry. The Wake Forest result last week marked their first comeback from a least 11 points at home since 2006. The three consecutive double-digit comebacks are the first by an FBS school since 2007.
Saturday stands as a possible jumping-off point for the Noles. From there the water is deep and cold. Miami is the last ranked team they will play before a possible ACC championship game.
It's never been about the ACC for either program. The conference is a waiting room for national championship aspirations. Miami may not be there yet. FSU has to prove it can seal the deal.
Is it too much to ask that this game is still a game in the fourth quarter?
Speaking of the glory days …
Could there be any less buzz about Florida-Georgia? The Cocktail Party looks like watered down Kool-Aid at the moment.
The teams have each lost three games. Counting the Sugar Bowl meltdown against Louisville, Florida is 4-4 in its last eight. The Gators are projected by Jerry Palm to play in the BBVA Compass Bowl. In Birmingham.
Against Cincinnati.
We know the reasons for teams' downturn. Will Muschamp has lost eight starters. The Bulldogs have suffered similar dings to the depth chart.
Georgia has to be favored because it has its starting quarterback, a rarity in the SEC East. Todd Gurley is projected to return. The loser will be out of the division race.
"The loser of this game is going to have a devastated season," CBS analyst Gary Danielson said. "That creates a whole lot of pressure in this football game."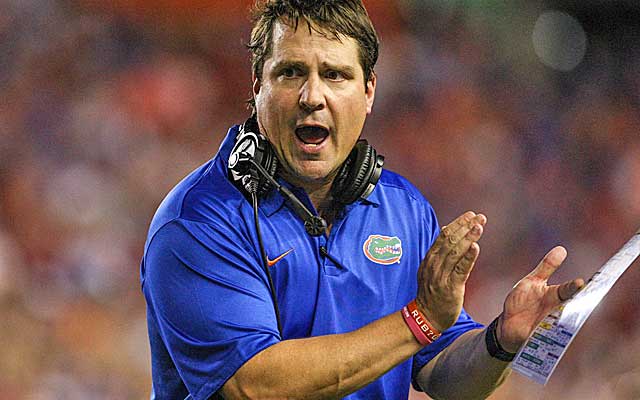 The losing coach will be under fire, but what else is new in this series? Muschamp and Mark Richt will be back next season when 2013 is -- hopefully for them -- viewed as anomaly.
Wolverines, Spartans really, really hate each other
First, Michigan's Fitz Toussaint goes there with the latest "Little Brother" comment.
Then, Michigan State's Mark Dantonio is asked on the Big Ten Network if the rivalry is personal. "What do you think? … I'm on record as to how I feel about this game."
Not to be outdone, Michigan State linebacker Max Bullough said, "We should win it."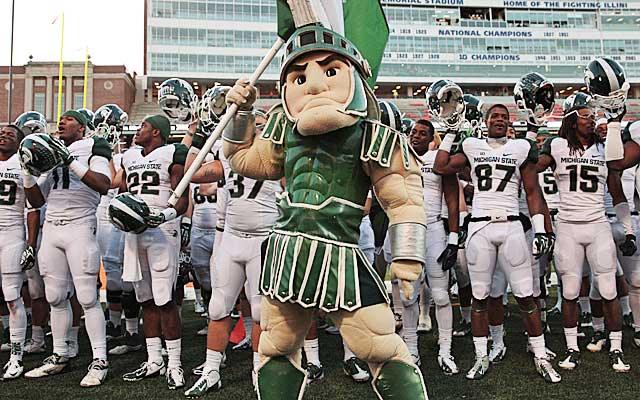 The winner gets the advantage in the Big Ten's Legends Division. But that's hardly the story. This rivalry has intensified in recent years -- if that's possible.
Things began to approach the edge when Mike Hart used the "Little Brother" blast in 2007. Emotion may have spilled over the edge two years ago when Michigan State defensive coordinator Pat Narduzzi's "Spartan Dawgs" defense held Denard Robinson to then-career lows.
Two things we know for sure: The Fightin' Narduzzis have the nation's No. 1 defense. Spartans everywhere are taking Michigan personally.
November is the cruelest month …
Or the best, depends on how you finish. Whatever, this is the month when the season is decided. Injuries accumulate. Rivalries are played.
It's the month when Alabama loses -- and still wins. (See the last two Novembers.)
Get ready for these storylines …
• This is the unofficially the month when the Heisman is won.
The era of the underclassman winning the award began in earnest with Jason White in 2003. Since then only one underclassman winner came close to going back-to-back. Tim Tebow finished a close third in 2008.
Other than that, we haven't really entertained the possibility of a back-to-back winner until this season. Can it happen? Absolutely. We didn't have a freshman winner until last season. Jameis Winston could make it two in a row.
But consider that Johnny Manziel put up 42 points on Alabama on Sept. 14. In the six weeks since, the Tide defense has given up 26 points. That's a screaming endorsement for the A&M quarterback. Yeah, Johnny Football can win another Heisman.
For now, Stiff Arm favorites going into Week 10 …
1. Jameis Winston, Florida State: Licking chops for the top-10 meeting with Miami. In a BCS battle with Oregon, Jimbo isn't likely to take his foot off the gas against the Hurricanes.
2. Johnny Manziel, Texas A&M: This week's opponent, Texas El-Paso, is dead last in the country in pass efficiency defense, 107th in total defense and 115th in scoring defense, having given up at least 32 points in six of seven games. Jonathan Football is going to have a chance to pad his stats.
3. Marcus Mariota, Oregon: Has thrown at least one touchdown pass in every college game he has played. This season: 20 touchdowns, no interceptions. He'll get his Heisman close-up Thursday at Stanford.
• It's about to get real up in Waco where Baylor's schedule is backloaded. Beginning Thursday, the Bears play three Big 12 opponents ranked in the top 18 in a 16-day window. (Thursday vs. Oklahoma, Nov. 16 vs. Texas Tech in the Jerry Dome, Nov. 23 at Oklahoma State.)
• Call it shake-out Thursday next week. Not only do we have Oklahoma-Baylor but Oregon and Stanford play their monumental Pac-12 North game in Palo Alto.
• Fresno State and Northern Illinois are separated by .0334 of a point in the BCS standings. Whoever finishes on top, at this point, looks like it will get that automatic at-large BCS bowl berth.
Tim DeRuyter's Bulldogs finish with Nevada (Saturday), Wyoming, New Mexico and San Jose State. NIU finishes with UMass (Saturday), Ball State, Toledo and Western Michigan.
• SEC East. Your thoughts are welcome on how it's going to play out. Missouri (vs. Tennessee) still controls its own destiny but can't afford to lose again with South Carolina owning the tiebreaker.
Connor Shaw has emerged as one of the most inspirational players in the country. The 1 1/2 quarters and overtime against Missouri were Steve Spurrier basically running Florida's old Fun 'N Gun against the Tigers.
The Gamecocks have only Mississippi State (Saturday) and Florida (Nov. 16) left in the conference. The loser of Florida-Georgia is out. (See above.)
• Mack Brown likely isn't finishing his Texas career this month. For one thing, Texas' season doesn't end until next month. For another, the resurgent Horns are undefeated in the Big 12.
Brown might not be finishing anything except a conference title by the time the Horns finish Dec. 7 at Baylor. Before that date: Kansas (Saturday), West Virginia, Oklahoma State and Texas Tech.
A 7-2 conference mark might be enough to at least tie for a league title. If Mack pulls off what many thought was impossible after the Ole Miss loss, "leverage" is going to get a whole new definition in Austin.
• Houston's BCS berth worthiness will be determined by mid-November. After defeating South Florida Thursday night, the Cougars play back-to-back games at Central Florida and at Louisville.
If it was hard to picture Northern Illinois and Hawaii in BCS bowls, imagine the Cougars (7-1, 4-0 in the American). Their last major bowl was the Cotton in 1984. In the 29 years since then, Houston has been to a total of nine bowl games.
College football bowl games were all announced on Sunday, and you can check out the entire...

SportsLine simulated every bowl game 10,000 times for pick'em leagues and confidence pools

Everything you need to know to watch and pick the Las Vegas Bowl on Saturday
Everything you need to know to watch and pick the Camellia Bowl on Dec. 16

Everything you need to know to watch and pick the New Mexico Bowl on Dec. 16

Everything you need to know to watch and pick the Cure Bowl on Saturday