Weekend Watch List: Early firings indicate rising pressure to succeed
Two BCS jobs come open in September. Texas may follow. As the pressure to win rises, the rumor mill swirls. And if Northwestern beats Ohio State, Pat Fizgerald's name will be among the hottest.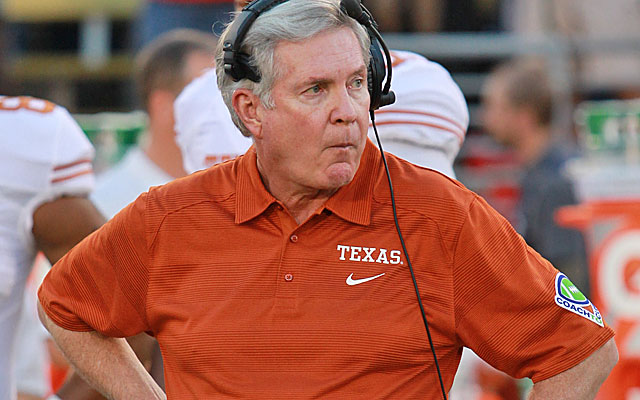 We interrupt this season to conduct a series of high-profile coaching searches.
Maybe it's just me, but there was a time when pretty much every coach in the country could count on making it to at least Columbus Day. As we near that point, already two BCS coaches (Lane Kiffin, Paul Pasqualoni) and a defensive coordinator ( Texas Longhorns Manny Diaz) didn't make it out of September.
"Who's No. 1?" has been replaced be "Who's next?" In Week 6. The game of the week is not necessarily Ohio State Buckeyes - Northwestern Wildcats . It's the game within the game -- using Flight Tracker to chart Southern California Trojans AD Pat Haden's whereabouts.
It was only nine years ago that Ron Zook didn't make it to Halloween at Florida. While there was some feeling change was inevitable in 2004, when it happened, the Zooker absolutely didn't want to leave his team when he was fired. Zook was allowed to coach the final four games of the season.
"Everybody that I knew in coaching told me not to finish the season," Zook said. "But if I quit, what's that showing them? It's probably one of the harder things I've ever done -- keeping everybody on the same page, coaches and players."
In the end, Florida AD Jeremy Foley might have changed the dynamic for everyone by firing Zook early. He ended up with some guy named Urban Meyer. Seemed to work out.
Such is the case at USC, Connecticut Huskies and perhaps Texas. Hiring home runs have trumped cheering touchdowns for desperate ADs. We know times, budgets, pressures and recruiting have all changed. We all know there is heightened pressure to win, but when the firing squad hits in September, we've reached a new level of urgency.
"It's an instant gratification game," said Zook, an analyst on CBS Sports Network. "No one cares about what you've done for me lately. Is a program spiraling upwards or is it spiraling downward?"
Texas AD DeLoss Dodds announced his retirement Tuesday (effective next year) two days after Kiffin was fired at USC. It wasn't a coincidence. A case can be made that Texas' hand was forced. It had already been reported Dodds was stepping down by the end of the year. No surprise there. A couple of weeks after saying Chip Brown's report was BS, the UT administration suddenly validated it.
It's entirely possible Texas and USC will be talking to the same candidates. USC can do it now with a clear conscience and without the perception it is undermining its program in midseason. If Texas eventually chooses to make a change with Mack Brown, it can't do so without a new AD. It would be extremely incongruous for the 74-year-old outgoing AD (Dodds) to hire a coach who has no relationship with Dodds' successor.
At least now Texas can talk to the new AD, who could talk to Brown's replacement.
We're left with what might devolve into a season-long distraction for coaches on the hot seat. Sitting coaches and hot candidates such as Pat Fitzgerald and Kevin Sumlin (and their bosses) are going to be asked questions. It's not fair to them or the players but, by God, there are recruiting classes to be saved. In Texas and USC, we're talking about openings at (arguably) the top two jobs in the country.
Should be fun, but not rare. It would be the third time in 26 years both superpowers have had openings at the same time.
Columbus Day is a week from Monday. Who's next?
The biggest game in Northwestern history? The question has that world's-largest-midget quality to it. In other words, there aren't that many games like this to compare with Saturday. With the Wildcats undefeated and coming off their first bowl victory since 1949, the answer is probably yes with Ohio State coming to town.
Northwestern's season takes a huge turn -- and the Big Ten's rep probably takes another hit -- if the Cats pull off the upset.
The never-too-early national championship race: Fourteen of 17 unbeaten teams in the AP poll will play head-to-head with at least one of the other undefeated in the AP Top 25. Alabama Crimson Tide is one of three that won't. (Louisville and Fresno are the others).
What does it mean? That strength-of-schedule thing that the SEC relies on might not be there for the Tide. They play only one more currently ranked team (No. 10 LSU). History has proven, though, Alabama could easily lose that Nov. 9 game and somehow win a national championship.
The remaining Top 25 unbeatens with the most risk/reward. (Three undefeated left on schedule.)
No. 12 UCLA Bruins : No. 5 Stanford; No. 2 Oregon; No. 15 Washington.
No. 15 Washington Huskies : No. 5 Stanford (Sat.); No. 2 Oregon; No. 12 UCLA
Why Arizona State Sun Devils will wreck Notre Dame Fighting Irish neutral-site plans to conquer the world: It won't be because of the Sun Devils' new helmets that remind me of egg drop soup.
It's Marion Grice (eight rushing touchdowns). It's Deantre Lewis (8.38 per rush) and D.J. Foster (5.47). The three helped Arizona State rush for 261 yards against a USC defense that had been No. 4 nationally. It's Taylor Kelly leading an offense averaging 505 yards.
It's a Notre Dame defense not nearly living up to its billing heading to the Jerry Dome.
Hidden yards for Baylor Bears : If you thought the Bears' offense was fast, consider the West Virginia game will mark the first time the Big 12's eighth official will be used in a Baylor game.
The Big 12 became the only BCS league to add an eighth official, in part to spot the ball in a more efficient manner. In the country's most wide-open league, things are about to get more wide open.
With an eighth official getting that ball in place, could Baylor get faster?
"That was the purpose," Art Briles said.
Now that Aaron Murray has justified his existence on this planet ... It's a bit of a farewell tour for the Georgia Bulldogs quarterback. After finally winning a big game, Murray needs 100 yards to become the SEC's all-time passing leader and nine touchdown passes to break Danny Wuerffel's SEC career record of 114.
Will he get both marks against Tennessee?
Wake me when October is over: The Ha Ha Clinton-Dix suspension is concerning besides another possible NCAA violation. Clinton-Dix was part of a secondary making up the nation's No. 62 pass defense. The back four is an area where the Tide are vulnerable with all their starters in.
Something tells me that won't be a real concern for a while. Alabama's October competition -- Georgia State (Saturday), Kentucky, Arkansas and Tennessee -- is a combined 5-8 against FBS opponents.
Not a good week overall for Bama: Free Tyler Siskey.
Terp Love: Clinton Portis wants you to know why Maryland is winning. More to the point, so that's what Clinton Portis is doing.
Terp Love II: None found here in Maryland Terrapins visit to Florida State. The Terps have never won there in an ACC game and last beat a ranked opponent in 2008.
Where in the world is Josh Nunes? Working on his Master's at Stanford Cardinal , if you must know.
And you probably don't. Nunes was the starting quarterback a year ago in the Washington game. The Cardinal led by 10 in the third quarter at Seattle, but were upset 17-13. Not to pin the loss on Nunes, but as coach David Shaw said, "I thought it was not his best effort."
Nunes eventually lost the job to Kevin Hogan, then quit the game in the offseason after a freak weight room injury. Meanwhile, the Cardinal are 13-1 since, including a Rose Bowl victory, and are sporting a No. 5 ranking heading into this year's Huskies game at Palo Alto. Hogan, the anti-Nunes, is 9-0 as a starter.
Get a good look at the Huskies before they (perhaps) disappear. As alluded above, they play at Stanford then home against Oregon in consecutive weeks. Win one of those games and their season is made.
The takeaway on Penn State Nittany Lions : It's now more likely Bill O'Brien (at Indiana this week) will stay for the long term. That was the first thought that occurred when the NCAA restored those scholarships last week. O'Brien has been nothing but class through this whole thing but privately -- like a lot of Penn Staters -- he was upset that innocents were being punished.
Antonio Callaway and Jordan Scarlett are two of the nine players under investigation

The SEC released its 2018 schedule in full Tuesday afternoon, and it's dripping with intri...

The 2021 Chick-fil-A Kickoff Game will feature Louisville and Ole Miss
The Fornelli 50 ranks teams based on nothing but their performance in 2017

Penn State better have its eyes wide open with a trip to Iowa City on deck this weekend

Ohio safety Javon Hagan has a rather unique personal tradition during games