Weekend Watch List: Georgia-South Carolina has all drama you need
Steve Spurrier gets a chance to dampen the Georgia hype, something he has quite a bit of experience doing. Also, Bob Stoops' Sooners look to stomp an SEC opponent.
Georgia-South Carolina does not lack for talking points:
• Crazy-go-nuts Gamecocks everywhere must own this disturbing stat: Their team has the worst defense among the Power 5 conferences (566 yards per game), fifth worst overall. In two games, opponents have converted 18 of 29 first downs, last overall.
• This is the third year in the past four that Georgia has started the season with back-to-back ranked opponents. The Dawgs' record in those games is 2-3.
• Unlike four of the past five meetings, the Georgia game is not South Carolina's SEC opener. If South Carolina loses even Steve Spurrier -- already 0-1 in the SEC -- thinks he may be done in the SEC East. A loss means Georgia would to have to lose three conference games to finish behind South Carolina.
"It's pretty much for the division," Spur Dog said.
• Really? Georgia lost the 2011 and '12 meetings and won the division. In 2012, the Dawgs lost in Columbia by four touchdowns in October and ended coming up within 5 yards of winning the SEC and playing for a national championship.
Similarly, Missouri lost at home last October to South Carolina and also won the division.
• The intangibles favor Spurrier. He is 15-6 against Georgia, 11-1 while at Florida.
• History favors Georgia. Spurrier has won a single division title in nine years at South Carolina (2010). Before that you have to go back to 2000 at Florida.
• Both secondaries seem vulnerable. No, make that are vulnerable. Georgia has two freshmen in its group. You don't have to be reminded about the Texas A&M debacle at South Carolina.
• Georgia's best way to win is to pound the four-headed tailback monster. Todd Gurley is at the top of several Heisman lists.
The offense has to break out to win. It has been 20 years since the Dawgs scored 20 in Columbia.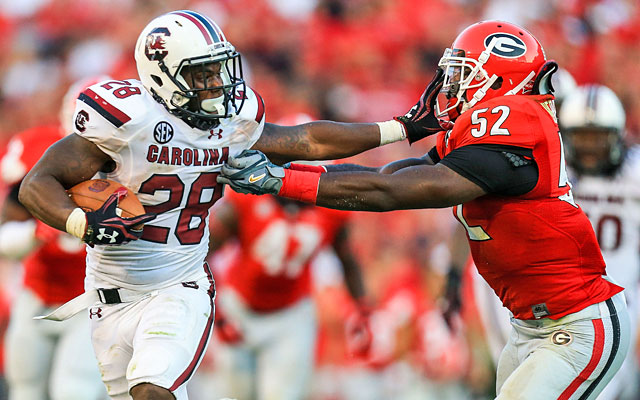 • Spurrier will attempt to pass to get the lead and then sit on it at home with a healthy Mike Davis. Last week against East Carolina, Spurrier masterminded an 18-play, 86-yard fourth-quarter drive that took 10½ minutes. The resulting field goal made it a two-possession game in a 33-23 win.
"Three weeks ago we were advertised as the top team in the East," Spurrier said. "Now they're advertised as the top team in the East."
But will either win the East?
The Large 14 Feel-Good Dept.
The Big Ten has its own network for the good news. A new website or two could have been launched riding the wave of bad news lately. It's to the point that playoff-wise, Michigan State almost has to win the league at 12-1. Either that or Virginia Tech and Ohio State both win out.
Low-lighting the situation: On Oct. 5, 2013, Northwestern was 4-0, ranked 16th and GameDay was coming to town. Since then, the Wildcats are 1-9, including an 0-2 start to 2014. Pat Fitzgerald says those developments have been an "embarrassment".
The fog began to lift this week in one corner of the Big Ten's world with the NCAA's, um, reconsideration of Penn State's bowl ban. Instead of getting all preachy, I merely tweeted, "A common sense reaction to a historic overreaction."
If the NCAA's intent two years ago was to penalize Penn State for its "football culture," then what has really happened?
The school was fortunate enough to land Bill O'Brien from the Patriots. O'Brien kept the program's fortunes above water, and above .500. In the midst of the messiness, he landed one of the best quarterbacks in the country, Christian Hackenberg.
O'Brien left for the NFL. Hackenberg stayed. In an unlikely convergence of positive B1G news, Penn State is the other undefeated half of Rutgers' Big Ten opener this week in Piscataway. Rutgers has issued more than 400 credentials.
As for that football culture, it hasn't suffered. Since 2012, Penn State has gone 17-9, a better winning percentage (.654) than eight Big Ten teams (including Michigan and Wisconsin).
James Franklin had killed it in recruiting before the sanctions were lifted.
What, exactly, did the NCAA accomplish?
SEC vs. Bob Stoops
Oklahoma's coach didn't go there this week.
This, of course, would be the time for Stoops to trot out his SEC-overrated bazooka. Tennessee is more than a three-touchdown underdog. This is not the time for Butch Jones and the Vols to take a step up in class. Oklahoma is a top-five program. The Vols are in the bottom half of the SEC.
After playing a couple of state schools (Utah's and Arkansas'), the Vols play a Power 5. They are 3-15 in their past 18 against the big boys.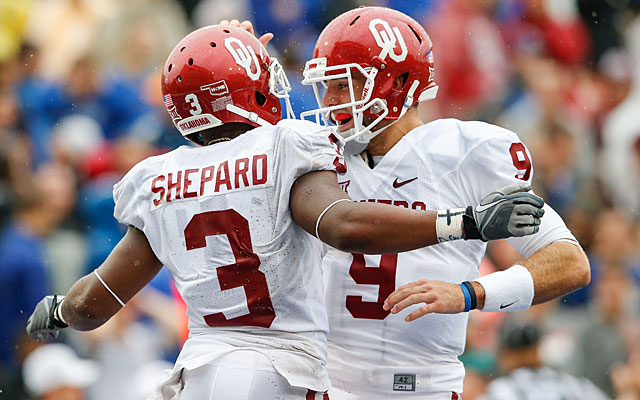 OU has allowed three first-half points so far. Watch Sterling Shepard, who has 26 catches for 401 yards in his past four games.
As for SEC blood on the tracks?
"That's been overblown, we don't need to go there again," Stoops said. "Let's talk about the players and the teams."
The rest
Texas vs. UCLA in Arlington, Texas: Horns coming off their worst home loss (41-7, BYU) since losing 66-3 to Bruins in 1997. UCLA needs to justify highest ranking in nine years (No. 7 preseason).
Southern California at Boston College: For Trojans' sake, let's hope a three-time-zone change is the biggest controversy. USC has been amazingly adaptable under Sark so far. Ran 105 plays vs. Fresno in opener, ground out 59 (for 291 yards) vs. Stanford.
Javorius Allen is the No. 2 rusher in Pac-12. Trojans are No. 7 nationally with four picks.
Nebraska at Fresno State: Ameer Abdullah has 18 career 100-yard rushing games. The senior's 55th catch last week vs. McNeese State saved Nebraska's season and possibly Bo Pelini's job security.
Southern Miss at Alabama: Call it The Lane Kiffin Effect: Alabama's Amari Cooper has 25 receptions through two games. That's a 150-catch pace. Give Kiff credit for realizing the obvious. You've got to feed your hoss. Cooper is blowing up as a pro prospect -- think of a slightly smaller Julio Jones -- who has more catches than 18 teams have completions.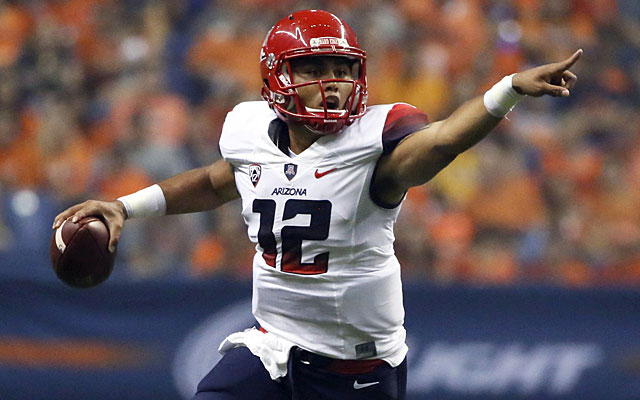 Nevada at Arizona: A couple of 2-0 conversation starters in their conferences. Arizona has at least one 100-yard rusher in 19 consecutive games and in 25 of 28 under Rich Rodriguez.
Wyoming at Oregon: Cowboys coach Craig Bohl has the nation's longest personal winning streak (26 in a row). Meanwhile, what does Marcus Mariota have to do? The Pac-12's offensive player of the week couldn't even get that honor from his own coach. "He had it last week," Mark Helfrich said.
East Carolina at Virginia Tech: Are the Hokies back? Hard to tell but that question will be valid for a while. They start a three-game homestand and don't play Florida State this season.
Louisville at Virginia: Upset special of the week. The nation's second-longest winning streak (Louisville, eight games) is on the line. The Wahoos have played admirably through two games under embattled Mike London. His two-quarterback shuffle/rotation just might be confusing enough.
Louisiana-Monroe at LSU: Leonard Fournette has apologized for the Heisman pose. The Warhawks don't apologize for playing the SEC. They are a respectable 2-5 vs. the league since '07 upset of Bama.
Iowa State at Iowa: Another tidbit you won't find in the Big Ten notes: The Hawkeyes will play only one team in the top 40 of Sagarin before Nov. 15. The Cyclones, 0-2 and No. 101 in Sagarin, are their first power-conference opponent.
>> More Week 3 coverage? Expert Picks
CBS Sports HQ Daily Newsletter
Get the best highlights and stories - yeah, just the good stuff handpicked by our team to start your day.
Please check the opt-in box to acknowledge that you would like to subscribe.
Thanks for signing up!
Keep an eye on your inbox for the latest sports news.
Sorry!
There was an error processing your subscription.
The Tigers are the overwhelming favorite to take the ACC title yet again

The second of a home-and-home series between the Fighting Irish and Bulldogs will air on C...

The Pac-12 has been in just two of the five editions of the College Football Playoff
Durkin was fired from Maryland last year in the aftermath of Jordan McNair's death

Clemson is an overwhelming favorite to continue its run of ACC championships

Daniel Faalele is still growing into becoming a high-caliber college football player