Weekend Watch List: Imagine the havoc if Mack's Horns upset Sooners
Oklahoma is supposed to win in Dallas and Mack Brown is supposed to ride off into the sunset. But a Longhorns victory could throw a wrench into a lot of plans.
Here's a thought: What if Texas wins?
What if the Longhorns upset Oklahoma in Saturday's emotionally pitched Red River Shootout? In the leadup this week, it has become not so much a game but perhaps a passion play, a stage for Mack Brown's last game at the Cotton Bowl. Check your favorite provider, the script has already been written.
But what if Mack and the Horns upset Oklahoma? No one seems to have thought -- or planned for -- such a result. Texas/Brown would suddenly be repositioned at 4-2 overall and is 3-0 in the Big 12. A Texas loss Saturday and Mack's eventual departure probably becomes a foregone conclusion, but the machinations of such a move become a little messier with a Longhorns triumph.
And if it's one thing this space enjoys, it's a good story. OU winning is Groundhog Day. Texas winning is ... waaaait a minute. It does make for suits scrambling around in a tizzy after the plan has deviated. Suddenly, Texas would become a player to actually win the Big 12. The Horns get Oklahoma State and Texas Tech at home (TCU and Baylor are on the road). A 7-2 conference record isn't out of the question. The odds of winning the league with two losses this year aren't bad.
A Texas victory still might not be enough. In turmoil, coming off last year's F in Tackling 101, the Horns are a two-touchdown underdog. Quarterback David Ash is out again. After some defensive lapses last season, Oklahoma seems to be getting back to its old self.
Most tragic, Saturday could mark the end of the Brown-Stoops rivalry. OU's coach has dominated lately and through the series. But someday there will be books written about this coaching matchup, which is entering its 15th year. Woody and Bo met for only a decade in the Ten-Year War. Only four other FBS coaches remain in their same job they had the day Stoops was hired in 1998, according to The Oklahoman. Brown is one of them.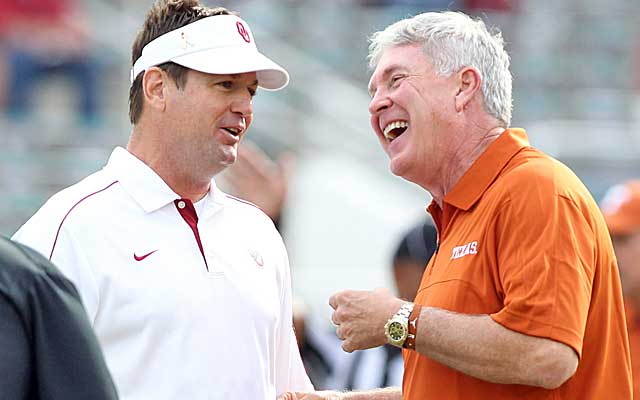 Coaches just don't last this long anymore. Both of these guys have rejuvenated powerhouse programs that were stuck in the mud in the late 1990s. Brown is the best coach in Texas history behind Darrell Royal. Stoops has won at least a share of eight Big 12 titles and a BCS title. Their 14 previous games have been mostly epic. (Stoops is 9-5 vs. Brown with four of the victories coming by at least 38 points.)
I remember the, uh, smell of the Sooner Schooner still in the air as then-Texas quarterback Major Applewhite gave it back to Oklahoma fans in the stands after winning in 1999. I remember snipers atop buildings surrounding the Cotton Bowl a month after 9/11 in 2001. I remember that never-to-be forgotten strip and score by OU's Roy Williams.
I remember the Texas State Fair -- Elvis carved in butter, turkey legs for breakfast, fried gum.
I remember one of the most ingenious, insulting, home-made signs of all time being paraded around the fairgrounds one year: "It's 12:37 and (OU/Texas, can't remember which) still sucks." The sign was accompanied by an entourage who carried numbers to change the time by the minute.
"Kids that probably can't even spell their name -- four or five years old -- flipping you off," former OU fullback J.D. Runnells remembered in this fantastic recounting of the Red River Rivalry by The Oklahoman.
None of that will go away, but Stoops-Brown might. I'm thinking contrarian this week. How do you get rid of a guy who beats Oklahoma and delivers a BCS bowl? You don't, except that Texas seems ready to move on. DeLoss Dodds is retiring. If a change is to be made, it will have to be made by the new AD. This is supposed to be another one of those epic Stoopsian beatdowns that have become so famous in this series.
Or so it seems.
Something, though, is about to change after Saturday. You can feel it. For once in this series, the game is not the thing. It's the postgame. There's going to be a loser, and if it's Mack, it might be the last time we see him in Dallas on the sidelines in the second week of October.
He doesn't want to go out like that. Or maybe he's just not going out. What if Texas wins?
This Washington-Stanford stuff is getting good
U-Dub's claims that Stanford defenders were faking injuries to slow down the Washington offense are rooted in one simple thought: Washington is beginning to think it has arrived.
"How we play at Stanford is five penalties per game," Stanford's David Shaw said on the Pac-12 conference call. "How we play has led to three BCS bowls and a 100 percent graduation rate. I'm not going to put that all on the line to beat Washington. We've done it in a way that has been the right way."
Something is changing at Washington, and it starts with attitude. Before you beat these teams, you've got to believe you can beat them. Keith Price has developed into an elite quarterback. Bishop Sankey is a pounding tailback. The defense leads the Pac-12 and is 10th nationally. If Sark pulls off the upset this week against Oregon, guess whose name jumps up high on the USC list? (If it isn't already.)
The problem is playing Stanford and Oregon back-to-back. One pounds you, the other runs by you.
SEC vs. Pac-12 for BCS title?
Just for grins, WWL figured up the remaining schedule strength of the top eight unbeaten teams in the AP poll. With this week's halfway point approaching, it was a bit surprising to find that Oregon, UCLA and Stanford have the toughest schedules left (based on this week's average Sagarin Rating).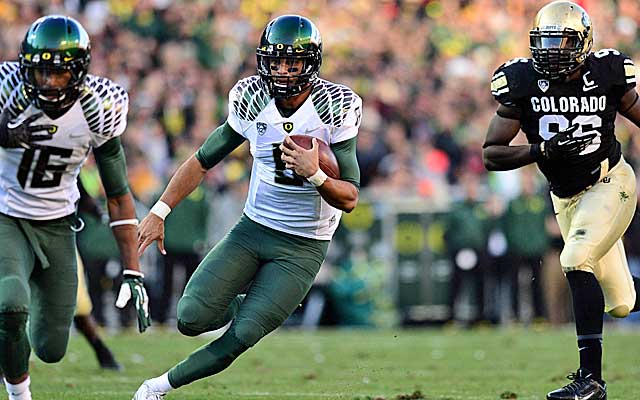 Some of this means little. Those three teams still have to play each other. At best, one unbeaten will emerge from the Pac-12, but that team will be positioned high. Also, although Florida State or Clemson will emerge with a loss Oct. 19, the list doesn't include ACC rival Miami, also unbeaten. The Canes miss Clemson but go to Florida State on Nov. 2.
It's clear from the numbers that the Pac-12 has the advantage if an unbeaten emerges from the conference. No. 2 Oregon (coaches' poll) will play seven teams in the current Sagarin top 50. No. 5 Stanford plays six, UCLA plays five. No. 4 Clemson will play only two ranked teams the rest of the way, not including The Citadel (FCS).
The ACC's best chance might be Clemson/FSU/Miami emerging undefeated and hoping both Oregon and Stanford lose a game.
As for No. 1 Alabama, it has only the fifth-strongest schedule strength in that group. Is there anyone out there who doesn't believe the Tide would be able to survive a November loss for the third consecutive year?
Florida at LSU
The magic number for Florida's offense is something like 20 points. Zach Mettenberger and crew are going to score at least that much at home, even against the Gators' No. 2 defense. The question is: Can an emerging Tyler Murphy and the Florida offense get to that number? Probably not.
Missouri at Georgia
The hardest game of the week to predict. The Tigers are far removed from an era when Al Onofrio used to upset top-10 opponents on the road. Georgia is missing seven starters, is starting a true freshman at tailback and is coming off two emotional games against LSU and Tennessee.
Missouri gets under the number (9 1/2 points), if not wins outright.
Michigan at Penn State
I've seen the Wolverines in person twice this season and there's something missing. No doubt, Brady Hoke is making progress and Michigan has some fine athletes, but I still can't trust Devin Gardner (maybe it's that distracting No. 98 jersey) to take care of the ball against a quality opponent.
Michigan has yet to allow a rushing touchdown, but Penn State doesn't run it well anyway (67th nationally, 172 yards per game). Look for a lot of Christian Hackenberg attempting to throw to Allen Robinson and away from Blake Countess (four picks). The Fighting Obies in an upset.
Northwestern at Wisconsin
Vegas oddsmakers remain on a Ketel One bender. Somehow the Badgers remain a 10½-point favorite over the plucky Wildcats. Northwestern has lost back-to-back Big Ten games in October in only two seasons since 2006.
Mentionables
Quick, name the nation's leading rusher. He's Boston College's Andre Williams, the core of BC's plodding offense that will face Clemson this week. The senior leads the country with 153.6 yards per game. In three previous seasons, he had progressive seasons of 461 yards (2010, freshman), 517 (2011) and 604 (2012). This season, he already has come within a yard of Montel Williams' school record for yards in a game (263 vs. Army). "He has to be [the nation's leading rusher]," Steve Addazio said. "For us to have success right, that's a big part of who we are." Clemson and its questionable rush defense (12th in the ACC) has to hurdle the Eagles before getting to Florida State next week ...
Speaking of which
A week out from FSU-Clemson, the numbers of Tajh Boyd and Famous Jameis are freaky close. Boyd, 289.8 passing yards per game; Winston, 288.2. Boyd, 320.6 yards in total offense; Winston, 315.2. Winston No. 1 in ACC passing efficiency at 213.9; Boyd No. 2 at 182.2 ... The average defense played by Baylor (at Kansas State) the rest of the way would be ranked 48th nationally (371.3 yards per game surrendered by eight remaining opponents). The first four -- Wofford, Buffalo, Louisiana-Monroe and West Virgnia -- would be No. 104 (451.8 yards per game) ... Baylor's Art Briles on his soaring value as the next coach ... somewhere, "I can't see myself anywhere else." Well, that about wraps that up, doesn't it? ... Alabama has as many ranked teams left on its regular-season as <span data-shortcode= State" data-canon="Ohio Bobcats" data-type="SPORTS_OBJECT_TEAM" id="shortcode0"> (one) ... So much for those Big 12 schools assimilating into the SEC. The top two teams in SEC total offense are Texas A&M and Missouri.
Josh Adams and Derrius Guice helped their teams to big wins in Week 8

The Eagles have started winless in Summers' second season and were 5-13 overall under him

The Fighting Irish are up to No. 9 in the latest edition of these college football ranking...
The Fighting Irish are getting more attention after throttling USC 49-14 Saturday night

Jerry Palm is back to look at where the bowl games stand after the midway point of 2017

The sophomore leads the SEC in total offense and passing