Weekend Watch List: Of course, BCS going out with argumentative bang
Florida State seems secure. But everyone wants Ohio State out of the No. 2 spot. Who should replace the Buckeyes? That's where it gets interesting.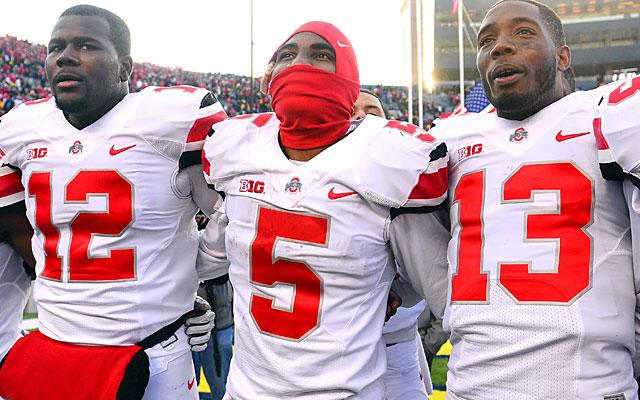 In the 16th and final year of the BCS, in the 15th and final week of this season, a de facto Division 4 for college football has emerged.
The national narrative has guided the discussion to a dark place where football is not played the way you and I recognize.
You won't find it online or defined but it's out there. This new Division 4 is separate, inferior, from the rest of the sport.
• In it, Ohio State might as well be in Conference USA playing a sport so far removed from football that the Buckeyes might as well be playing for the national rugby championship.
That's why Ohio State is supposedly ripe to become the first undefeated major conference champion to be jumped in the final BCS rankings by a one-loss team.
• In it, Missouri is some sort of High Plains Drifter, a western outpost that pays a toll when it crosses the Mason-Dixon Line.
Win the SEC? Play for a national championship? C'mon, hoss. At least start drinkin' top-shelf bourbon.
• In it, Jay Jacobs has climbed out of his hole and declared Auburn to be Pasadena-bound if it beats Missouri. No matter what.
Never mind that Ohio State is perfect, the exact same as Auburn was in 2004 the year Jacobs became AD. At least then the Tigers had a legit argument.
Never mind that Jacobs has emerged like some sort of long-dormant vampire out of a web-encased crypt. Is it me or has Jacobs spoken more publicly this week than he has the past three years?
But, hey, it's footbaw in the South and priorities are priorities.
So following the Division 4 logic here, Ohio State has no chance even if it beats Michigan State in the Big Ten Championship Game to win its 25th in a row. Auburn deserves to play for a national championship by beating -- wait, who is that across the field? Oh yeah -- Missouri. That, after Auburn lost by two touchdowns at three-loss LSU. Meanwhile, Mizzou's only loss is in double overtime, without its starting quarterback, to top-10 South Carolina.
All this over a bitter struggle to keep the national champion from leaving the state of Alabama for the first time in five years.
Also at stake is the SEC's run of seven consecutive titles. Maybe it's time to give someone else a chance. Or maybe Alabama -- the state and the program -- isn't out of it just yet.
Against this backdrop of Division 4 "outcasts" they're going to try to decide BCS national championship participants this weekend.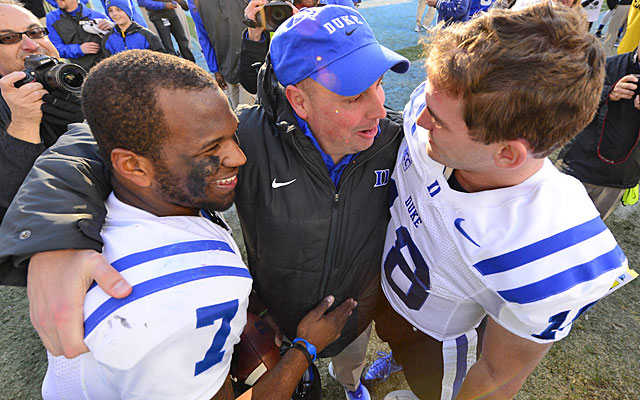 Chootout in Charlotte
Headline we never would have read in July:
Duke controls Alabama's fate in drive for three-peat
Let's play this all the way out. A Duke upset of No. 1 Florida State in the ACC Championship Game would be the biggest, gnarliest Armageddon finish to the BCS ever. First, the game itself. It's hard to discern who is more lowly regarded this weekend, Duke or the Big Ten.
But what if Michigan State and the Blue Devils win? Then we're talking about Auburn and Alabama possibly meeting in a rematch.
And you thought LSU-Alabama II was crazy?
But back to reality ...
Duke is a four-touchdown (plus) underdog. Even before Alabama lost, Florida State might have had the best team in the country.
The ACC title game has the feel of a Class 2A supersectional sub-state. The stands won't be filled. Fan apathy abounds. FSU fans can't be blamed for saving their money for Pasadena.
A legitimate question: Will Jimbo Fisher be tempted to rest his bevy of stars earlier than usual as if it was a September nonconference game?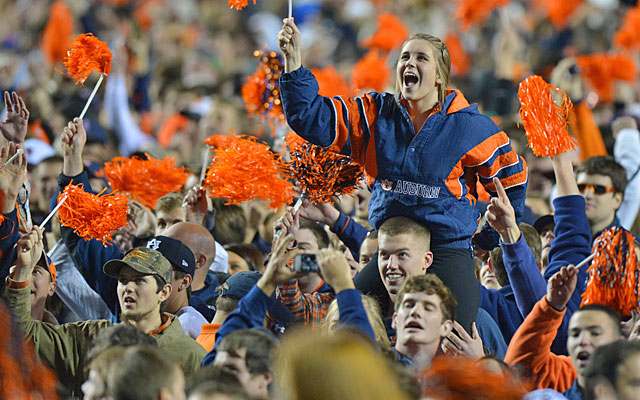 Zero is the loneliest number
A wise (BCS) man once said: If you lose a game, you lose the ability to argue.
History has shown us that the best BCS currency is a zero -- as in losses. That's why Ohio State most probably will remain at No. 2 (at least) if it wins the Big Ten title game. Its current .027 margin over No. 3 Auburn is three times larger than the margin Alabama had over Oklahoma State in 2011.
Funny how it all depends on what side of the argument you're on. Urban Meyer made this impassioned plea for his one-loss Gators in 2006.
Jerry Palm describes what it would take for Auburn or Missouri to overtake a Big Ten champion Ohio State.
That it took until about Tuesday for anyone at Michigan State to mention the Spartans should be in the national title conversation compounds the Big Ten's image problem.
If the Spartans win, they should be in the conversation but they won't. They will have beaten No. 2, which matches Stanford (over then-No. 2 Oregon) for the second-most impressive win of the season.
Anybody realize that? Of course not. They also don't realize that the top two quarterbacks in the Big Ten are meeting. We know about Braxton Miller but Michigan State's Connor Cook was second-team all-Big Ten.
In the past five games he has led an offense that averaged more than 30 points (31.2) and 400 yards (404.6). That's a nice trend with Ohio State having just given up 603 yards to Michigan.
The Spartans' defense is a given. Despite being at the top of its game, Ohio State will struggle to score. If Connor Cook, Jeremy Langford and Co. can put up similar numbers to those past five games ...
Hello, SEC champion.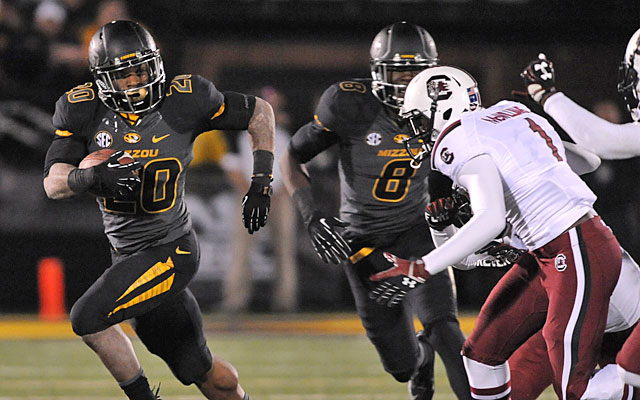 Coolness in Hotlanta
Almost no one is talking about Missouri in this most unlikely of SEC championship matchups.
Even Missouri.
But the Tigers are the pick here because they have been more consistent. All season. Auburn won three games in the final 30 seconds. Only two of Missouri's 11 wins came by less than 16 points.
Sure, Mizzou took advantage of a diminished SEC East but it should be pointed out that's something traditional powers Georgia, South Carolina and Florida failed to do. Although this is Missouri's second year in the league, this trip to Atlanta confirms its entry into the Strength Everywhere Conference.
Meanwhile, we can all agree that Auburn was fortunate to some extent -- certainly lucky against Georgia. If Auburn makes it to Pasadena, it would have the worst defense (70th) of any BCS title game participant.
Gus Malzahn called a tremendous game against Alabama and is the most valuable "player" in this game. Coach of the year? Yeah, hand it to him but the magic has to run out at some point. Mizzou has been underrated from the point Andrew Baggett missed that kick against South Carolina.
Since then, while Auburn has pulled rabbits out of helmets, Mizzou has won by an average of 20. The finishing kick (schedule-wise) -- at Ole Miss, Texas A&M -- has been impressive.
The mid-Mo Tigers have quietly stored up Jacobs' grandstanding and kept their mouths shut.
You know how I know Missouri is ready? Check out defensive coordinator Dave Steckel:
"When I play checkers against my wife [I think] I'm going to kick her ass," he said this week. "I haven't, yet, for the record, but I think I'm going to."
Yikes.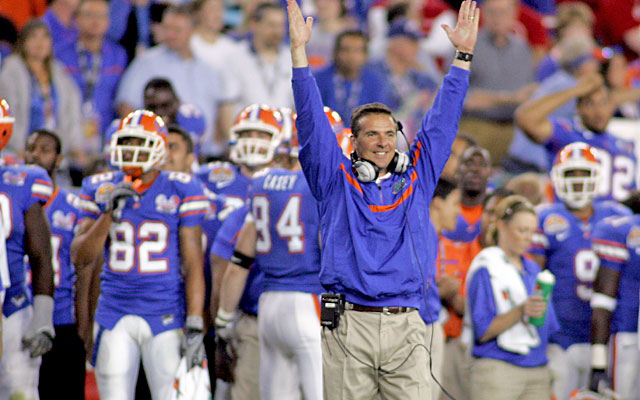 The rest
• We're looking at the possible end of one of the most dominant eras in the sport. For the first time in eight years, if all holds, an SEC team won't be in the championship game, which means the SEC won't win that championship game.
Have we all forgotten how it started? In 2006, Ohio State was on track to play Southern California until the final week of the season, when No. 2 USC was upset by UCLA.
The Bruins' 13-9 win ended the Trojans' 38-game regular-season winning streak, 27-game Pac-10 winning streak and 18-game road winning streak. USC dropped from No. 2 to No. 5 in the BCS. Florida went from No. 4 to No. 2, leapfrogging No. 3 and once-beaten Michigan.
Those Gators were coached by Meyer, making his case for a one-loss team to move to No. 2. Florida smashed Ohio State and the SEC never looked back until, perhaps, this weekend.
To reiterate: Auburn or Missouri need help in the form of a USC-like loss by Florida State and/or Ohio State.
• Jameis Winston, Alabama-Auburn, Jacobs etc. have conspired to push Florida State below the fold. (Old newspaper term.)
The Seminoles are No. 1 for the first time since 2000. They played in the first three BCS title games. They could play in the final one.
• Plenty of incentive for Arizona State against Stanford in the Pac-12 title game. The Sun Devils were smacked down in the teams' first meeting, 42-28. The Pac-12 opener for both teams resulted in Stanford leading 29-0 at half and 39-7 after three quarters.
The Sun Devils are tougher and more confident. They have won seven in a row (10 overall) and clinched home-field advantage by destroying Arizona last week.
In his second season, coach Todd Graham is achieving legend status in the Valley, something Dennis Erickson and Dirk Koetter (combined 71-65) couldn't do.
Strange how the Pac-12's two favorites -- Stanford and Oregon -- have been exposed badly at times. Arizona State has been the most consistent.
The Sun Devils are what Stanford was and what USC wants to be -- physical, fast on the edges, intimidating defense.
Get ready for a Rose Bowl where the participants (Michigan State-Arizona State) haven't been to Pasadena in a combined 43 years.
• As long as we're throwing names around in the coaching carousel, might as well ask if this is Malzahn's last game at Auburn.
Could you imagine Texas courting Malzahn while he gets the Tigers ready for a national championship game?
• Oklahoma State has played during the first week of December twice in the past three years with the Big 12/national championship on the line. Both times it was 10-1 going into the Oklahoma game.
In 2011, the Cowboys finished third in the BCS, .0086 behind Alabama. This year, they are sixth heading into Bedlam. The question will be asked if the Big 12 champion doesn't play for a national championship for a fourth consecutive year: Does the league need a championship game?
• Finally, a fond (?) farewell to the BCS, which after 16 years, or 182 months, or 5,532 days will produce its last set of rankings on Sunday.
Antonio Callaway and Jordan Scarlett are two of the nine players under investigation

The SEC released its 2018 schedule in full Tuesday afternoon, and it's dripping with intri...

The 2021 Chick-fil-A Kickoff Game will feature Louisville and Ole Miss
The Fornelli 50 ranks teams based on nothing but their performance in 2017

Penn State better have its eyes wide open with a trip to Iowa City on deck this weekend

Ohio safety Javon Hagan has a rather unique personal tradition during games