Weekend Watch List: Pelini's conduct makes him an easy target
Winning may not be enough for Nebraska coach Bo Pelini. The Huskers haven't won a conference title in 14 years and seem to have no real direction.
This week's list of significant games is shorter than Eddie Gaedel ... shorter than Bo Pelini's new best-seller: "The Complete Book of Victorian Etiquette" ... shorter than Massachusetts' drive chart.
Ah, but the issues ... Let's dig in:
Is winning enough for Bo Pelini?
Bo Pelini has a better career winning percentage than 103 FBS coaches. Amid this week's Bo clutter, betcha didn't know that one. The perception of Nebraska's coach, though, took a dark turn this week going into Saturday's game against South Dakota State.
It's a weird dynamic. It now appears the Huskers could win at least nine games for the sixth consecutive year in the same season Pelini departs. Heck, there was speculation this week that Bo might not make it to Saturday. Given this week's opponent, the biggest news coming out of Lincoln will be the reaction when Pelini comes out of the locker room.
Nebraska's problem is not that it doesn't win. It doesn't win enough to suit the same fans Pelini cursed this week two years ago. The program continues to chase its first conference title in 14 years. The Huskers have lost their identity, at least on defense. They have some fine athletes and coaches, but there's no vibe there, no clear direction.
This isn't a Big Ten thing. The situation already existed when Nebraska changed leagues. There's a short list of teams who continue to win but not at an accustomed level. Michigan? Washington? Texas hasn't been to a BCS bowl since 2009. It's been since 2010 for Oklahoma. The difference is that Pelini has inserted a potentially poisonous element into the mix with his conduct.
That clouds the fact he has a better career winning percentage (.708) than Mike Leach, Tommy Tuberville, Frank Beamer, Bill Snyder, Mike Gundy and -- gulp! -- Frank Solich. That percentage will go up Saturday. Will Pelini's Q rating?
The Zach Mettenberger phenomenon
Not enough is being made of the LSU quarterback's development under new offensive coordinator Cam Cameron.
Cameron, fired after Week 14 last year by the Super Bowl champion Baltimore Ravens, has clearly had an impact on Mettenberger. The quarterback's footwork is better. His decision-making is better. Suddenly, LSU is consistently dangerous through the air with two veteran receivers (Odell Beckham Jr. and Jarvis Landry) catching passes from the nation's third-most efficient passer.
Through three games last year, Mettenberger had thrown four touchdowns and two interceptions before a lethargic performance against Auburn (a 12-10 win). Heading into this year's Auburn game, Mettenberger has thrown nine touchdowns without a pick. Once again, the scrutiny gets ratcheted up for his SEC opener against Auburn.
With an effective Mettenberger, it's looking more and more like an Alabama-LSU showdown again in the SEC West. We know about LSU's depth at running back. Mettenberger's emergence takes pressure off a rebuilding defense. The game is 1 1/2 months out, but I'm starting to get fired up about Mettenberger throwing against a Bama secondary that was exposed by Johnny Manziel.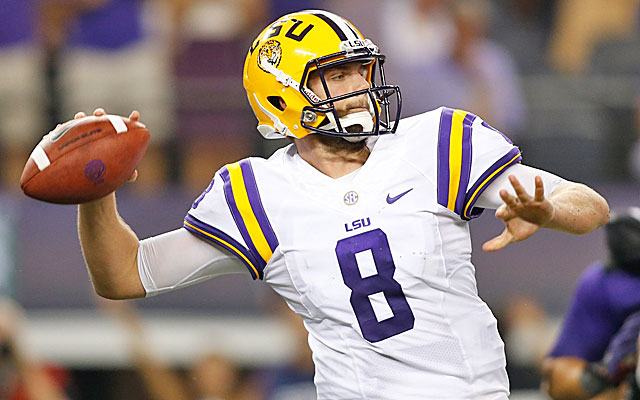 Arizona State-Stanford
What a difference a rather fortunate, WTF, officiating-enabled signature wins makes. Arizona State's Todd Graham got an extension this week after beating Wisconsin and tries, this week against Stanford, for arguably the biggest win in school history. The Sun Devils have never beaten a top-five team on the road. (Highest-ranked team beaten on the road, No. 6 Oregon in 2002.)
This might be the nation's biggest game for the nation's clear No. 2 conference.  The Cardinal's Tyler Gaffney is averaging 118 yards a game. Not a good matchup for the Sun Devils, who gave up 7.2 yards per rush against the Badgers. 
Heaven help SMU
Coming off Alabama, Johnny Manziel and Texas A&M will be hungry to get well against a questionable SMU defense (97th in pass efficiency defense facing a couple of less-than-immortals, Texas Tech's Baker Mayfield and Montana State's Jake Bleskin.)
Awards Watch
Heisman: 1. Manziel; 2. Marcus Mariota; 3. AJ McCarron.
Frank Broyles Award: This is assuming any of you know of the Frank Broyles Award.  It goes to the nation's top assistant coach. The significance is that every winner since 2007 has at least coached in the BCS title game.
Here's why they're relevant this week:
1. Pat Narduzzi, defensive coordinator, Michigan State. There's a reason Michigan State paid $750,000 a year to keep Nards from Texas A&M. The Spartan Dawgs are No. 1 in total defense heading to Notre Dame. That's important with an offense that has exactly one offensive touchdown against FBS competition.
2. Cam Cameron, offensive coordinator, LSU. See above.
3. Clarence McKinney, offensive coordinator, Texas A&M. First-year play- caller for the Aggies has Manziel to work with. I'd say the OC's career is taking off along with the quarterback.
4. Clancy Pendergast, defensive coordinator, USC. Veteran DC might save Lane Kiffin's job. Will be tested this week by Utah State's Chuckie Keeton.
5. Tony Franklin, offensive coordinator/quarterbacks, Cal. Veteran brains behind top freshman quarterback Jared Goff. Franklin gets a challenge this week at Oregon.
Mentionables
Florida-Tennessee used to matter a long, long time ago. All I can think about this week, though, is the Gator offense. Jeff Driskel has to get better and his offense has to get more efficient, especially in the red zone. ... Louisville's schedule strength is getting slightly better going into the FIU game. The combined record of the Cards' FBS opponents is 12-18. ... Florida State's Jameis Wilson has more touchdowns (six) than incompletions (five) heading into Bethune-Cookman. ... Maryland (3-0) and West Virginia (2-1) meet in Baltimore a combined 5-1. Number of those wins against FBS competition: 1 (Maryland over Connecticut).
Never too early to antagonize Michigan State
Michigan acknowledged hiring a skywriter last week to write "Go Blue" above East Lansing. That's some guerilla marketing right there, especially since the two antagonists don't meet until Nov. 2.
Let's take a guess and say this made the day of walk-on Justus Parker

Patterson is looking to play immediately after transferring from Ole Miss to Michigan

From Chip Kelly to Billy Napier, did these schools and coaches make the right calls this silly...
SportsLine's computer model simulated every college bowl game 10,000 times, with surprising...

Everything you need to know to watch and pick the Boca Raton Bowl on Tuesday

College football recruiting begins earlier than normal with a National Signing Day in Dece...