Weekend Watch List: With Coach O running show, USC is a new team
Ed Orgeron has brought the fun -- and the wins -- back to Troy, but can USC go retro and knock off Stanford? Elsewhere, don't be shocked if Duke upends Miami.
Ed Orgeron was washing his car Saturday. Southern California AD Pat Haden was incredulous.
"You're getting your car washed?" he said to the Trojans' interim coach over the phone during a bye week.
"I haven't washed my car all year," Orgeron said.
That is a small slice of how life has changed around the once-glamorous program that thought it would "Win Forever." That was Pete Carroll's rallying cry back in the day. But since Carroll departed more than 4 1/2 years ago, it's no secret USC has been in a sort of malaise.
It became clear this season that Lane Kiffin wasn't the answer. Not only that, in the aftermath of his firing, it became clear that Kiffin was -- aloof, bland, dour. There wasn't time in the work schedule for the likes of Orgeron, the defensive line coach, to wash his car.
"He's changed the energy level," Haden said of Orgeron, who was immediately named interim Sept. 29. "The kids love playing for him."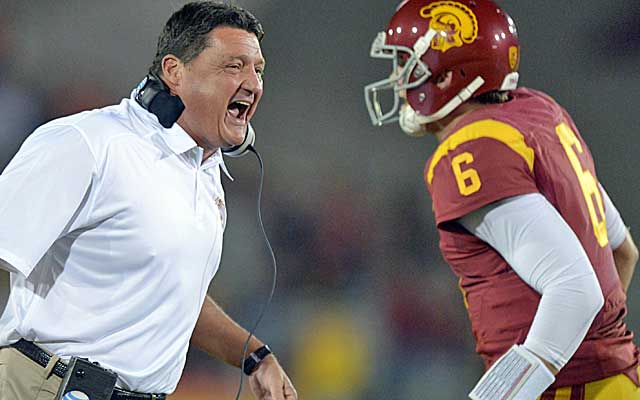 It is reflected in a 4-1 record since Orgeron took over. The Trojans host Stanford on an anniversary of sorts. It was six years ago at the Coliseum that the Cardinal and Jim Harbaugh pulled one of the more monumental upsets in the sport's history.
That game launched what Stanford has become -- a physical, pounding top-10 program that has proven it's possible to win at the highest level with high academics.
Meanwhile, it's been a decade since USC began a run of back-to-back national championships. (One was removed by the BCS in the Reggie Bush affair.) Orgeron, though, has at least brought back the personality of those old Trojans teams.
The Twitter account of USC's famed marching band reported this week that Coach O had written personal letter thanking each member.
"Let's just have fun," Haden labeled the current environment. "It's kind of ridiculous to say that because college athletics is supposed to be fun. I'm almost embarrassed to say that, that we're having fun."
Since Kiffin's firing the Trojans have climbed into the Pac-12 South Division race. Arizona State would have to lose twice more while USC would have to win out to get to the conference championship game. But the point is that USC is on the uptick again even if a win over the No. 5 Cardinal in a sold-out Coliseum would be considered a Trojan upset this time. (Stanford is a 3 1/2-point favorite.)
"No disrespect to the coach who was here before ... but you want a coach that you will freaking just go to war for every time ...," quarterback Cody Kessler said shortly after Orgeron was elevated. "I don't only speak for myself. I speak for the whole team. We would go to war for this guy any day of the week. Any time he needed us we have his back 100 percent."
It is still LA, where overnight sensations always seem possible. If USC does pull off the upset, Orgeron would go from interim coach to the Pac-12 coach of the year favorite.
"I'm not trying to make it about Lane," Haden said. "I'm trying to make it about big-time college athletics … but he's got a different personality than Lane no doubt it."
Coach O's personality is his human calling card. Orgeron's heavily accented growl has been parodied. When he enters a building, you definitely know it. The self-described Cajun from Larose, La., once had his parents ice down a cooler of Louisiana gulf delicacies and carry it on the plane for a visit to Calfornia.
His motivational tactics are legend, once ripping off his shirt in a roomful of recruits. While his term as Ole Miss' head coach wasn't altogether successful -- 10-25 in three seasons -- the world got to know Oregeron intimately in the fine book by CBSSports.com's Bruce Feldman Meat Market.
"The biggest thing he's done is instill a ton of enthusiasm and energy back into a program that had been so bottled up," Feldman said. "He's learned, as he told me a few weeks ago, not to try and fight ghosts and just keep focused on the big picture.
"He's been the dynamic guy players fall for in recruiting -- not the on-edge guy who didn't trust his assistants or them at Ole Miss. At Ole Miss he worked everyone into the ground. Here he's throttled it back to work smarter not harder."
Orgeron was the obvious choice when Kiffin was let go. He's got head coaching experience and is in the middle of his 11th season on the USC staff.
"It's such a grind for these kids, in any sport ...," Haden said. "Man, there's no windows to just kind of exhale. He's kind of created those for the kids and his coaches."
Where this run will take Orgeron is unknown. It's widely assumed he won't get the permanent job -- Texas A&M's Kevin Sumlin reportedly is the school's top choice. But USC would be wise to keep him. He is a master recruiter, motivator and assistant coach.
To lose Orgeron would be losing a lot of institutional knowledge, not to mention a lot of enthusiasm.
Win forever? Stabilized by Coach O, the Trojans would settle for winning again.
The games
Georgia at Auburn: The Dawgs still have outside shot at winning the SEC East -- about the same chance any Georgia player has of making it through Saturday's game uninjured.
Meanwhile, the man who already developed a Heisman-winning quarterback at Auburn is trying to abolish the forward pass. Only seven BCS conference schools have thrown for fewer yards than Gus Malzahn's Auburn. Nick Marshall threw seven times against Tennessee.
He may need, oh, eight passes against the Dawgs.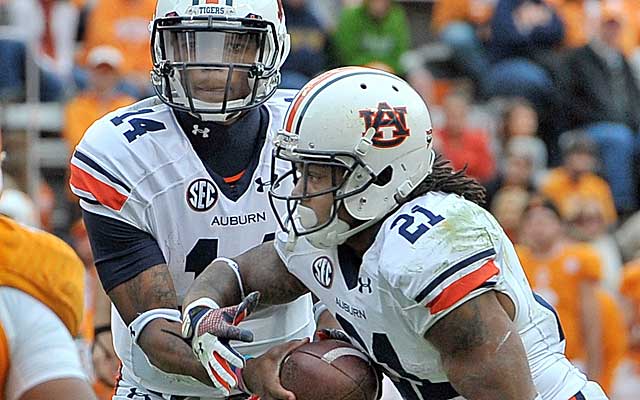 Michigan State at Nebraska: Michigan State is a roll, going to Nebraska. The nation's best defense will be supported just enough by an improving Michigan State offense.
Alabama at Mississippi State: How far off are Dan Mullen and the Bulldogs to competing with the Tide? Last week they scored 41 at Texas A&M. This week they're 24 1/2-point underdogs at home to Alabama.
Texas Tech vs. Baylor in Arlington, Texas: Baylor (No. 5 in the BCS) is the hottest team in the country without a loss (hello, Stanford, No. 4). Tech has simply run out of fuel. The Bears should easily set up the Nov. 23 showdown with Oklahoma State.
Plenty of tickets seem to be availableat AT&T/Cowboys/Jerry Jones Memorial Stadium.
Oklahoma State at Texas: No current Cowboy -- aside from Kansas transfer Tyler Patmon -- has ever lost in Austin. Oklahoma State used to be Little Brother. (Texas leads the series 23-4.)
But under Mike Gundy, Oklahoma State has won two of the past three and would become the first team to win three straight in Austin since Colorado in 1997.
Texas' magic ends because of crippling injuries to tailback Johnathan Gray and D-tackle Chris Whaley.
Florida at South Carolina: Never thought it would get so bad this quick for Will Muschamp. Not only is he losing, he received the dreaded vote of confidence this week.
The Gamecocks can get into the clubhouse and post a low number -- 6-2 in the SEC East -- and force Missouri to win out.
<span data-shortcode= State" data-canon="Ohio Bobcats" data-type="SPORTS_OBJECT_TEAM" id="shortcode0"> at Illinois: While visiting the playoff selection committee this week I forgot to ask them this question ...
How would the Thoughtful 13 have treated Ohio State? This is how the polls, BCS and Heisman treated them. The Buckeyes started as preseason No. 2 with the Heisman favorite at quarterback (Braxton Miller).
They've won all their games and dropped -- Ohio State in the polls and Miller in the Heisman race. The Bucks started with 1,365 points in the AP poll. They bottomed out in Week 8, dropping to No. 4 with 1,310 points. Since then, they have picked up one point but moved up to No. 3. Go figure.
The Buckeyes shouldn't be tested, but that's not the biggest news. Ohio State's Evan Spencer was asked this week how his team would do against Florida State or Alabama.
"I guess I'm a little biased but I think we'd wipe the field with both of them," he said.
Props to the kid . If you watch the video, he's shooting the breeze with reporters. No big deal. In the blog world, though, folks had kittens.
Spencer happens to be wrong, but his honesty is a refreshing breeze.
Upset of the week: Duke over Miami
In football. Really. It says so here.
It's not outrageous. In fact, it makes a lot of sense. Miami has been playing like it got out of jail free since the NCAA announcement, losing its last two. Meanwhile, the Not Krzyzewskis have won five in a row. That ties for the nation's eighth-longest streak.
Consider these undeniable trends:
• Miami is a meager 3 1/2-point favorite at the pit known as Wallace Wade Stadium. The Canes have had John Mayer piped in all week at practice to acclimate then to the crowd noise.
• The Land of Comparative Scores. Miami lost to the Virginia Tech team that Duke beat. The win over the Hokies was Duke's first over a ranked team since 1994.
• The Blue Devils are due. They haven't beaten Miami since 1976. Since then, nine straight losses. Oh, but there's this: Four of the last seven games have been decided by 15 points or less.
• Miami needs Duke ... Johnson, arguably its best player, who is out with a broken ankle.
• Duke needs a Johnson. That would be Dezmond Johnson, a backup defensive end who leads the team with two fumble returns.
• Miami is 92nd in red-zone offense. Duke is tied for 12th in red zone defense. No Duke Johnson. More Dezmond Johnson.
• Who is Anthony Boone? The first Duke quarterback to win his first seven career starts since 1950.
• Who is Jamison Crowder? Duke's receiver is 97 yards short of his second consecutive 1,000-yard season.
• Who are Sydney Sarmiento and Perry Simmons? Only two of the most experienced linemen in the country. Simmons, an offensive tackle, leads the ACC with 46 straight starts. Sarmiento, a D-tackle, has a 45-game streak.
• The word "academic" appears 13 times in Duke's game notes this week. The word does not appear in Miami's game notes.
• It's Senior Day, which is a big deal at Duke. The typical Duke grad steps off campus and is set for life. If David Cutcliffe pulls it off, forget ACC coach of the year. We're talking national coach of the year.
The complete conference reset
Barrett Sallee is 16-8 on best bets and has locked in his picks for these three bowls

Permanent coach Matt Luke got big news late Thursday night

Freeman will not play in the New Mexico Bowl on Saturday
SportsLine simulated every bowl game 10,000 times for pick'em leagues and confidence pools

Grier will return to West Virginia for the 2018 season instead of entering the NFL Draft

The Chick-fil-A Peach Bowl just got spicy