Weekend Watch List: You want answers? Just wait a week
We're a society of right now. Missouri and FSU's Jameis Winston are the darlings this week, but that might not last long as a tumultuous October comes to a close.
Twenty-seven days ago, Jameis Winston and Florida State Seminoles were down two touchdowns on the road in the second quarter of their ACC opener at Boston College Eagles .
Three weeks ago, Washington Huskies was undefeated and Steve Sarkisian's name was being circulated for the Southern California Trojans job.
Two weeks ago, UCLA Bruins was undefeated and owned Los Angeles.
A certain columnist had the temerity this week to rate Oregon State Beavers Sean Mannion above Oregon Ducks Marcus Mariota in his Heisman rankings.
OK, that might be dumb. Point is, might.
Point is, we're in the final week of October, people. Plenty of football to go. As you can tell from the above, things change. Fast. Today's Manziel is tomorrow's Mannion, who is December's McCarron.
But we live in a right-now society. Games, players and coaches are judged in a scornful media/fan cocoon. The news cycle demands that we react to events as they happen. Makes a lot of us -- and you -- look myopic.
There are kneejerk reactions and there are just jerks. Call it the Geno Smith Syndrome. Remember when West Virginia's quarterback had the Heisman locked up after three weeks?
Remember just last month when Alabama Crimson Tide couldn't block Virginia Tech Hokies , or couldn't stop Johnny Manziel ? The two-time defending champions have given up a total of 16 points in the past five games.
Winston is the it player playing for the it team of the moment after FSU's beatdown of Clemson Tigers . Four weeks ago in that first half against BC? Not so much.
UCLA is enduring a similar forced march as Washington in the Pac-12. The high-scoring Bruins were smothered last week at Stanford Cardinal , now they travel to Oregon. The Huskies started 4-0 but have lost three straight to Stanford, Oregon and Arizona State Sun Devils .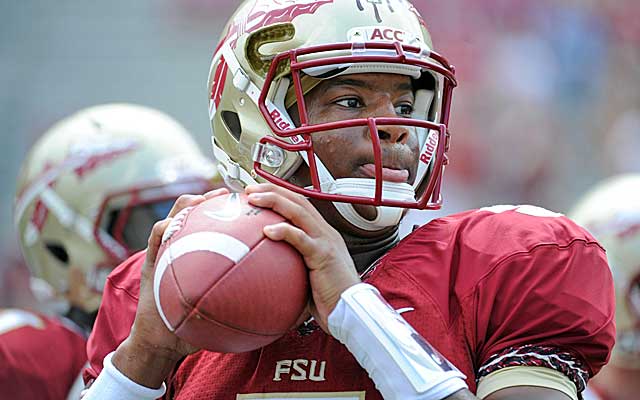 The best thing about sports -- reality TV in the flesh -- is also the worst thing about that news cycle. Missouri Tigers coach Gary Pinkel was on the hot seat despite having his first sub-.500 season in a decade. The "sin" was doing it at the same time Mizzou was joining the SEC. Pinkel, his team undefeated in 2013, is now four victories away from becoming the school's winningest coach.
Forget Johnny Football. His favorite receiver, Mike Evans , might be the best player in the country. At the moment. That is, if you believe Famous Jameis isn't.
Relief is right around the corner. It's called November. It arrives after this weekend's games. It's also when cement dries on more informed judgments.
Tennessee Volunteers -Alabama, Texas Tech Red Raiders - Oklahoma Sooners , South Carolina Gamecocks -Mizzou, UCLA-Oregon, Stanford- Oregon State Beavers will provide clarity this week. Next month will provide winners. It is written somewhere that the Heisman is clinched in November with a quarterback playing on national television doing something dramatic against a top-five team.
Upsets hit like a tsunami. Teams are tired. Rivalries thrive.
The only uncertainty is the SEC West, where it's possible to lose and still play for the national championship.
So for those enamored with the flavor of the week (Rhymes with Famous Amos), the team of the moment (Missouri) and the right-now conclusion ( Ohio State Buckeyes State" data-canon="Ohio Bobcats" data-type="SPORTS_OBJECT_TEAM" id="shortcode0">'s shaky BCS prospects), a piece of advice.
Just wait.
Buckeye outrage:
With the first BCS standings out, where exactly is it going into this week's Penn State Nittany Lions game? The Bucks have won 19 in a row, are heavily favored to win the Big Ten and would be left out of a BCS title shot if the season ended today.
Long way to go, but clearly Ohio State is the odd team out if the three teams above it (Alabama, Oregon, Florida State Seminoles ), continue to win. Actually, it would take only two of those to win out. There's even a question whether a one-loss Alabama would be behind an undefeated OSU.
In college football's annual fashion show, the Bucks just don't measure up at the moment. They play one more currently ranked team in the regular season. ( Michigan Wolverines is No. 22 in the first BCS standings.) The Big Ten continues to be ... scrutinized, to put it politely.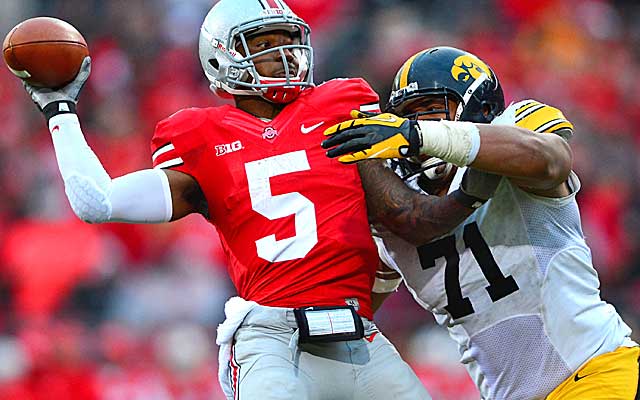 A closer look at Ohio State's streak is a function of doubt going forward.
•Those 19 wins have come against opponents with a cumulative 98-103 record.
•Only four of those have come against teams ranked at kickoff. Northwestern Wildcats , No. 16 three weeks ago, was the highest ranked during the streak.
•This year's 7-0 start has come against teams that are a combined 24-24.
•Take away 6-1 Michigan, and the next four opponents are 11-15.
The 2013 Buckeyes look a lot like the 2012 Buckeyes, potentially great when Braxton Miller has the ball in his hands, but somewhat sketchy defensively.
2012: 34th total defense, 76th pass defense, T-36th passes intercepted.
2013: 15th total defense, 79th pass defense, T-38th passes intercepted.
(Thanks to Todd Jones of the Columbus Dispatch for some of the numbers.)
Tennessee, your serve
Alabama's dominance apparently has its downside. Nick Saban demands his players give 60 minutes of effort, why not fans?
There's a reason Bryant-Denny might be emptying out early. Take away the home losses to LSU Tigers ('11) and Texas A&M ('12), and since the beginning of the 2011 season, the Tide have beaten visiting teams by an average of five touchdowns (34.7 points). The point total is 153-9 this season alone (36-point average).
Now, early exits by fans in a blowout is a problem any school would take. And it should be noted Saban has pulled up on the reins in blowouts both home and away. But Saban being Saban, only the coach could make the issue about recruiting.
"We have lots of recruits there, we like to see an enthusiastic full stadium," Saban told reporters. "We have a beautiful stadium and one of the nicest venues in all of college football and I think we all should show our appreciation for it by staying and supporting our team for the whole game."
Not counting those two losses, Ole Miss Rebels (in '12) has played Bama the closest at home losing by 19 points.
Clowney Watch:
Since taking himself out of the Kentucky Wildcats game three weeks ago because of sore ribs, Jadeveon Clowney has stayed quiet and stuck to football. He has seven tackles in the subsequent two games (39 percent of his season total) and 2.5 tackles for loss (almost half his season total of 5.5).
"There's no doubt the way you see him play, he's a competitor," said Missouri right tackle Mitch Morse , who will face him Saturday, at least part of the time. "I don't think he's a weak man. I think he's a strong man, both physically and mentally."
Clowney's opponent watch
Missouri will effectively clinch the SEC East before Halloween with a victory. Best way to describe it: If the Tigers win, they will be able to "afford" going 6-2 in the division -- splitting their last four games -- and still win the East.
Four for the price of one
Games located within an hour of each other on the I-5 corridor south of Portland, make it possible for an aspiring fan to see three top-12 teams and four in the top 25 of the BCS standings.
There may have been bigger weekends at Oregon and Oregon State but not many. At 7 p.m. ET, No. 12 UCLA plays No. 2 Oregon. At 10:30 p.m. ET, No. 8 Stanford plays at Oregon State. The Beavers are No. 28 in receiving votes in AP having won six in a row since the Eastern Washington loss. They also sport total offense leader Sean Mannion.
Most enriching bye week ever
Michigan, which probably became the first team to give up 47 points to Indiana Hoosiers and move into the AP Top 25.
The season continues Nov. 2 at Michigan State Spartans .
Revenge or survival?
A week after clobbering Clemson, Florida State welcomes NC State Wolfpack State" data-canon="North Carolina Tar Heels" data-type="SPORTS_OBJECT_TEAM" id="shortcode0">. The Noles wouldn't, would they?
Mentionables
How good do you feel this week if you're a Hurricane? The NCAA BS is over, your team just survived a four-interception game on the road and you've discovered a new tailback. Wake Forest Demon Deacons will pay the price against Miami ... It looks like another unbeaten will go down this week. Texas Tech Red Raiders gets its stiffest test to date going to Oklahoma ... Fresno State Bulldogs (at San Diego State Aztecs ) and Northern Illinois Fighting Illini (vs. Eastern Michigan Eagles ) each stay in line for a BCS bowl ... Crummy game of the week: Baylor Bears at Kansas Jayhawks . The Bears are averaging 2.42 points per minute of possession. The Jayhawks are averaging 2.16 touchdowns per game ... Anomalies: The Big Ten is the second-highest scoring conference in the country (to the Pac-12, 34.2 points per game). The ACC is No. 1 in defense (362.37 yards). ... The new targeting rule is working. Per national officiating coordinator Rogers Redding, a targeting flag (which brings an automatic ejection subject to review) is being thrown once every 9 1/2 games. Last year the penalty was called once every eight games, on average. "There is a sea change in some way," Redding said.
Taking a close, detailed and opinionated look at the ACC a week before the start of the 2017...

There are new names to learn every season, and here are five to keep an eye on from the AC...

The champs defend without Watson, and Florida State's hopes are sky high
Kevin Sumlin addressed Texas A&M's decision to cancel a rally scheduled for Sept. 11

Expectations are high for Charlie Strong at South Florida, and Houston looks to take the next...

There are new names to learn every season, and here are five to keep an eye on from the AA...