Weekly Confidence Pool: The Long Con
Every week of the season the Eye On College Football's Jerry Hinnen, Chip Patterson and Tom Fornelli compete in a confidence pool.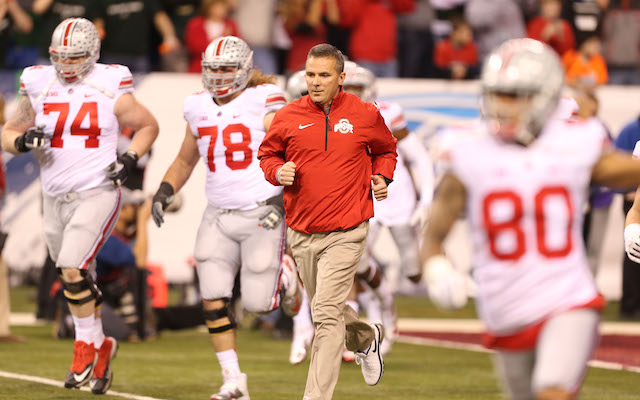 For the last four years here at Eye On College Football I have run a weekly picks feature in which I competed against my girlfriend Lynn and my Playstation 3 in picking the week's biggest college football games. Well, with EA Sports no longer producing a college football game, Man vs. Woman vs. Machine is no longer viable.
Who would have thought my relationship would outlast a video game that sold millions of copies a year?
Which means that we needed a new format because what's the point of watching college football if you aren't in the midst of a competition in which you can lord your superiority over your friends and loved ones? So this year we're going a bit old school and starting a weekly confidence pool in which the Eye On College Football writers (Jerry Hinnen, Chip Patterson and the incredibly handsome and intelligent Tom Fornelli) will compete against one another for the right to talk a lot of smack.
If you're not familiar with the concept of a confidence pool, it's pretty simple. The three of us will pick any 10 games of our choosing each week and pick against the spread. The game we're most confident in we'll assign 10 points to, all the way down to one point for the game we have the least amount of confidence in. For each game we get correct we earn the amount of points we had assigned it.
At the end of the year the person with the most points will be crowned champion and showered with the scorn and jealousy of the two losers. I do not plan on being one of those losers.
So without further ado, let's get to our picks for the week.
LOCKS OF THE WEEK
Hinnen: Ohio State (-12.5) vs. Navy - No, the Buckeyes don't have Braxton Miller. They do still have Joey Bosa, Michael Bennett, Adolphus Washington, and Noah Spence -- quite possibly the best defensive line in the country, and one that should give even Navy's savvy, experienced offensive line some major fits, even if Noah Spence isn't playing. On the other side of the ball, J.T. Barrett doesn't have the on-field exposure, but he does have the usual Urban Meyer-required athleticism and Meyer's patented rushing schemes -- the ones that made the Buckeyes the nation's top rushing offense on a per-carry basis a year ago -- at his disposal. Against the Midshipmen's undersized (by Power 5 standards) front seven, that should be enough to cover a two-touchdown spread.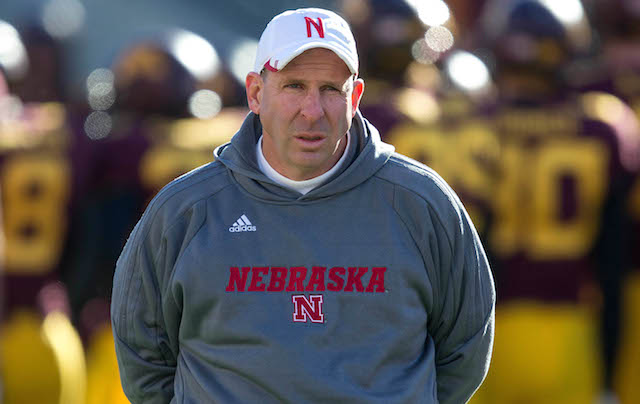 Patterson: Nebraska (-21) vs. FAU - Bo Pelini claims that FAU's ugly split with Carl Pelini has no impact on Saturday's game, but I'll guess that biological loyalty will provide incentive to keep the gas pedal down on the Owls. FAU has been losing road games vs. P5 teams by 24-35 points, so I'll gladly take the Huskers -21 and follow @FauxPelini during the game for commentary.
Fornelli: LSU (-4.5) vs. Wisconsin - This spread is just too small. I know LSU is replacing a lot of skill players on offense, but some of the replacements (hello, Leonard Fournette) might actually be upgrades from last year. Plus the Tigers have four of five starters returning on the offensive line and it will be facing a Wisconsin defense without a single returning starter in the front seven. Oh, and Wisconsin will be starting Tanner McEvoy, who has thrown a total of zero passes in his college career. I only have to give up 4.5 points? Ok then.
Here are the rest of our picks.
Expert Picks: Confidence Pool

Confidence
number


Fornelli


Hinnen


Patterson

10

-4.5
over Wisconsin

-12.5
over Navy

-21
over FAU
9

-12.5
over Navy

-4.5
over Wisconsin

-24
over Miami (Ohio)
8

-17
over Hawaii

-23.5
over UNLV

-32.5
over SMU
7

+1.5
over UCF

-6.5
over Tulane

+20.5
over Notre Dame
6

-8
over Rutgers

-3.5
over Miami (Fla.)

-17
over Hawaii
5

-24
over Miami (Ohio)

-26.5
over W. Virginia

-10.5
over California
4

-23.5
over UNLV

-17
over UMass

-4.5
over Wisconsin
3

-21
over FAU

+38.5
over Oklahoma

-12.5
over Navy
2

-17.5
over Okla. State

+1.5
over UCF

-7.5
over UTEP
1

-10.5
over Texas A&M

+3
over Kent State

-10
over Boise State
Total Points
0
0
0
What stands out to me in our picks is that Chip has a lot of confidence in games Jerry and I won't even touch. He has 34 points on Nebraska, Florida, Marshall and Rice while Jerry and I have eight points on those four teams between us, and Jerry doesn't even touch any of them. Meanwhile Jerry and I assigned 10 points each to Ohio State and LSU respectively, while Chip only has a total of seven points on both.
So we can only assume that Chip knows something we don't, or that he's going to find himself in an early hole come next week.
Be sure to let us know how brilliant/stupid we are for our picks in the comments.
UPDATE: Chip's original eight-point game was Florida (-35.5) over Idaho. With that game being canceled due to weather, Jerry and I, being the kind, wonderful people that we are, allowed Chip to change his eight point game to Baylor (-32.5) over SMU.
Many NFL-eligible juniors ignore advice provided by the league and risk going undrafted each...

Snyder died in Manhattan, Kansas, on Wednesday

Locksley joined Alabama's staff in 2016
Saban reportedly wants to hire Freeze, but there may be things keeping that from happening

Florida State-Miami will be on Oct. 6, and the Seminoles will play Clemson on Oct. 27

Weis Jr. was an offensive assistant for the Atlanta Falcons in 2017