West Virginia AD Luck a target for playoff committee
West Virginia athletic director Oliver Luck is expected to be a member of the College Football Playoff selection committee, and Clemson's Dan Radakovich is close to earning a place among the group as well.
• 1 min read
West Virginia athletic director Oliver Luck is expected to be named to the selection committee for the College Football Playoff set to begin in 2014, CBSSports.com has learned.
The Big 12 has briefed league officials about Luck's involvement, according to three college football sources.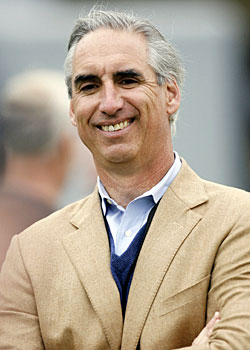 The committee will include (but not be limited to) a sitting athletic director from each of the so-called power conferences: ACC, SEC, Big Ten, Big 12 and Pac-12.
Luck declined comment on the issue when reached Wednesday. Playoff executive director Bill Hancock said he won't confirm or deny potential candidates in advance of the official announcement of the committee. The College Football Playoff plans to unveil the selection committee by the end of the year, possibly before the regular season ends in early December. The group is expected to include 12 to 18 members but probably closer to 12, said Hancock.
A well-placed ACC source said Clemson athletic director Dan Radakovich is "the leader in the clubhouse" to represent the ACC on the committee. Radakovich declined comment when reached Monday.
"There's still some vetting to be done," Hancock said of the candidates. "We need to know about all these people. We know them, you know them, but we need to know everything we can about them. We don't want to make any mistakes, and we won't. These are all people of high integrity."
Luck, a former NFL quarterback and the father of current Indianapolis Colts signal-caller Andrew Luck, has served as AD at WVU, his alma mater, since 2010. Luck's resume also includes stints as CEO of NFL Europe, president of the Houston Dynamo of Major League Soccer and CEO of the Houston Sports Authority, where he oversaw the construction of Minute Maid Park and Reliant Stadium.
The Austin American-Statesman has linked Luck to the soon-to-be-vacant AD job at Texas, where DeLoss Dodds announced his pending retirement on Tuesday. If Luck is in the mix for that job, it's uncertain how that would affect his selection committee responsibilities, though he would theoretically still be eligible for the Big 12's position on the committee with that move.
The BCS management committee – which includes conference commissioners at the FBS level -- will next meet Nov. 11, with the makeup of the committee expected to be among the agenda items.
College football bowl games were all announced on Sunday, and you can check out the entire...

SportsLine simulated every bowl game 10,000 times for pick'em leagues and confidence pools

Everything you need to know to watch and pick the Las Vegas Bowl on Saturday
Everything you need to know to watch and pick the Camellia Bowl on Dec. 16

Everything you need to know to watch and pick the New Mexico Bowl on Dec. 16

Everything you need to know to watch and pick the Cure Bowl on Saturday