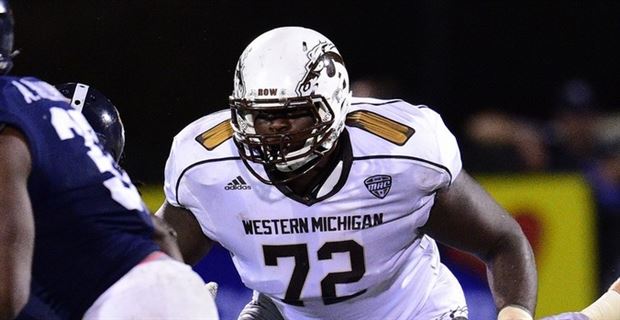 Taylor Moton took the phone call slightly out of breath.
Western Michigan's starting right tackle had just secured a fingertip catch working with the wide receivers while waiting for his interview. When asked how he's feeling after the catch, the answer is quick.
"Elite," Moton said. "Got to keep it all tuned, you know?"
That Moton feels elite is no surprise. That phrase, other than that boat the Broncos keep rowing, has come to represent P.J. Fleck's Western Michigan program. At 11-0 the Broncos are ranked No. 21 and will face Toledo for the MAC West Division title this Friday. (4 p.m., ESPN2)
Barreling toward the first unbeaten regular season in program history, Western Michigan is truly feeling elite, and there might not be a player on the roster with better long-term prospects than Moton.
A 6-foot-5, 328-pound senior right tackle, Moton is projected as an early-round pick in the 2017 NFL Draft. He's strong in the way only kids from the Rust Belt can be. His max squat is 570 pounds and he throws up 400 pounds on the bench press with ease.
"He's got tremendous power," said Western Michigan offensive line coach Brian Callahan. "He's tremendously strong."
That never was more evident than in Western Michigan's meeting with Ohio State last season. The Buckeyes had two 2016 NFL Draft picks on their defensive line, but Moton more than held his own playing guard.
"I thought he just dominated their inside people playing guard," Callahan said.
Added Moton: "I haven't seen defensive linemen like Ohio State last year. it's one of the best defensive lines you'll ever play. It did a lot for my confidence."
Moton has started every Western Michigan game since his redshirt freshman season. With three more starts this season – the Broncos final regular season game, the MAC title game and a bowl –Moton will break Western Michigan's record for most career starts.
"Given the position and what goes into, that shows how tough he is physically," Callahan said.
Moton played at Western Michigan during its "dirty water years," as the Broncos staff likes to label their 1-11 origin. He saw the beginning of the Fleck era and is founding member of the team's rise.
Ironically, Moton's first step in that path came against Michigan State.
Moton grew up five minutes from Michigan State's campus and his mom works at the school, but the Spartans never offered. They looked, sure. But there seemed to be better prospects than a 270-pound offensive tackle with plenty of need for refinement.
But Moton, the No. 178 offensive tackle in the 2012 class per 247Sports, grew. He grew out of his disappointment that Michigan State never offered – right around the time of that first start – and he grew into his body.
When the B gap turns into the F gap. #TaylorMoton pic.twitter.com/B22k368OD1

— Lance Zierlein (@LanceZierlein) November 22, 2016
Now, he's the anchor of one of college football's top offensive lines. Western Michigan is 13th nationally in rushing yards per game, and a big part of that is a group of big ugglies Pro Football Focus grades as the fifth-best in college football.
Moton grades as the sixth-best offensive tackle in college football.
It's why Callahan can clearly see the NFL in Moton's future.
"I think his versatility separates him from some of the other guys," Callahan said. "I think his intelligence, his durability and toughness makes him the type of guy who will thrive if he gets the opportunity to be at that level, and I think he will. He's done a tremendous job of developing himself to being an elite football player."
Already graduated and working on his MBA, Moton has gone from a raw 270-pound prospect to one of the best offensive linemen in the nation. He's poised to be selected higher than any other Western Michigan offensive lineman in school history, following in the footsteps of the Minnesota Vikings fourth-round selection last season, Willie Beavers.
The Broncos had just two players selected in the NFL Draft this decade before Fleck arrived. Last season, Beavers because the first player under Fleck to get drafted. He also helped alter Moton's perception of himself.
"He was just a guy when I was younger I looked up to," Moton said. "Seeing him get to the NFL set it up for the rest of us linemen. We could do it to if we worked like he did."
Finger-tip catches and pancake blocks, Moton does it all.
Western Michigan's most durable prospect will be in an NFL city near you soon.